A
terry robe
is a comfortable item to throw on after a shower or over pyjamas around the house. Above all, a robe should be comfortable, but it can still be stylish. Some factors to consider include the length of the robe, the colour, and whether it has extra features such as a hood, pockets, or other details. A buyer looking for a terry robe has some great options, including a Juicy Couture terry robe, an Egyptian cotton terry robe, a Robeswork hooded terry robe, or a Pottery Barn classic terry robe. With a little research, a buyer can find the right terry dressing gown for his or her needs.
| | |
| --- | --- |
| 1 | Robeswork Hooded Terry Robe |
One great option for a dressing gown is the terry robe from Robeswork. This robe is a luxurious option that consists of soft cotton-combed terry cloth. The robe is available in a number of colours, including stone, white, chocolate brown, evergreen, and black. Elegant details on the robe include two pockets and reinforced stitching.
---
| | |
| --- | --- |
| 2 | Robeswork Original Luxury Robe |
Another luxurious option from Robeswork is their original robe. This robe comes with fine detailing, such as strong stitching, multiple pockets, and consists of very soft, smooth material. A buyer has many colour choices from which to choose, including red, white, black, stone, blue, grey, burgundy, green, and pink. This style of robe also comes in various sizes.
---
| | |
| --- | --- |
| 3 | Juicy Couture Terry Robe with Jersey Ruffles |
Juicy Couture has a fun and comfortable terry robe. The robe has the brand's logo along the back of the robe. The robe has an empire waist and a belt with grommets at the entry, so it goes through the fabric. There are ruffles around the collar, hood, and cuffs of the robe as well as at the pocket. The robe comes in pink and yellow and in different sizes.
---
| | |
| --- | --- |
| 4 | Baby Phat Terry Halter Robe |
Another option is this terry halter robe from Baby Phat. The robe has a halter top, so it is better for warmer weather. This robe is great for younger girls as it has an embroidered cat on the side. It works for lounging around at home or as a cover up at the beach or pool as well. It comes in a variety of different sizes.
---
| | |
| --- | --- |
| 5 | Terry Polka Dot Hooded Robe |
For something else fun, a buyer can select a polka dot terry robe. These robes come in four colours: fuchsia, pink, brown, and grey, all of which have white polka dots. The robes also have white frills along the edges and consist of very comfortable material.
---
| | |
| --- | --- |
| 6 | Egyptian Cotton Terry Robe |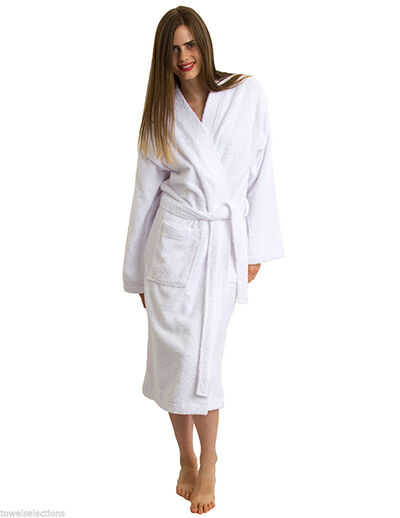 A buyer can also select an egyptian cotton robe. These come in a wide variety of colours, including pink, green, blue, white, stone, black, blue, and cream. The robe has foldable sleeves as well as two front pockets and a belt. The garment consists of high quality cotton, so it is machine washable.
---
| | |
| --- | --- |
| 7 | Embellished Terry Robes |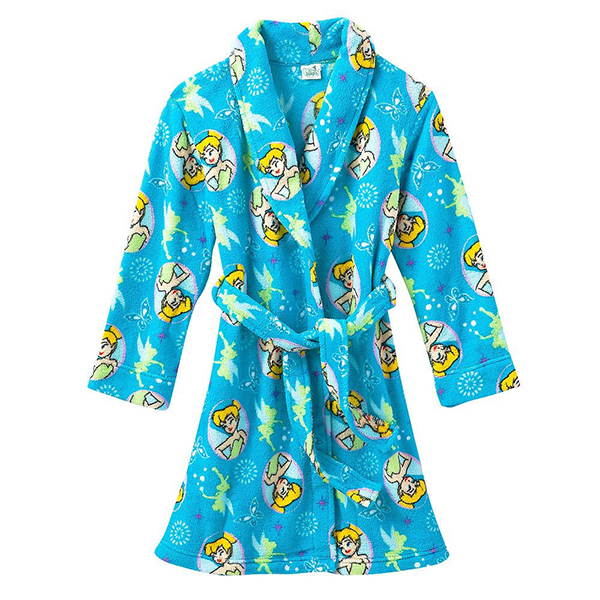 A buyer should also be sure to check out embellished robes. These come in a wide variety of styles, and a woman can get some with her favourite characters on them. For instance, some of the options include Harry Potter robes and Tinkerbell robes.
---
| | |
| --- | --- |
| 8 | Pottery Barn Classic Terry Robe |
Another good option is this classic robe from the Pottery Barn. This luxurious robe comes in both a clean white and a light brown. Sizes available range from small to extra large. The weight of the robe is 480 grams, and it consists of quality Turkish cotton. The robe has a belt and is available with a monogramme.
---
| | |
| --- | --- |
| 9 | Carole Hochman Zip Front Baby Terry Robe |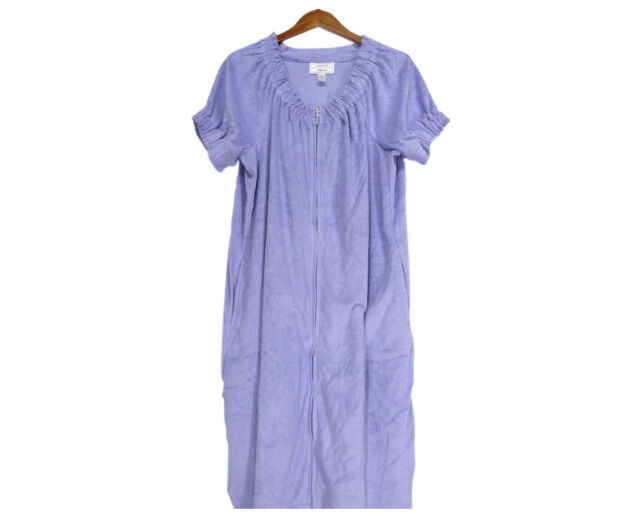 Another interesting terry robe is one by Carole Hochman. This zip front terry robe is a new twist on a classic. It comes with two front pockets and a mandarin collar. The robe also has a zipper that makes it easy to adjust how much skin shows. The robe is fairly long as it reaches 192 to 130 cm in length.
---
How to Buy Terry Dressing Gowns on eBay
If you are looking to buy a terry robe on eBay, you can find some great options. One of the best places to start is with a keyword search. You can type phrases, such as " terry dressing gown" or " white robe" into the search box. You should also see what Top Sellers have to offer because they have excellent ratings, and some of them may offer free shipping. You can also view feedback from other buyers. You can see what they have said about both the sellers and the product in order to find the best option for your needs. Understanding what features are available can help you find the perfect terry robe.