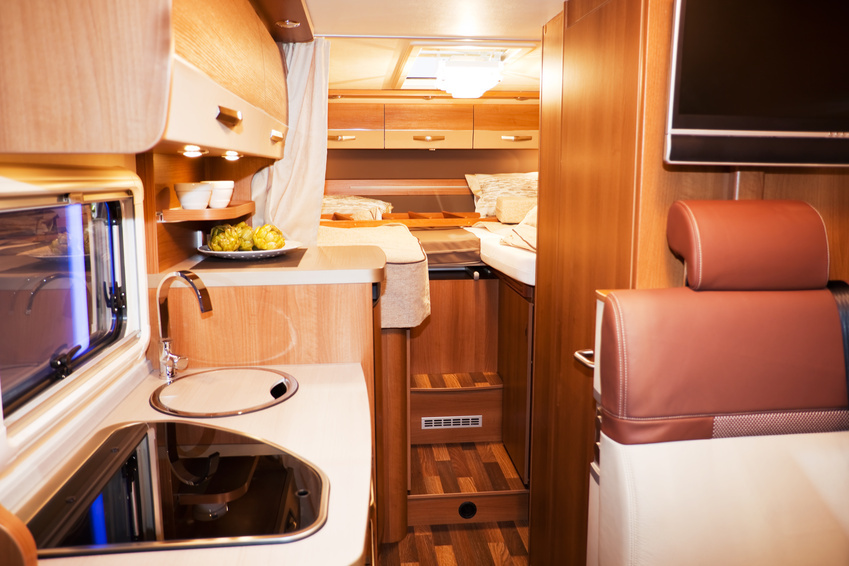 The simplicity and joy of roving the countryside in a campervan captivates many couples, families, and groups of friends. A great and affordable way to get away from the stresses of everyday life, good campervan owners know how to accessorise their vehicle in a way that makes each travel experience more enjoyable than the last. This means considering and ultimately purchasing all types of top interior campervan accessories for a variety of needs.
Accessories for Travel

The actual journey to your campsite is the first element of a successful campervan trip and there are several travel accessories that make this journey much easier for everyone involved. First, a quality GPS or sat nav is essential for directions, as is a physical map. Depending on the size of your campervan and your experience driving it, purchasing an aftermarket backup mirror might be in order. Find a model that includes a rear camera which mounts to the licence plate or rear bumper. Using a wireless signal, a camera/mirror combination helps the driver avoid accidents and damage to the campervan.
Accessories for Entertainment

Once at a campsite, relaxation is the goal. However, collecting entertainment accessories that aid in that relaxation is sure to make a campervan trip even better. Popular campervan interior add-ons include a television antenna that mounts to the top of the campervan and even satellite TV. Another, less expensive option is a portable DVD player and portable radio with access to weather reports or with a special weather station. This final feature ensures that travellers stay safe and have warning of impending storms even if they intend to use their campervan holiday as a chance to 'unplug'.
Accessories for Maintenance
When on the road, maintaining your campervan is important. There are several cleaning and maintenance-based camper accessories that help you do just that. Convenient cleaning wipes that include bleach or some other antiseptic are an easy way to tidy up after meals. It is also important to have a door or wall-mounted rubbish container that does not topple over when driving. A broom and dustpan or small, lightweight vacuum cleaner helps maintain the cleanliness of the interior as does a high-quality doormat that is easy to place outside of the campervan once parked and settled.
Accessories for Convenience
Finally, when trying to relax on the road it is important to consider convenience. One tip is to use felt-covered clothes hangers for the closets inside the campervan. These hangers cling to the rails of the closet rather than slip, thus spilling clothes during travel. It is also a good idea to consider convenient lighting options for the interior of the campervan. Many owners like the soft, spread-out effects of rope-style LED lights, for example. It is also possible to buy small reading lights and other, mountable bar and circular interior lights to provide extra light in places that need it most.