Akai amplifiers offer high-quality sound and very good durability. While not available new, Akai amplifiers are still desirable whe you are looking for low-cost, but high-quality vintage amps and speakers. Here you can learn about some of the top Akai amplifiers available in order to choose the perfect one for your needs.
Akai AM V-1200 Amplifier
The Akai AM V-1200 amplifier is the only audio video Akai amplifier. The amp features five channels, a power output of 50 watts at 8 Ohms, and a surround sound output of 40 watts for left, centre, and right speakers. It has a frequency response of 20 Hz to 50 kHz, with 0.1 per cent harmonic distortion and 2.4 mV input sensitivity. However, the composite video connection makes it difficult to use with modern video players. This vintage amplifier weighs 7.6 kilograms, and comes with a remote control.
Akai AM 2250 Amplifier
The 1978 AM 2250 has less power than many other vintage Akai amps, but it made its mark as one of the best in its price range during the era. Fans of the amp praise its durability, long-lasting quality, and its ability to survive almost anything, even without proper care. The result is an extremely tough amp that has already proven it can survive for generations. The AM 2250 features 25 watts of power per channel, 8 Ohms of resistance, 10 to 40 kHz frequency, 0.2 per cent total harmonic distortion, 75 to 95 dB of signal to noise distortion, and 150 mV output. It weighs 6.2 kilograms, comes in silver and black, and measures 380 by 120 by 220 mm.
Akai PS 200M Amplifier
The Akai PS 200M is the most powerful of Akai power amplifiers at 220 watts per channel. With a frequency response of 1 Hz to 100 kHz, a total harmonic distortion of 0.008 per cent, a damping factor of 350, 1 V input sensitivity, 115 dB signal to noise ratio, and a speaker impedance of 4 to 16 Ohms, the power amplifier stands up to its reputation. At 30 kilograms, it is heavy, but it is a very powerful amp.
Akai AM 2800 Amplifier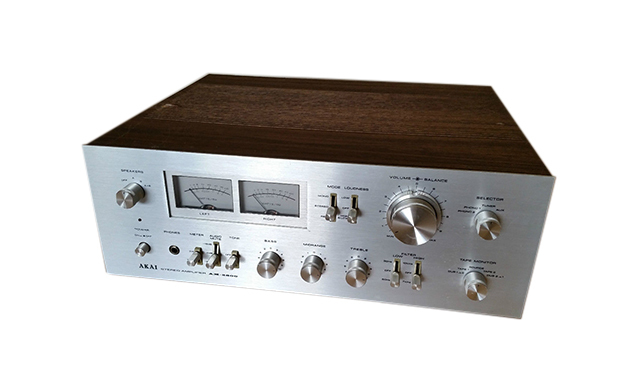 The Akai AM 2800 is one of the most durable vintage amplifiers ever made, and also one of the most popular. The amp features 80 watts per channel with 8 Ohms of resistance, total harmonic distortion of 0.8 per cent, a damping factor of 60, and 150 mV line sensitivity output. The speaker load impedance is 4 to 16 Ohms, and the amplifier features 37 semiconductors and 17 diodes. The Akai AM 2800 is 440 by 160 by 396 mm in size and weighs 12.9 kilograms.