Jewellery boxes are very practical because they allow you to organise your jewellery. Moreover, they protect your precious rings, bracelets, necklaces, and earrings. Whether you choose one to match your decor or your personality, you can opt for a classic black box that bears an aura of understated elegance.
Black Wooden Jewellery Box
Wood is a good material that prevents moisture from building up and provides some insulation for you jewellery. Black wood, such as ebony, has a natural finish as well as a deep and rich colour. Wooden boxes are especially good for your bedroom or dressing room if you have wooden furniture at home. You can find wooden jewellery boxes in all sizes and shapes and can thus accommodate different types of jewellery.
Black Armoire Jewellery Box
Jewellery armoires are large boxes with upright designs. These are best for storing necklaces because you can hang them easily. Some jewellery armoires are quite big and take up lots of space in the room, although you can also find smaller tabletop versions as well. Moreover, you can also find wall-mount models for convenience. Many armoires come with a mirror, so you can try on your jewellery and see yourself. Armoires are typically wood; especially ebony that is naturally black.
Black Travel Jewellery Case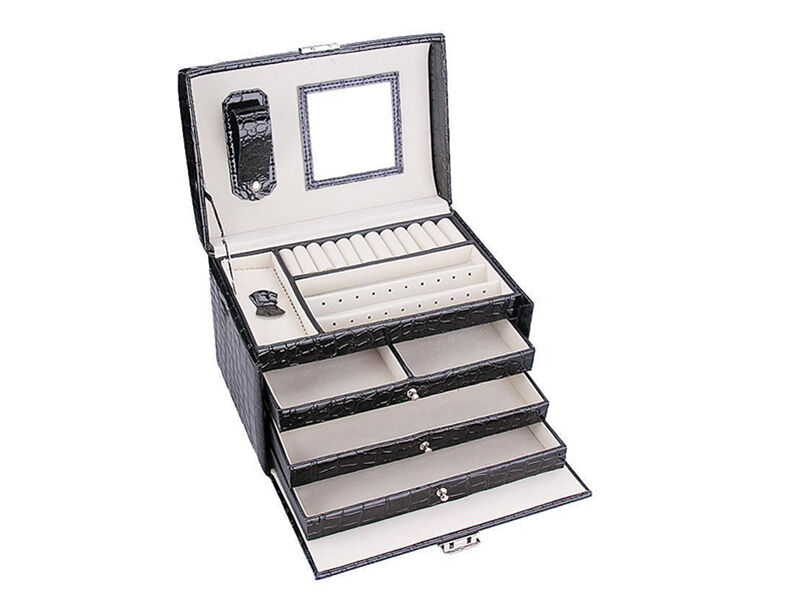 Black travel jewellery cases are best when you want to bring your jewellery with you on a trip. In a simple bag, the jewellery could tangle and thus finally break; however, a travel case includes slots for all of your jewellery. Travel cases come with many compartments in various sizes and you should choose the case according to the type of jewellery you wear the most and are most likely to take with you. Travel cases usually have a zip fastening or close with a magnetic clip. You can find cases that are small enough to fit inside your pocket or big enough to include a mirror.
Black Leather Jewellery Box

Leather is a beautiful and durable material that makes a jewellery box elegant. The leather could be smooth or have some kind of pattern on it. In either case, black is a classic colour that makes leather look good. Some less expensive jewellery boxes have faux leather, but natural leather is the best due to its quality. Leather lends itself to jewellery boxes of all sizes and shapes from small ring boxes to travel cases as well as huge pullout boxes with multiple compartments.