When looking for that retro look to take you on a trip back in time, choose antique earrings that offer styles, designs, and quality rarely found in modern jewellery. Fitted with gemstones, precious metals, and fine craftsmanship, antique earrings give you a vintage look that can dress up any outfit. Know what to look for when choosing antique earrings, including earring type and which era the jewellery comes from.
Antique Earring Eras

Various eras in the past produced different earring looks and styles. The late 19th century gave the world the Art Nouveau period with earrings featuring a symmetrical look with lines and curves that complemented one another. By the early 20th century, the Art Deco movement took over, creating earrings with bold colours and large geometric shapes. In addition, the Victorian era produced both studs and dangle pieces with fine gemstones on gold backings. The Edwardian era, which began around 1901, offered delicate gold jewellery pieces, including earrings.
Antique Earring Styles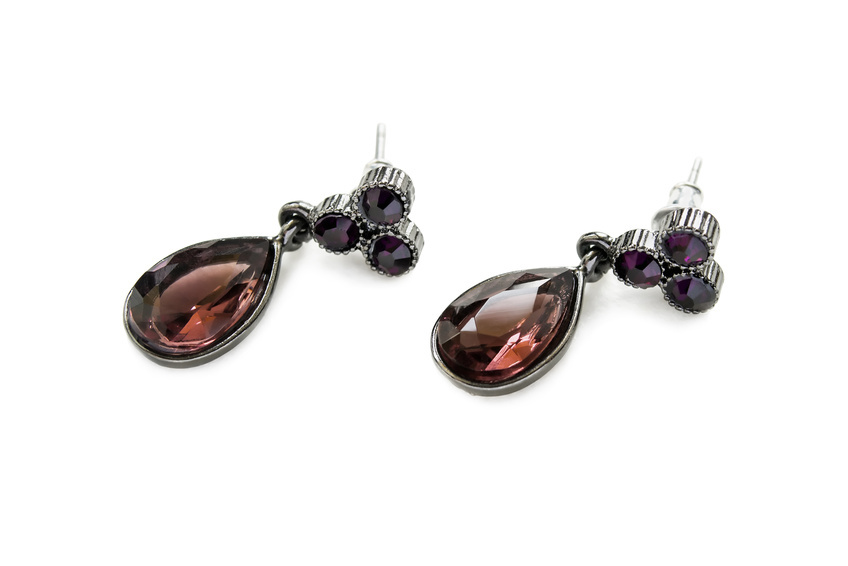 Choose earrings that reflect your personality and personal tastes. If you are more conservative, take your pick from any number of antique stud styles with small gemstones mounted to gold or silver backings. Although they come in small and large sizes, if an earring does not dangle, it is a version of a stud. Hoop earrings also come in small and large sizes, but became more popular during the retro period found from the 1930s to the 1950s. They have varied thicknesses and the size of the earring should complement the size of the wearer and not overwhelm the face. When you truly want your earrings to show amongst thick hair, hoop earrings often do the trick. Drop earrings, which people also call dangle earrings, do just that. Gemstones backed by precious metals can drop and dangle from earring posts as well as offer a delicate and feminine style.
Antique Earring Posts
Perhaps the most important part of an antique earring is the post. This is not due to decorative purposes, but because of health reasons. Make sure the posts are true precious metals and always thoroughly clean them before and after wearing them to prevent infection. Some of the most common antique earring posts or backings include threaded studs, fish hooks, lever backs, and screw backs. Screw backs got their start in the 1850s and are still popular because of their ability to stay on. When you invest in antique earrings, the last thing you want is for one valuable piece to slip off without your knowledge. Clip-on earrings also enjoyed popularity in earlier eras when women were hesitant to have holes poked into their ears for modesty and religious reasons.