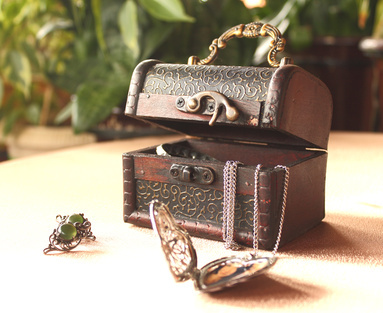 Antique chests not only provide value for collectors, the chests also provide consumers with functional ways to store a wide variety of possessions. They make excellent storage units for clothing, electronic devices, and luggage. Before making a purchase, buyers need to consider some of the top concerns for buying antique chests.
Antique Chest Shape and Size

Manufacturers constructed antique furniture and travel chests in a wide array of shapes and sizes. You can purchase flat top chests or dome top chests to fit a particular purpose, depending on the layout and design of a bedroom or living room. Flat top chests allow homeowners to place other items on top of the chest, which saves space. You can find chest in the shape of circles, squares, or rectangles. Chest size matters in rooms that have limited space.
Antique Chest Rarity
The most prevalent antique chests come from the Victorian era, which spanned from 1837 to 1901. Collectors can find almost any type of antique storage chest from the Victorian era. Antique chests manufactured outside of the Victorian era may be harder to find, especially chests constructed before 1837. Antique chests often feature unique components and extra accessories that enhance value and provide flexibility for use as luggage. Moreover, many buyers of rare antique chests requested custom-made models, making some models one-of-a-kind antique chests.
Antique Chest Condition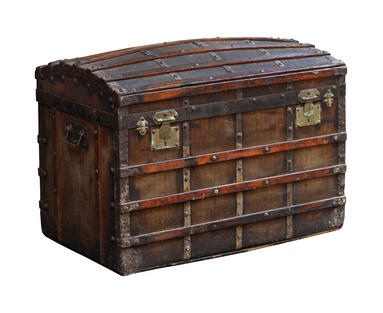 Ideally, collectors want to purchase antique chests in mint condition. However, finding chests that are over 100 years old in mint condition may be next to impossible. Factors that slightly diminish the condition rating of antique chests include scratches, scuff marks, and stains. Substantial condition degradation results from leather holes, refinished varnish, missing pieces of hardware, and replaced components. Restoration can enhance the quality of an antique chest, but it does not improve the condition rating.
Antique Chest Brand Name
Brand name antique chest manufacturers, such as Truesdale, Goyard, and Molloy, typically created the quality chest that presented buyers with stylish designs and a high degree of functionality. Three brand name antique chest manufacturers stand out for a crowded.
Manufacturer

Description

Haskell Brothers

Doubles as household furniture and luggage

High-quality leather

Rugged materials

Ages well

LV monogram stamped on many of the company's chests

Signature monogram can accompany different designs

1958 chests include lightweight canvas with water runoff tips

Crouch and Fitzgerald

Solid leather chests ensure long lasting chest materials

No visible wood

Hand stitched leather enhances value

Considered rare collector's item
Brand name antique chest manufacturers provide buyers with high-quality products that typically retain their original condition longer than the chests produced by other manufacturers. However, buyers can expect to pay more for brand name antique chests due to the better quality construction of the chests.