Motocross is an exciting but sometimes dangerous sport for kids and youth, but body armour allows them to engage in the sport more safely. Kids' motocross body armour comes in several sizes, weights, and styles, and offers protection for a range of areas, including the back, chest, shoulders, and arms. When considering motocross body armour, keep in mind fit, protection, and weight to ensure the best outcomes for daring kids.
Kids' Motocross Body Armour Fit

The most important consideration, fit affects the level of protection. Ill-fitting kids' motocross armour does not provide adequate protection. In fact, too large, and it can even hurt the wearer during an accident or crash. Measure the child's chest and shoulders and compare with those on the individual brand's sizing chart. Most offer standard youth motocross armour sizing based on age, but many also offer small, medium, and large sizes. Keep in mind that knee and elbow guards require less attention to size.
Protection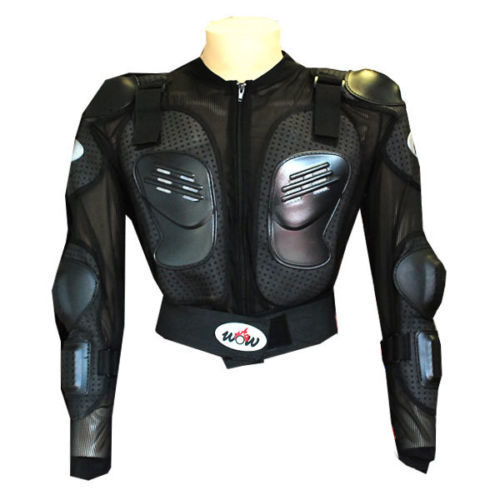 Different kids' body armour offers different levels of protection and usually safeguards different parts of the body. A basic armoured vest or shirt protects the back and offers light protection to the arms and chest. A heavily armoured vest offers a great deal of protection to the back and chest, but very little to the arms. A full body protector covers the back of the neck, the back, the chest, and the arms, but is also quite heavy. Consider choosing a level of protection based on how much the child rides and how dangerous their track is. Usually, it is a very good idea to look for impact certified armour, which is better quality than children's body armour without the certification. CE Certified has measures for levels of protection. For example, CE Level 2, which is the highest, is most often present on back armour. CE Level 1 or EN1621-1 is the first level and better for low-risk activities, chest armour, and shoulder armour.
Body Armour Weight
Heavyweight body armour offers the most protection, but it is also quite heavy. Lightweight armour usually weighs around 2 to 4 kg and offers great protection for most kids, unless they are performing specific stunts or on dangerous tracks. Keep in mind that a few kilogrammes are a lot of weight for children, and they may not be comfortable wearing it. If so, then an armoured shirt with foam padding is a lightweight alternative. Armoured shirts are available in junior as well as adult sizes.