Ear piercing kits include everything home or professional users need to pierce ears, from the ear piercing guns, to studs and cleaning products. A disposable ear piercing kit is ideal for home users who do not have access to equipment sterilisers and who want to perform a limited number of piercings. Professional kits come in attractive carry cases and include numerous pairs of piercing studs in a selection of styles. Before buying an ear piercing kit, learn about three of the top products on the market to make an informed buying decision.
Gazboat Disposable Ear Piercing Kit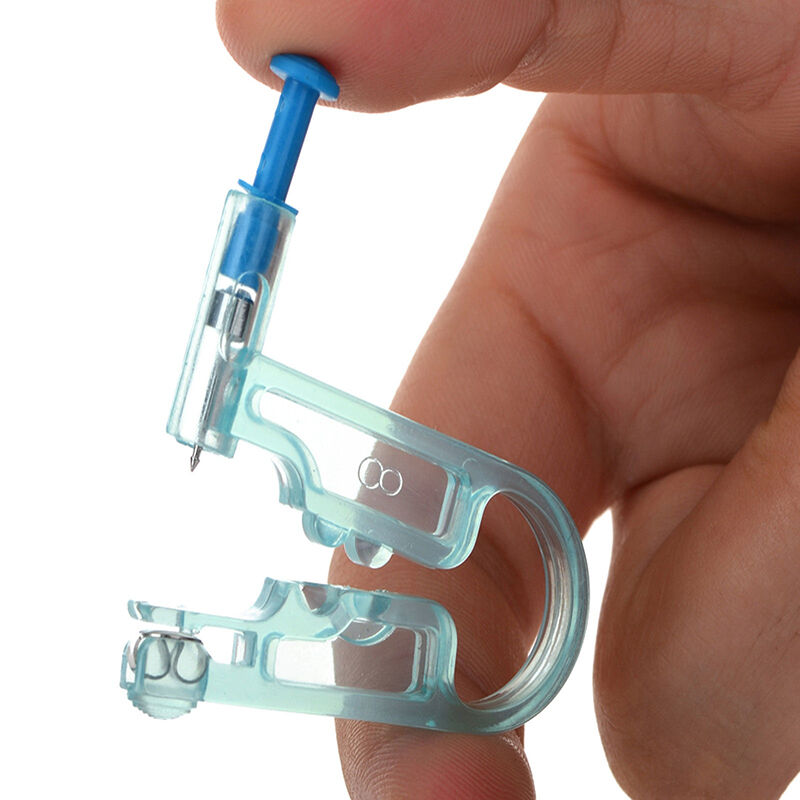 The Gazboat disposable ear piercing kit is ideal for non-professional users. It includes an ear-piercing gun and stainless steel studs with clear cubic zirconia heads. Few people with metal allergies are sensitive to stainless steel, but some with nickel allergies may suffer skin reactions. The disposable gun is easy to use and the manufacturer produces the kit in a sterilised environment. The kit comes with a user manual that describes and illustrates ear-piercing techniques and includes aftercare instructions. This kit is suitable for ear piercing only.
Caflon Blu Intro Kit
The Caflon Blu Intro Kit is suitable for professional users. It comes in an attractive and practical carry case and includes an ear-piercing instrument, a marker pen, an A-clip, cleansing wipes, aftercare lotion, and 12 pairs of piercing studs. This Caflon set comes with clear instructions that are easy to follow. The earrings included in the kit come in a range of styles to suit a variety of tastes. You can buy Caflon cleansing wipes, aftercare lotion, and piercing studs separately and these products are readily available. The Caflon Blu Intro Kit is user-friendly and allows you to replace consumables as needed.
Caflon Blu Starter Kit
The Caflon Blu Starter Kit is ideally suited to professional users and contains everything you need to start piercing ears. The piercing kit comes with an ear piercing gun, a marker pen, an A clip, cleansing wipes, four 30-millilitre bottles of aftercare lotion, and 24 pairs of piercing studs. The foam-lined carry case has cut-outs that accommodate each piece of equipment, holding it secure while you travel and while storing the kit. The ear piercing set includes detailed instructions.