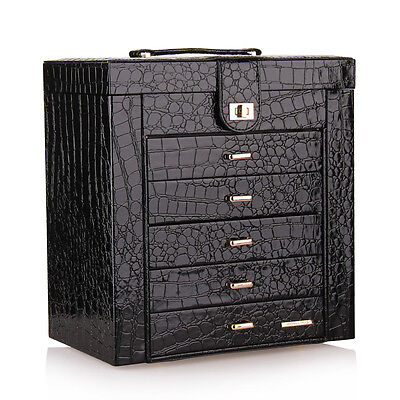 Jewellery Armoire Birthday Gift
This jewellery is elegant and stylish ,best Christmas Birthday Gift Box to your friends ,mother or systers !
this box has been improved a lot compare to the 1th time,not only make it more versatile but also higher quality ! Adding 2 boards on the botom to the open side part so that could hold more necklacs or earrings ,which could keep balance while opening the side parts, meanwhile , one more protective package box is made,could ship to worldwide without been broken !
Are you confused about the question that while taking part in a party, you have some problems in choosing jewelleries which could make you more elegant and charming, what do i do? don't worry, just take all of them! Our company has developed new jewellery rolls, which is versatile and convenient, could use it to storage necklace,rings,earring or even coins and money, it could safe space in your evening bag,just enjoy your Christmas Party!
Also, some buyers are interested in collecting rings or earrings, maybe, they don't need a large multi-functional jewellery box to storage, just need a special case to storage it ! what a surprise ! New jewellery ring earring display has arrived in UK warehosue !
We are professional in making ewellery box,christmas gift box,children musical box and so on, collecting all the suggestion from buyers and combining them with new improvements of the box ,hope you like it, just confident in shopping !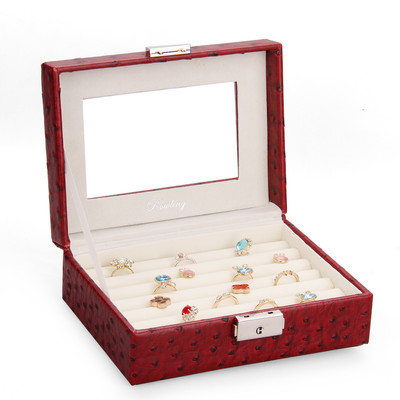 Ring Earring Jewellery Display
Size: 6.89x4.92x2.76 inch
Weight : 0.913 pound
Suitable For: Rings Beads
This jewellery box is made of faux leather, velvet, with ostrich pattern design, there are 7 rolls to storage rings or earrings , also with a key for security and glass on the top , which could display all kinds of elegant jewelleries without opening the lid.