Who doesn't love In the night garden?
I am sure as you are reading this guide you will have or know of a child that is in the night garden crazy! Or maybe you just are? What ever the occasion or who ever for here below i will go through the best toys that are currently on the market. I will include prices and ages that they are promoted for.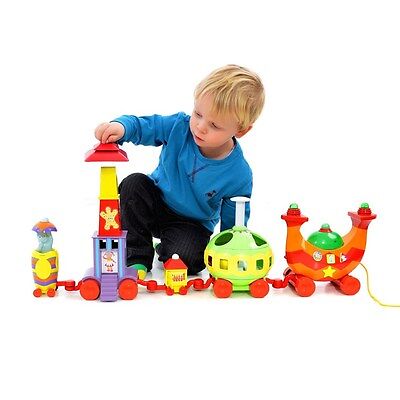 1-The activity Ninky Nonk
If you were not aware of this toy then i really think you are missing out big time! Its a big hit with any in the night garden fan. It will take a good while before they get bored of it as there are so many different things this cool little toy can do. (I say little lightly as it is a long toy!)
It has 5 colourful carriages, Musical Pull Along Engine, Spinning Shape Sorter, Stacking Blocks Carriage, Pop-up Igglepiggle and Peek-a-Boo Carriage!.
This toy will set you back a good £49.99 but at the moment it is on offer in all good retailers for £39.99.
It is for the ages of 18 months plus.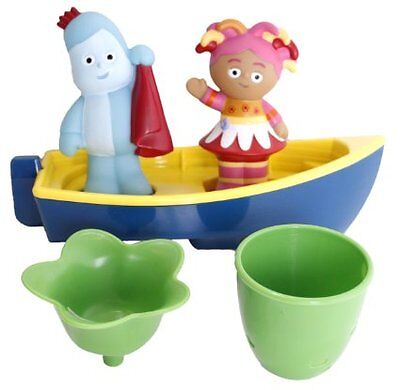 2-Iggle Piggles floaty boat set
Here we have a decent in the night garden bath toy. One of the only official ones on the market at the moment.
It does not disappoint.
Iggle Piggle and Upsy Daisy are both bath suckers so can be stuck on the side of the bath easily for storage or just for playing.
It will set you back £14.99 But you can get it on offer for around £9.99.
This toy is promoted for children 12 months plus.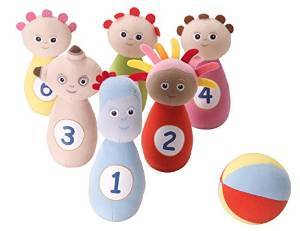 3-Soft Skittle Set
This is the official in the night garden skittle set which is awesome. Its sturdy when stood up but can be knocked down easily. Comes with the ball, Iggle Piggle, Upsy Daisy, Makka Pakka and the Tomliboos.
Will be a sure hit with any fan. They are also a fair size so good for the price considering the Soft toys that are similar sizes retail between £5.99-£9.99 plus!
The average retail price for this is £14.99 but on offer alot of the time for between £7.98-£11.99
Ages for this is 12 months plus.
Skittletastic!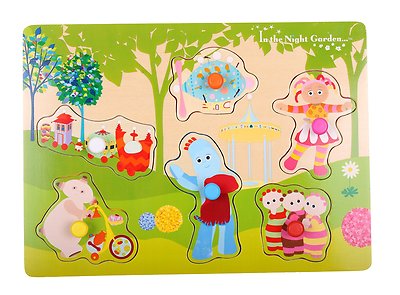 4-Pack 'N' Place Wooden puzzle
This Colourful wooden puzzle really is good for hand eye co ordination and colour co ordination. It does not chip easily like a lot of wooden puzzles do on the market.
The pieces are nice and chunky and you can feel just by holding them how sturdy they are.
This retails at around £7.99.
Ages is 12 months plus.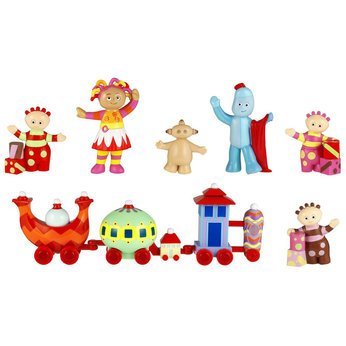 5-In the night garden Figures.
Here we have the in the night garden figues from playskool. you get 6 little figures and the ninky nonk!
Its great for imagination play by creating there own storyline.
This retails around £19.99 but can be found in some retailers at £14.99.
Its not for children under the age of 2 as the pieces can be put in the mouth easily.
Hope you enjoyed my little guide
I am a bzzagent and will be doing many more different guides so keep an eye out! I hope you enjoyed this one i wrote as much as i enjoyed writing it! Lets be frank who does not love ITNG!
xox