From simple, battery-powered devices to more complex rechargeable, programmable devices,
torches
are a niche market, and can come with a variety of features. While their use is mostly associated with camping and blackouts, flashlights are essential during many crises, and so it is important to have a high-quality one on hand. The user can tell a top-rated torch by how high its lumens and candela (or intensity), rating is and its beam distance. Another aspect to look for is the design, since most users want something small that can fit in a bag or pocket, many top-rated torches are small and compact. To find a top-rated torch at a budget price, the consumer can turn to eBay.
| | |
| --- | --- |
| 1 | Streamlight 88031 Protac Tactical Flashlight |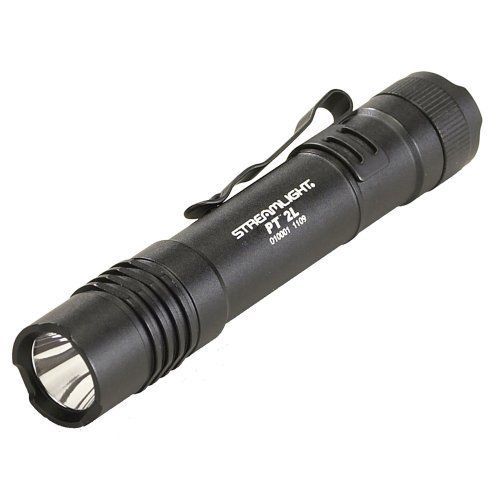 Boasting a 50,000-hour life, the Streamlight 888031 Protac Tactical Flashlight is easily held and operable in one hand, making it ideal to use in tandem with tools during repairs. Weighing only 28 g (4.8 oz), this Tactical torch has a compact design that can fit in a pocket, toolbox, or in a glove compartment. With momentary, variable intensity, and strobe settings, the Streamlight torch can signal for help and allow the user to see in the dark.
---
| | |
| --- | --- |
| 2 | UltraFire 7W CREE Q5 LED 300Lm Flashlight |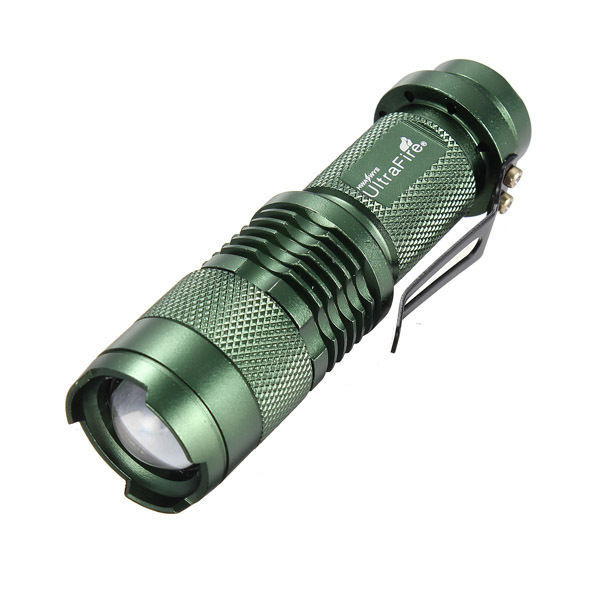 The UltraFire 7W CREE Q5 LED 300Lm flashlight is a versatile torch, and can be mounted on pistols, rifles, and shotguns, has a "zoomable" feature that allows the user to focus the beam of light to one of a larger or smaller radius, and can also be used in the rain. The aluminum alloy casing makes it waterproof, not safe for underwater use. This UltraFire flashlight uses two 3.6-volt rechargeable batteries, has an average lifespan of 100,000 hours, plus a continuous runtime of two to three hours.
---
| | |
| --- | --- |
| 3 | Nitecore P16 Tactical CREE Flashlight |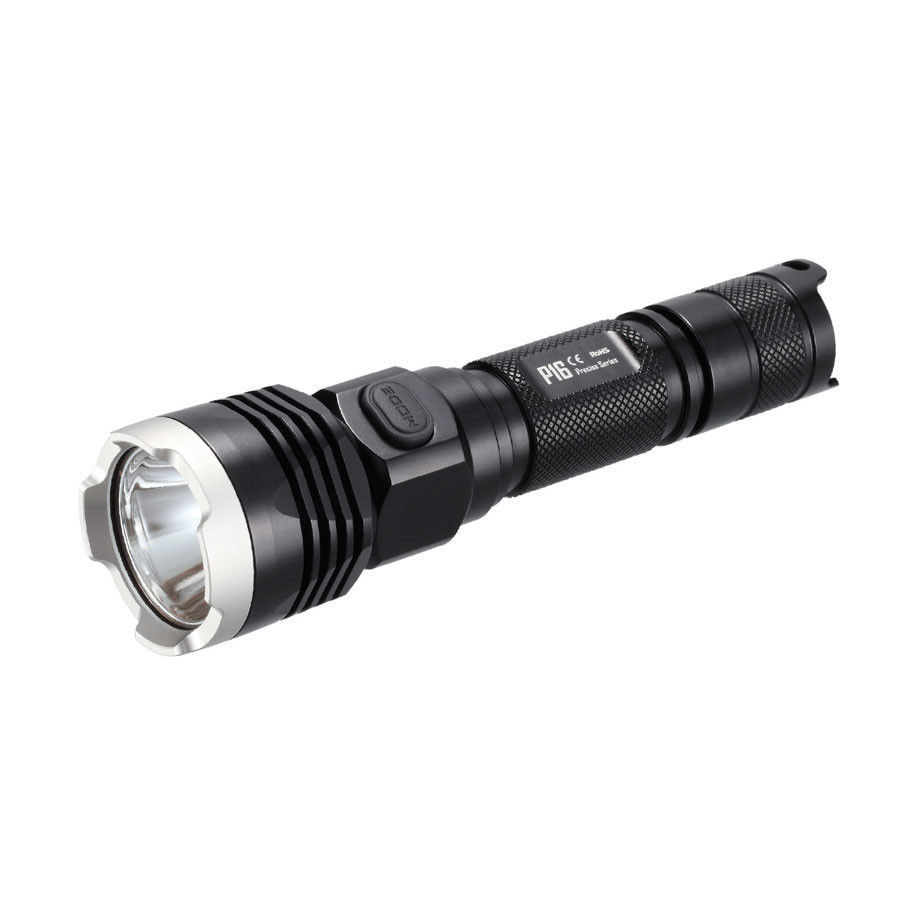 Useful when attempting to illuminate the pitch-black outdoors, the Nitecore P16 Tactical CREE flashlight can throw a beam of light up to 289 metres, with a beam intensity of 20,900cd. The side switch allows the user to easily operate this CREE torch with one hand, and the intelligent memory function stores the user's preferred brightness setting. Waterproof, impact-resistant, and protected from its own heat, the Nitecore P16 Tactical CREE flashlight is ideal for any outdoors person.
---
| | |
| --- | --- |
| 4 | MagLite ST3D016 3-D Cell LED Flashlight |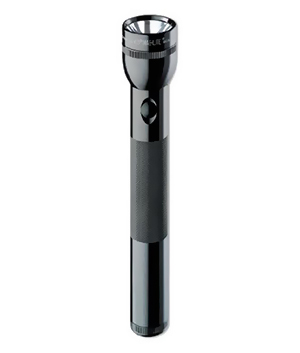 The MagLite series of flashlights is infamous for being virtually indestructible, and the MagLite ST3D016 3-D Cell LED flashlight is no different. The inside and outside of this MagLite torch,, made of high-strength aluminum alloy, is anodized, which makes the flashlight water- and shock-resistant without adding weight. The three D batteries give the LED lights in this flashlight a long life, and the beam itself is easy to focus, with an O-ring on the head of the torch controlling whether the beam is large or small.
---
| | |
| --- | --- |
| 5 | Streamlight 88040 ProTAC Tactical Flashlight |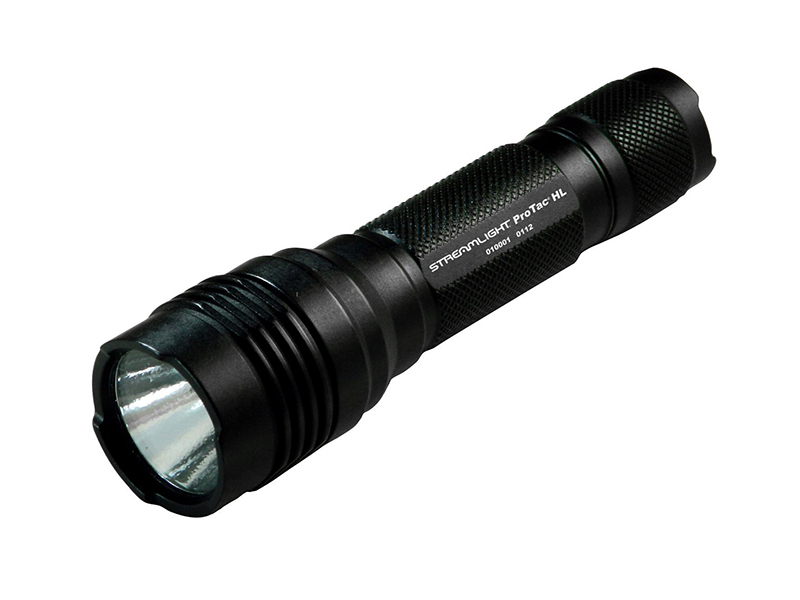 There are three light output levels on the Streamlight 88040 ProTAC Tactical flashlight: low, which has an intensity of 800 candelas; high, which has an intensity of 16,000 candelas; and finally strobe. With the ability to throw light up to 253 metres away, this Streamlight tactical flashlight is not only useful for hiking and camping, but is powerful enough that it can be used in professional arenas such as medical services, security, and law enforcement.
---
| | |
| --- | --- |
| 6 | MagLite ST3DMR6 Universal Camo 3-D Cell Flashlight |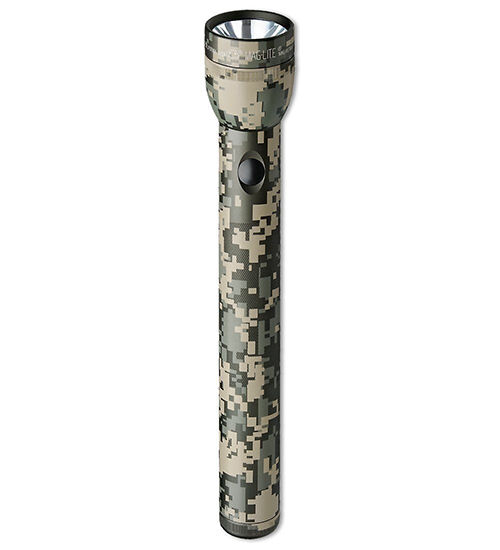 Available in the hunter-friendly camo print colour scheme, the MagLite ST3DMR6 Universal Camo 3-D Cell flashlight is another type of torch whose beam can be altered by rotating the head of the flashlight. It takes three D-cell batteries to fully power this LED MagLite flashlight but the Intelligent Energy Source Management ensures that those batteries reach their full extent. Coming in at about half a kilogram in weight, the MagLite ST3DMR6 Universal Camo 3-D Cell flashlight is a little heavier than other models available, but the 100,000-hour life makes it worthwhile.
---
| | |
| --- | --- |
| 7 | HexBright FLEX LED Flashlight |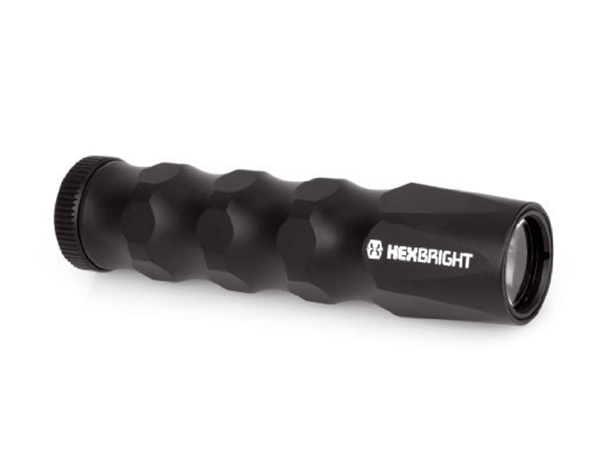 The HexBright FLEX LED fflashlight has a sleek, ergonomic design that fits comfortably in the user's hand. Not only is it nice to hold, but this FLEX LED torch is programmable to fit the consumer's lighting preferences, as well as rechargeable. The user can just plug this flashlight into any USB port to charge it back to full 500-lumens capacity. Made from aircraft-grade aluminum, not only can this FLEX LED flashlight endure falls and scratches, but it can even be dropped into up to three feet of water and still work.
---
How to Buy Torches
Whether you utilize them in your vocation, during camping trips, or just for emergencies, high-quality torches are an essential part of any user's household. To find the right torch for you, you can look on eBay. To start shopping, first go to the eBay website. Then, type in the name of the product you want to find into the search box using keywords such as " Streamlight 88031 Protac Tactical Flashlight." Narrow down the search results by selecting certain categories to search by, such as price, brand, condition, and more.