Eyebrow Pencil
Available in 5 colours each giving a truly sharpened, brow defining look. These allow the user to confidently use to shape, colour with a streamline pencil to help with ease of application to fill in or deepen your current brows. You will be happy to know that you don't require a sharpener for these pencils either!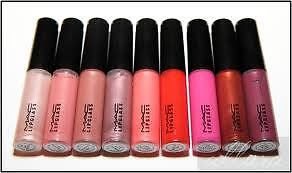 Tinted Lipglass
A lip gloss with applicator available in 9 differing colours that creates a high gloss, glass like finish to compliment any make up look. These unique lip glosses are designed to be worn with lipstick or lip pencil. These lip glosses are ideal for people looking for a lip gloss that is not drying as it contains Jojoba oil


The Famous Mac Lipsticks
These are available in 13 standard colours with many limited edition lipsticks, often being created by celebrities including Rihanna and Lady Gaga. The main collection features six different finishes including matte, satin and glaze. There truly is a colour to suit any complexion, occasion or skin tone. A definitely staple to add to your makeup collection!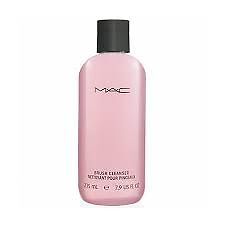 Brush cleanser
Something that is essential to avoid the spread of germs and to reduce the chances of getting spots. This product cleans, disinfect and conditions bushes to help them last longer. It is convenient to use and is specifically designed to extend the life of high quality brushes. Brush Cleanser leaves your brushes smelling fresh, clean and ready for use soon after quickly meaning it is never an inconvenience.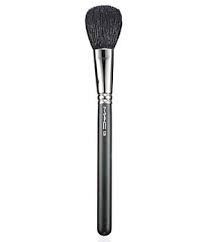 The 129 Blush/Brush includes a travel resealable pouch to keep your brush clean. This brush is particularly good for blush application. The fibres are soft and form a full, rounded shape. All Mac professional brushes are hand-sculpted and assembled birch, linden, ramin wood handles and nickel-plated brass ferrules.