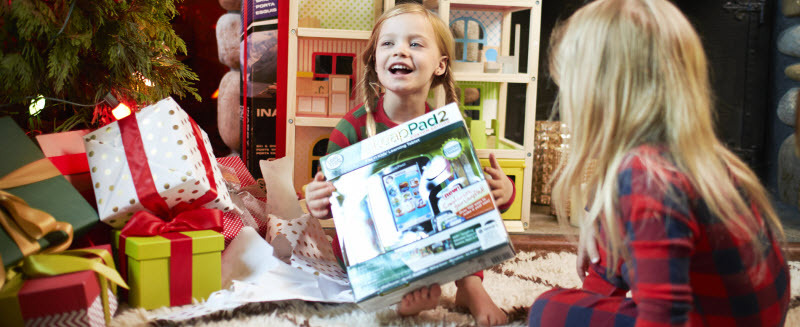 Every winter brings with it a new grab-bag of exciting high-tech toys, each one hoping to make a splash on the all-important Christmas market. This year is no exception, with robot pets, toys-to-life video games and digital dolls all looking for a place under the Christmas tree, along with colour-changing bags, cuddly monsters and a child-friendly smartwatch. Want to make sure that the kids in your family get the hottest presents of the season? Just read on.
Transformers: Stomp and Chomp Grimlock
If Tekma's dino is a little too cute and cuddly,
Stomp and Chomp Grimlock
is another story. This high-tech action figure transforms from a gigantic robot into terrifying, sci-fi T-Rex in one smooth movement, giving you the choice of mighty sword or chomping jaw and light-up eyes.
Touch the sensors concealed around his teeth and body and you'll see Grimlock's eyes flash green and his mouth glow red, with accompanying sounds of fury. Stand the bundled mini Optiumus Prime figure on his shoulders, and Grimlock makes an even more threatening racket. If your kids loved the Age of Extinction movie, this toy will bring all the thrills to life.
eBay Loves:
Grimlock's bad boy attitude and flashing lights.
Watch out for:
The tail. You need to stick it on yourself, and it can come off.
RRP:
£89.99
Scalextric ARC ONE
For years it's been the ultimate racing toy, but now
Scalextric
has embraced the world of apps. The new App Race Control (ARC) systems allow you to create and manage races from your smartphone or tablet, using a Bluetooth connection and a dedicated app.
You can name your drivers and set the number of laps, add custom car setups and race conditions, then control speeds and pit stops once the cars are on the track. Then, when the race is over, you can post your times to Facebook and Twitter straight away.
eBay Loves:
The classic fun of Scalextric, now with an added high-tech twist.
Watch out for:
Parents, grandparents and uncles – you'll have to fight them off.
RRP:
£99.99
My Friend Cayla
You've heard of the smartphone and the smartwatch? Now get ready for the smartdoll.
Cayla
can chat, answer general knowledge questions, play games and read stories, and she can even take you through her photo album and tell you what she's been up to.
The doll works in conjunction with an app for iOS or Android tablets or smartphones, and she searches the Internet for answers to your questions. Don't worry – your kids can't ask anything inappropriate, as Cayla has a list of blocked words and safe-search filters to screen anything unwanted out.
eBay Loves:
Having a friend that can answer questions or tell you about the weather.
Watch out for:
With so much knowledge at her disposal, this smart doll might be smarter than you!
RRP:
£59.99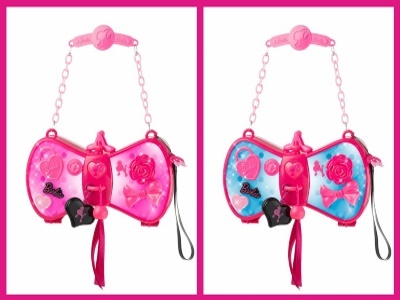 Barbie Colour Change Glam Bag
Do you know a girl who'd like a handbag to match every outfit? With the
Barbie Colour Change Glam Bag
, her wish is granted. Just hold the little clutch-bag against a party dress, top or coat and press the heart-shaped button and it lights up and changes colour before your eyes.
LEDs built-into the bag exterior change to match over 100 different colours, and you can customise it further with a chain-style shoulder strap and a range of clip-on accessories, including hearts, roses, bows and other trinkets. A must for Barbie fans – and for glamour-loving girls in general.
eBay Loves:
Watching the bag change colour, as if by magic.
Watch out for:
Grown up girls might want one too.
RRP:
£29.99
Skylanders: Trap Team - Starter Pack
Skylanders pioneered the 'toys-to-life' video game, with figures you placed on a glowing power portal that transformed them into the heroes of the game. Now
Trap Team
turns the idea on its head, enabling players to trap villains from the game in cool, light-up crystals, then release them back to fight again on the side of good. It's a smart, entertaining, family-friendly action game, with great gameplay and a cracking script that's jam-packed with laughs. It's available on just about every console going, and there's an excellent version for tablets too!
eBay Loves:
Trapping a villain, and hearing them sucked into the glowing trap.
Watch out for:
The expense. All those Skylanders and traps don't come cheap.
RRP:
£59.99
Add a caption
Disney Infinity 2.0: Marvel Superheroes Starter Pack
Disney Infinity 2.0: Marvel Superheroes Starter Pack
Disney Infinity
takes the 'toys-to-life' concept from Skylanders and gives it a distinctive Disney spin, complete with a cool, creative Toy Box mode where players can build their own Disney-themed worlds, and even simple games. This second edition adds an extra layer of excitement by recruiting some of Marvel's biggest super-heroes to the fold, with playsets based on The Avengers, Spider-Man and this year's summer blockbuster, The Guardians of the Galaxy. The basic starter pack comes with The Avengers kit, and you can still use any existing Disney favourites you bought to play with the first game.
eBay Loves:
Tearing up Manhattan with Iron Man, Black Widow and the mighty Thor.
Watch out for:
Pester power. You could spend hundreds on extra figures before you know it.
RRP:
£59.99
Teksta T-Rex
We've has the Teksta Puppy and the Teksta Kitty – adorable walking robot pets that can sense when they're being talked to or played with, that answer you with light-up eyes or noises, and that run around chasing their robotic ball or mouse. Now Teksta brings us its latest robotic creation, the
T-Rex:
a not too-ferocious little dinosaur that reacts to your hand movements and follows your commands. T-Rex roars and waves his head as you approach him, and is happy to crunch, swallow and then spit out his favourite bone. If that's not enough, you can empower the diminutive dino with more tricks with the free downloadable tablet app.
eBay Loves:
Having a pint-sized dinosaur at our command.
Watch out for:
Your mind, when the kids repeat his song-and-dance routine all day on Boxing Day.
RRP:
£59.99
Xeno
Xeno
isn't just the most cuddly monster in town; he's also the most interactive. Sensitive to touch and sound, he'll listen to music, dance and play, and he'll also get sleepy, hungry, sad and unwell. He sneezes – cue repulsive-looking snot – and if you feed him too fast he might get a tummy ache, or even suffer from a spot of wind. Whatever he's doing, his LCD-based eyes will tell you how he feels. The little beast comes with a range of built-in games, and you can find out more about him and where he comes from with the free tablet app. He's a little bit rubbery, but your kids will love him all the same.
eBay Loves:
Hanging out with a talking, snoring, burping, parping monster.
Watch out for:
The snot. It really is disgusting.
RRP:
£79.99
V-Tech KidiZoom Smart Watch
Will this Christmas make wearable tech the year's big thing? Well, it's definitely trickling down to toys. V-Tech's
Kiddizoom Smart Watch
has a built-in camera that shoots stills and videos, voice recording and editing and games. It also incorporates a stopwatch, alarm and timer, and comes complete with a choice of analogue and digital face designs. Perhaps it doesn't have the power or the smartphone connectivity of a Moto 360 or Samsung Galaxy Gear, but with its bright colour touchscreen it has the right look and feel, and you can use the micro USB cable to upload your pics and videos to PC.
eBay Loves:
The fun activities and built-in motion sensor.
Watch out for:
That voice recorder – who knows what the kids might capture?
RRP:
£39.99
Leapfrog LeapBand Activity Tracker
Fitness tech doesn't have to be an adults-only thing. With Leapfrog's
LeapBand Activity Tracker
kids get a wearable virtual pet that encourages healthy, active play. Jumping, running, wiggling and dancing earn you points with which to unlock new rewards, while a range of challenges keeps kids up and moving or preparing healthy snacks for their new friend. Parents can add further options through Leapfrog's Connect online service, and also lock the LeapBand during school and quiet times. It charges over a micro USB connection, and a companion app for smartphone and tablet adds even more fun activities.
eBay Loves:
Having one high-tech gizmo that gets the kids up and on their feet.
Watch out for:
Charging. You need to recharge the batteries every few days.
RRP:
£29.99
LeapFrog LeapTV
Kids and consoles aren't exactly strangers, but
LeapFrog's LeapTV
is a games machine designed specifically for them. The versatile controller folds inwards to become a conventional gamepad or outwards to become a Wii-style motion controller, while the bundled motion-sensing camera adds full-body motion controls, like a cut-down Microsoft Kinect. The hardware doesn't exactly rival the PS4 or Xbox One – or even the Wii U, but LeapTV has its own range of games, with educational and active sports offerings joining kart racing and arcade games, not to mention titles featuring Disney's Jake and the NeverLand Pirates, Pixar's Buzz and Woody and even Spider-Man.
eBay Loves:
A games console that teaches as they play.
Watch out for:
The graphics. Even kids might spot they're not exactly cutting-edge.
RRP:
£119.99