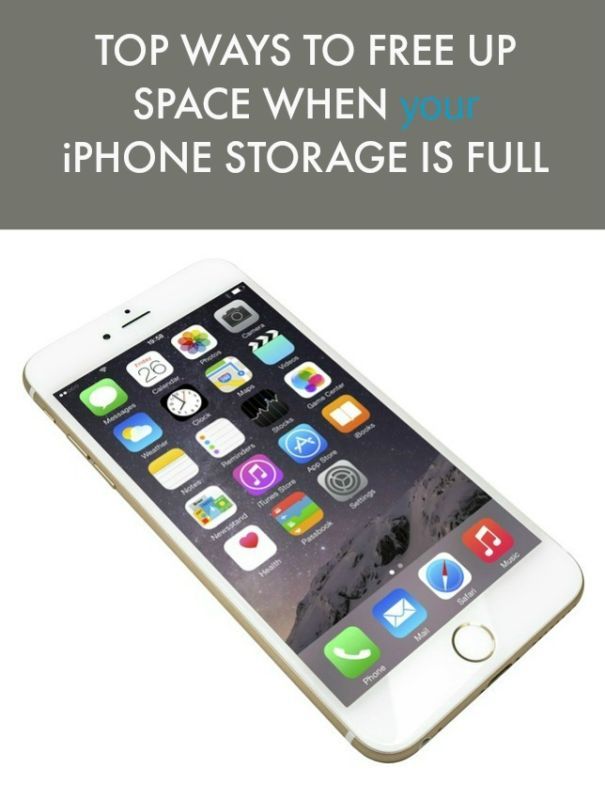 It's almost inevitable that at some point in time while you own your
iPhone
you are going to run out of storage, especially if you have a 16GB model. Every time there is a software update more storage is sucked from your
phone
and as your photos, videos, music and apps accumulate your storage begins to dwindle. These top ways to free up space when your iPhone storage is full. These top ways to free up space when your iPhone storage is full have been really helpful to me in keeping my storage in check. Be sure to check out my
10 SECRET iPHONE iOS 9 TIPS & TRICKS THAT ARE JUST PLAIN SMART
and
10 HIDDEN IPHONE TIPS & TRICKS THAT'LL SAVE YOU TIME
for more useful iPhone tips and tricks!
KNOW HOW TO CHECK WHAT'S USING YOUR STORAGE!

There are common culprits (listed below) that deplete pretty much every iPhone user's storage, but it's always nice to know how to check your storage usage. If you are mindful of your available storage you can ensure that you don't get the dreaded "NOT ENOUGH STORAGE" message.
You might be surprised by what is using up your storage. It's pretty commonly known that photos, videos and music can use a lot of storage, but apps can, too. I have a few apps taking up storage on my phone that must have been installed by one of my kids.

To find your storage usage: Go to Settings > General > Storage & iCloud Usage > Manage Storage.
DELETE UNUSED GAME APPS
Game apps
can use up a lot of space because of 3-D graphics. If you are no longer using the installed games (or you don't even know about them), delete them! To delete unused apps that are taking up precious storage Go to Settings > General > Storage & iCloud Usage > Manage Storage > Highlight App > Delete App
DELETE APPS YOU DON'T NEED
Gaming apps aren't the only apps that take up storage. Ditch any apps you don't use. Here's how to delete an app from the Home screen: tap and hold on an icon and wait for it to start wiggling, which means that it's in edit mode. Then tap on the small x in the upper left hand corner to delete the app.
ONLY SAVE HDR IMAGES
The fancy schmancy
iPhone camera
takes HDR images for the best possible picture. HDR images are actually composed of multiple images taken at different exposures and then combined into one image. So, when you take images on your phone you are getting an HDR image, and a regular image. DOUBLE images equal double storage. Totally not necessary. You can disable saving the regular or non-HDR image so that you don't have duplicate images. Here's how: Settings > Photos & Camera > slide the "Keep Normal Photo" switch to off.
You should also go through and delete the non-HDR multiples on your phone.
(I have lots of fun taking pictures with
clip on lenses for my phone
. Do you use them too?)
DELETE VIDEOS and BOOKS
Once you are done watching your full length movie or reading your latest greatest novel, delete it from your phone.
To delete videos: Videos > Tap the "Edit" button in the right hand corner. Select the videos you'd like deleted.
To delete books: iBooks > Tap the "Select" button and then tap the books you no longer want and then > Delete.
Remember that you can easily download videos and books when you want to read or watch again by tapping the download button.
TURN OFF YOUR PHOTO STREAM
You most likely have your Photo Stream turned on so that you can share photos across your Apple devices like your
iPad
, iPhone and
MacBook
. However, this takes up extra space, and if you are in a pinch, turn off your Photo Stream. Here's how: Settings > Photos & Camera > Deselect "My Photo Stream".
NOTE: This will delete your Photo Stream from your iPhone and the images from your iPhone will no longer be on your other devices.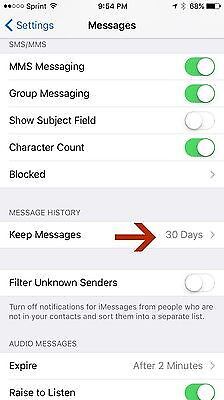 AUTO-DELETE TEXT MESSAGES
Set your text messages to auto delete. This is a great way to conserve/manage your storage. This is especially helpful if you send and receive lots of text messages with images. You can set your text messages to auto-delete by: Settings >Messages > and then tap "Keep Messages". You can select 30 days or 1 Year.
DELETE OLD VOICE MESSAGES
If you make a habit of keeping lots of old voice messages then chances are you are using up unnecessary storage. If you have voice messages that no longer need to live on your phone, go to:
FOR INDIVIDUAL MESSAGES: Phone > tap Voicemail > Delete voicemail by swiping left on the voice message > Tap Delete.
FOR SEVERAL MESSAGES: go to Phone > tap Voicemail > Select all unwanted messages > Press delete. To finish clearing out your messages, click "Deleted Messages" and select "Clear All."
Is there a way you free up space on your phone that I've missed?
More from Princess Pinky Girl:
Looking for more great ideas for food, family & home? Visit Princess Pinky Girl at
www. princesspinkygirl. com every day for fabulous ideas and inspiration. Plus, follow Jenn on Pinterest at @jfishkind, on Facebook (/princesspinkygirl), Instagram (@princesspinkygirl), or Twitter (@ppinkygirl). And, to find more great Jenn Fishkind/Princess Pinky Girl eBay guides and collections, follow us at http://www.ebay.com/usr/princesspinkygirl!

Check out some of my other eBay guides - just click on the pictures below!
Look for more great ideas for food, family & home coming from Princess Pinky Girl!