Harem trousers provide a happy middle ground between a skirt and a pair of pants. Fitted at the waist and around the ankles, harem trousers are baggy throughout the hips with a dropped crotch. Since harem trousers fit unlike any other type of trousers, styling and accessorising them can be puzzling. Pick up harem pants and accessories on eBay and wear the traditional Arabian pants with flair.
Choose Interesting Shoes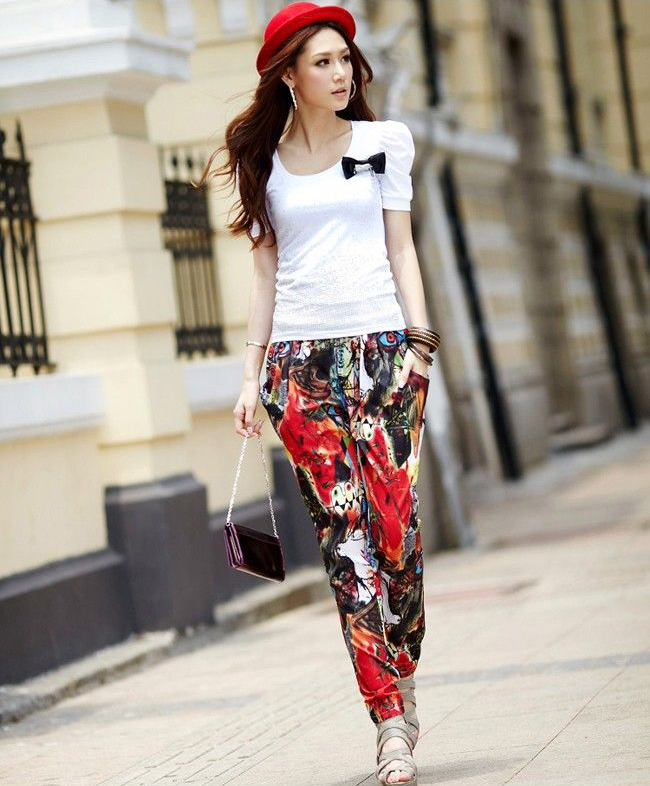 Since Harem trousers have a loose cut and less shapely silhouette, it is fun to jazz them up with shoes to engage the eye. Harem trousers are not as fitted as other types of trousers and tend to look blousy, so counter the shape of the pants with ultra-feminine shoes, such as wedges, heeled sandals with cut-out designs, or eye-catching pumps.
Make a Statement
When you opt to wear harem trousers, they make a statement of their own. You do not need to wear much jewellery, so it is best to pick one main statement piece, such as an oversized necklace, a wide bangle bracelet, or dangling hoop or chandelier earrings. Put the focus on one piece of jewellery so you avoid overpowering the harem style trousers, especially if they include a graphic print or design.
Slim Your Top Style
Avoid wearing anything too baggy on the top half of your body when you are wearing harem trousers. One of the rules of fashion is to go slim on top if the bottom is baggy, and vice versa. Harem trousers look sleeker when you pair them with a structured or tight-fitting blouse or top. Layer a camisole under a slim-fitting sweater for a cute look, and accessorise with a colourful scarf, as long as it does not clash with the colour of the trousers. Having your top half slim keeps the look flattering.
Belt It In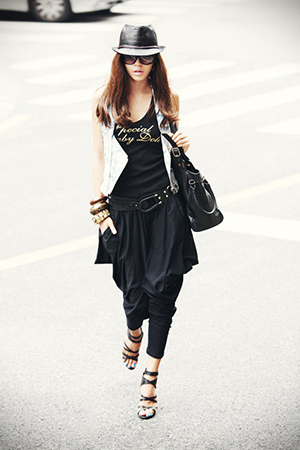 Showcase your waist to keep your shape looking great. If you do opt for a loose-fitting top, a belt is a required accessory. Cinch the belt around the thinnest part of your waist to accent your figure and highlight your curves, and avoid a boxy look that happens when you wear a loose blouse along with loose-fitting harem trousers.
Keep It Simple
When you are picking accessories to wear with your harem trousers, keep in mind that the trousers are the main focus of your look. The rest of your ensemble should be minimal. Pick a neutral handbag, and avoid wearing too many pieces of jewellery aside from one statement piece. A colour combination is lovely, but too many competing shades overpower the look and confuse the eye. Let the harem trousers take centre stage, and embellish your look with understated accessories in complimentary colours and styles.