Or how to avoid trashing your buggy in the post.
This guide is of particular relevance to the Pliko P3, Freestyler Travel System and MPX chassis, the pushchairs I deal with most often, but hopefully offers some useful advice on packing for other makes.
One of the most common faults I find on Mamas & Papas pushchairs sold on eBay is that the foot that it stands on when folded has broken off.
Although this doesn't doesn't prevent the pushchair from being used - it will still clip open and stand alone when folded, albeit a bit wonky - it's a crying shame.
It's also a pain to get fixed. The part itself doesn't cost a great deal, but it needs to be riveted on, which means returning it to Mamas & Papas for a service at a cost of £25, on top of the cost of the part. When you're buying or selling second hand, that represents a major increase/decrease to the sale price (depending on your point of view).
This fault usually happens in the post due to poor packaging. Any part that is small and sticks out from the rest of the pushchair is vulnerable, and some sellers (not me) will sent things only packed in binliners! Probably about half - maybe more - of the pushchairs that come to me wrapped in binliners have this kind of damage.
But it can also happen to boxed buggies when the item is free to move around inside the box. The end of the foot is quite sharp and will punch through the box (as shown below), and then shears off when your friendly courier driver throws the box into the van vigorously sideways!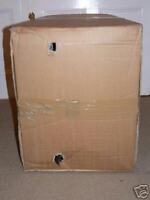 To prevent this from happening, you must make sure that the wheel/foot end of the pushchair or chassis is covered in cardboard, and is not free to move around inside it. If it's in a box, then you may need to use additional packing material to prevent movement.
Mamas and Papas ship new buggies with a protective plastic sleeve to protect this particular part, and you could do the same for additional security, by fashioning a protective sleeve out of double wall cardboard and a wrapping of parcel tape.
Parts that need protecting in a similar way are the axles of a chassis, if you have removed the wheels for packing. Any part that's pointy and sticks out could poke through a box and get bent. If the sticking-out part is removable (like the M&P P3 cupholder), then remove it and pack securely inside the pushchair.
I'm posting this guide because this kind of damage is a pet peeve of mine, and by making fellow eBayers aware of it, I hope it will prevent problems for other buyers and sellers.
If you find my Guide useful, please take a moment to vote.