If you purchase milk in plastic bottles you will know how it can "glug" as you pour. This is why you sometimes get messy splashes and tea with too much milk!
It doesn't matter what size of plastic bottle you prefer, whether it is the equivalent of one pint, two pints or four pints, it can be difficult to control the speed of the stream of milk when pouring. Whether you use dairy milk, soy milk, organic milk or even chocolate milk, pouring can be problematic.
In particular, children, the elderly and people with conditions such as arthritis or rheumatism can find it awkward to control pouring from these plastic milk bottles.
Sick of cleaning up the spills made by his daughter, and of having to refill her cup with milk, it was a busy British dad who came up with the solution. He realised that what was required was to somehow convert the plastic milk bottle into a jug.
He created the Topster Milk Top Pourer.
The Topster is a spring loaded pourer that replaces the top on any standard plastic milk bottle and transforms it into an instant jug. It was such a brilliant design that it scooped the top award at the British Invention Show in the year it was launched..
The Topster is reusable, dishwasher safe, colour-coded, and will fit most plastic milk bottles.
It means no more repeated unscrewing and re-screwing of the plastic bottle top and the well designed spout eliminates any mess and drips.
The Topster Milk Top Pourer is available in three colours to reflect the normal range of milk; red, green and blue. Or they can be bought in a mixed combination set to cater for the family where different milk types are in use.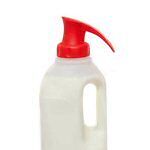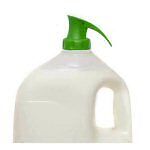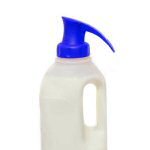 Red Topsters
Green Topsters
Blue Topsters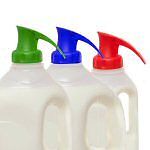 Pack of Red, Green and Blue Topsters