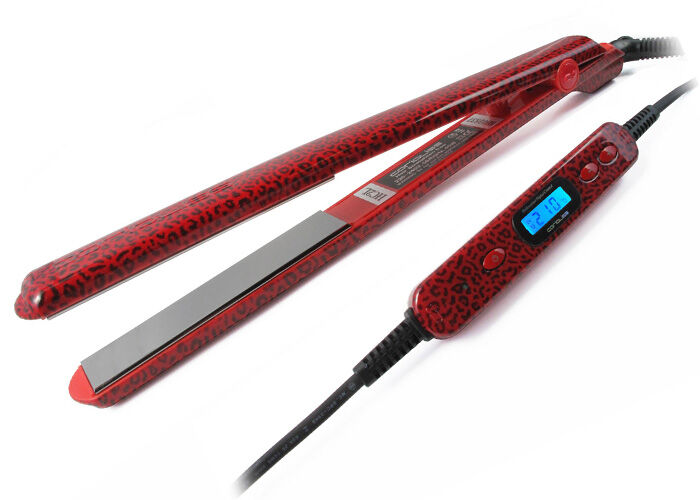 Hair straighteners, which may also be called flat irons or straightening irons, are an important tool for both men and women who are looking to get a smooth, silky, straight look from their hair. However, like any type of hair care and styling tool, buying hair straighteners requires a good amount of knowledge and research. There are several different models on the market, each claiming to be the 'best' and provide users with unique benefits. Two common materials used in the construction of these hair straighteners are tourmaline and ceramic.
Before buying tourmaline and ceramic hair straighteners, buyers greatly benefit by taking a little time to learn what these tools are, how they are constructed, and the particular advantages of choosing one over the other. With so many options these days, finding the perfect hair straightener that gets the job done well and is cost-effective is not a straightforward task. There are many places where hair straighteners are routinely sold, ranging from high-end salons to department stores and discount retailers. There are also a host of websites that sell hair straighteners of various qualities. Among these sites, eBay boasts a great selection and excellent prices.
How Hair Straighteners Work
Before going into the details of the materials used to make hair straighteners, it is first essential to understand how they work and why. In fact, a hair straightener is actually one of three types of hair irons commonly used for the same purpose: to change the structure of one's hair through the use of high heat. The other two types of irons, curling tongs and hair crimpers, create texture in the hair whereas the hair straightener or straightening iron takes the hair's naturally occurring texture away.
The function of a hair straightener is pretty simple in this regard. The heat generated in the iron destroys the hydrogen bonds found in the hair's cortex, which cause the hair to be wavy or curly. These bonds, when disturbed, relax, causing the hair to do the same. However, these bonds quickly reform if the hair is moistened, making the effects of a hair straightener temporary as opposed to more harsh chemical hair relaxers that can destroy the hydrogen bonds for a longer period of time.
Hair Straightener Construction
The basic construction of a hair straightener is pretty simple. It is a device that resembles a set of kitchen tongs with two plates opposite each other at the forked end. These plates are made of various materials, such as tourmaline and ceramic. They are heated and then pressed together, sandwiching a section of the hair. The combination of heat and pressure causes the cuticle to flatten and straightens each hair strand. The type of material that makes up these plates helps to determine the results they produce.
Ceramic Hair Straighteners
Ceramic hair straighteners were developed in the twentieth century as a replacement for metal-based hair straighteners. Though the function of both metal and ceramic irons are the same, the benefit of ceramic is that it produces negative ions when heated. These ions work to heat the plates faster and protect hair from damage when applied at such high temperatures. Whereas the old metal irons would damage hair while straightening it, ceramic irons can actually make hair healthier by reducing heat damage and smoothing follicles.
Tourmaline Hair Straighteners
Tourmaline hair straighteners are actually an evolutionary form of ceramic hair straighteners that are generally considered to be more effective and professional. They may alternatively be labelled as tourmaline and ceramic hair straighteners, since they technically contain both materials.
The plates of tourmaline hair straighteners are infused with the semi-precious metal tourmaline. When crushed and applied to the plates, tourmaline produces a higher level of negative ions than ceramic alone. Tourmaline and ceramic hair straighteners are often considered superior to ceramic-only models because these ions allow the units to heat more quickly and straighten hair more quickly, reducing the total exposure to high heat required for a straightened look.
Comparing Hair Straighteners
Once buyers understand the basic differences between the materials used to make hair straighteners, the next task is to compare the specific models they are considering in order to find the perfect fit for their needs. Hair straighteners vary greatly in price, quality, and size, which means considerations of several factors needs to take place prior to deciding on the right product. Minimally, this means evaluating the user's hair type, the size of the hair straightener needed, and the features desired.
Consider Hair Type
The natural texture of one's hair is the biggest factor to influence one's choice of hair straighteners. Users whose hair is thick and coarse require an iron that heats to much higher temperatures than those with thin or fine hair. This latter group should also be aware of the damage that can easily be caused to hair by subjecting it to too high a temperature.
Therefore, those with fine hair should look for hair straighteners with several heat settings, taking care to notice the temperature level of the lowest setting as well as the highest. One great option for these users is to look for digital hair straighteners, which allow users to choose the exact temperature at which to heat the plates, thereby allowing for greater control over potential damage to the hair.
Consider Size
Another important factor to consider before purchasing a hair straightener is the length and width of the iron's plates. There is a huge variety of sizes on the market, each with specific uses. For example, smaller and thinner hair straighteners can be used effectively on short hair, whether it be men's hair, women's bangs, or short, pixie-style haircuts. Larger and wider hair straighteners are better suited to those who need to cover a large area, such as long, thick hair.
Consider Features
The final issue to consider when looking for a hair straightener is the features offered by a particular model. There are, for example, hair straighteners that have 'teeth' for combing out curly and wavy hair. Similarly a steam function may be a good idea when there is a great deal of straightening that needs to take place. There are also cordless hair straighteners available for people who travel frequently and need to take their hair straightener with them. Finally, so-called 'instant heat' models reach high temperatures faster than typical models and are great for those with considerably little time to get ready in the morning.
How to Buy a Tourmaline or Ceramic Hair Straightener on eBay
Users just starting out with eBay can begin their experience by signing up for an account. While doing so, they can also register with PayPal, a great way to protect personal financial information while shopping with multiple retailers through eBay's site. Once these basics are covered, the searching process can begin.
Depending on the specifics of one's search, finding a hair straightener on eBay can be accomplished in one of several ways. Users looking for a general idea of the selection of hair straighteners that eBay offers can type a general search term into the bar at the top of any eBay page. Start with 'hair straighteners', but also note that different results may appear by using other names such as 'flat iron' or 'straightening iron'. Once the results come up, users can sift through the options for the features the evaluated.
For users who already know the exact model or brand of hair straightener they want, there are two additional options. First, they can conduct a general search like those above, simply adding the name of the product they want, for example, 'Remington ceramic hair straightener'. Alternately, users can narrow down a general search using the category, brand, material, features, and/or price limiters provided by eBay or by using an advanced search. This allows the buyer to find the right hair straightener with ease.
Conclusion
Although there are many options out there, buying a tourmaline and/or ceramic hair straightener does not need to be complex. By first understanding how hair straighteners work, then moving on to how they are constructed and the function of either tourmaline, ceramic, or both materials in their construction, buyers can make an informed decision and are ready to begin looking at products.
However, before one commits to buying a hair straightener, there are three major factors to consider. They are: the type of hair the user has, the size of hair straightener that is needed, and, finally, the appliance features that are most important to the individual user. One's response to these features largely determine which hair straightener works best for them as buyers move on to the actual shopping step.
Finally, when it comes to buying hair straighteners, there are many places to look. Using eBay, however, is a great way to shop right from home with a great selection and a secure payment system. By doing the right research and preparation and a little know-how, buyers can easily find a tourmaline and ceramic hair straightener that works for them.