Thule and Mont Blanc make a wide range of towbar mounted cycle carriers to fit a wide range of towbar styles. At Carracks we can show you the best carrier for the job and which towbars they will fit:
The Mont Blanc Explorer Cycle Carrier has plenty of neat features which make this understated bike rack an excellent choice for any bike rider. If you are a family and need a cycle carrier or if you are a group of friends hoping to take your bikes away for some serious riding.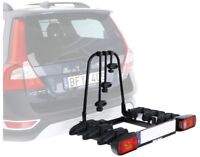 Key Features:
» Carries THREE Bikes
» Quick Attachments for Easy Fitting to The Tow Ball
» Easy to Fold Down, Even With Bicycles Mounted
» Adjustable Aluminium Frame
» Cycle Frame Holders With Soft-touch Grips Will Take Frames From 25-80mm Diameter
» Also Suitable for Children's Bikes
» Durable Wheel Holders Will Adjust to Fit All Types of Cycle Tyres
» Rear Lights and Number Plate Holder Included
» Locks for Both Bike Carrier and Bicycles Included
» Easy to Fold for Storage When Not in Use
» Brand New UK Stock
Constructed using aluminium with high impact plastic components the Explorer is lightweight, versatile, stylish and very easy to use. The Explorer has been designed to provide a very stable platform for the safe transport of cycles with future options for other carrying solutions.
Mottez cycle carriers are a French made cycle rack which have only recently come to the UK, but have taken the country by storm. The Mottez 4 bike rack is one of the only cycle carriers which carries four bikes as standard and which includes lighting board.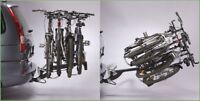 Mottez 4 Bike Tow Ball Mounted Platform Cycle Carrier Key Features
» Separating arms prevent cycles touching.
» Easy install to any tow ball without any adapters or brackets.
» Comes with number plate holder and lights.
» Height adjustable platform.
» Platform tilts allowing access to the boot.
» TUV Approved.
» Maximum Total Bike Weight 70kg.
» Make sure that you have at least 50mm between your towball and your bumper
The Mottez 4 Bike Tow Ball mount cycle carrier has a nice solid feel to it, particularly when you are on-loading and off-loading your bikes. The tilt function is simple to operate and enables you to get inside the boot space with plenty of room to spare, the separating arms act as an extra securing feature which add to the robust feel of this cycle carrier. The Mottez towbar mount cycle carrier is a great accessory which is reliable and built to last.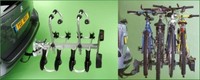 Just as a precaution, please check your handbook for the maximum weight that your towbar will take and make sure that you have either a Swan Neck or an Extended Fixed Flange.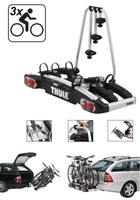 The Thule Euroclassic 909 is a fantastic cycle carrier if you have the money for one, it carries 3 bikes as standard but can also be extended to carry 4 bikes with the 9081 adaptor.
Key Features:
» Can carry up to 4 bikes with 9081 adaptor (not included).
» Complete with no. plate holder lights.
» 13 Pin Powerplug Included.
» Maximium Load 60kg.
» Fits All Bikes And Wheel Sizes.
» Quick release wheel holder mounting.
» Locks bikes to carrier.
» Locks carrier to car.
» Tilt Function, with bikes.
» Weight 19kg.
» TUV/EuroBE approved.
» 3rd Brake Light available (not included).
» 5 Year Manufacturers Warranty.
» Brand New UK Stock.
This product is designed for European style 13-pin towbar electrical systems.
Please note:- This system will only fit a "Swan Neck" style towball. Some traditional tow bars will require a new AL-KO style tow ball to be fitted which give the towbar a slightly longer reach.
towbar mounted cycle carriers at Carracks are in stock and available for rapid dispatch and delivery across the UK.