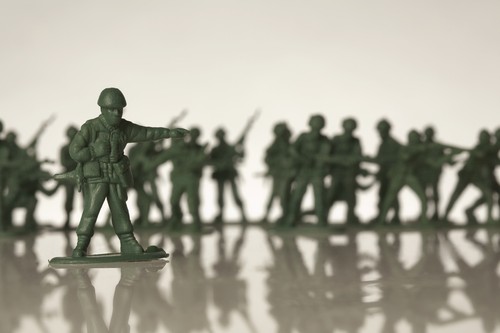 The toy soldier is a traditional miniature figure that is still widely used today by children and adults alike. Its intention is to depict a real life soldier in as much detail as possible, be it a 10th century medieval knight, World War 2 combatant or more modern fantasy character.
Although certain toy stores may stock a collection of miniature figures, buying from the internet is advisable especially if looking for a specific toy soldier that may be hard to track down in person. This guide will look at buying from eBay in particular and how to safely use the site to complete a purchase.
Characteristics of Toy Soldiers
Toy soldiers depict figures from all military backgrounds and era's with the intention of bringing the war theatre to life. They are most commonly made from plastics or metal and sometimes from a mixture of both. Their size can vary depending on which model is required but they will generally range from around 45mm to 75mm in height. They are sometimes classified in relation to their scale compared to the real life soldier.
Brands
There a quite a few different brands which have cemented themselves as established manufacturers of toy soldiers. In the UK, the most popular is Britains which began making models in the 19th century and remain a widely used company today. When coming to search, other brands which you may come across include Airfix, Del Prado and Timpo.
Historical Models
Toy soldiers appear in the guise of military figures from certain periods of history to add to their authenticity. The list is plentiful and full of items to check out, including soldiers from such areas as:
Medieval Era
Napoleonic Wars
World Wars 1 and 2
Modern day armies
Individual Types
Along with the different historical categories of toy soldiers, they can also be defined by what type they are in respect what sort of unit they belonged to. For example there will be an obvious difference between a general WW1 infantry soldier with a machine gun to a medieval soldier with a bayonet in their attire and appearance.
Other specialised types of soldier model come with such franchises as Action Man and Elite Force which carry their own individual style of infantry. Another common type of toy soldier is the 'Army Man' models. These are predominantly made from green plastic and consist of more simple, unpainted infantry soldiers usually sold in large packs.
Collectables
Whereas some models are bought for recreational purposes, predominantly for children, they are also purchased by some enthusiasts to form a toy soldier collection. It is a popular hobby due to the fact there is so much possible variety of model to choose from and in this sense collections can grow and grow. Some people will paint their soldiers and buy accessories to enhance the experience of using them. Others compete in Wargame activities, such as Warhammer 40,000, where models are sometimes pitted against each other in competitions these soldiers tend to be specialised or fictional characters rather than traditional army men however.
Buying Considerations for Toy Soldiers
Before coming to buy toy soldiers then firstly consider the following points which can assist with a purchase:
Firstly consider at what level the models will be used at. If wanting to enjoy them as part of imaginative games and role playing where they will be handled and manoeuvred often, then plastic soldiers at the lower end of the market may be suitable. For those who wish to begin or add to a collection of more notable toy soldiers then consider buying models that have a more detailed appearance.
If thinking about painting the toy soldiers then think about if the correct utensils are owned already. For particularly small models, very small brushes and a high painting skill will be needed.
If buying for children then highly expensive metal models may not be necessary. They may be more inclined to playing with plastic army men that they can move around easier. Note that some smaller army pieces have the potential to be swallowed accidently by younger children so parental supervision may be needed in this respect.
Is there any certain period of history that interests you? For example, buying British infantry soldiers from the Zulu war can enhance the experience of playing with them if this particular conflict is of interest. For children in school, buying soldiers from a particular war they are currently studying may encourage them to look into the subject closer.
Think if a full set of soldiers or an individual model will be more suitable when coming to make a purchase. Some large box sets contain larger numbers of soldiers within them, although they may not be high in quality. Some individual models are manufactured for specialised soldiers such as a sniper or navy officer. In addition, some other prominent generals such as Napoleon or Erwin Rommel can also be found on the market.
If buying the soldiers to re-enact a certain battle or historical period then consider the setting. Are any sorts of accessories needed for the particular layout or battlefield also to make it even more authentic? Such items as tanks, trees and bunkers will be available on the market.
How to Search for Toy Soldiers on eBay
Searching for items in an efficient manner on eBay is invaluable to wheedle out irrelevant results and save a lot of time in the process. Due to the popular nature of military personal, simply typing this into the search bar will bring up too many items. For some users, the broad selection will be too plentiful to wade through, especially when the description and seller must be scrutinized also. This section will look at how to use the advanced search tool and also narrow down the listings of toy soldiers on the results page in order to find the most desirable model.
Using the Advanced Search Menu
An advantage for searching on eBay will come if the historical era or exact type of the soldiers desired is known. For example typing in "world war 2 soldiers" and selecting the 'Toy Soldiers' category will bring up a more desirable list of models. However, if generally looking for all types of toy soldiers, then using the advanced search tool is a great way of efficiently finding the best models without irrelevant listings appearing. On the eBay home page, click on the 'Advanced' link next to the search bar menu. Some of the options to choose on this page will include:
Keywords. It is possible to bring up more exact results and in what particular order when typing in certain keywords. It is also possible to exclude certain words that may be hindering the search. For example, you may wish to eliminate metal figures from the results page.
Save the search. If wanting to look for additional toy soldiers in the future or there is nothing suitable matching the required preferences at the current time, then saving the search is an option by ticking the relevant box and coming back to it at a later date.
Price. A suitable price range can be selected with a minimum and maximum figure. This is a good way of bringing up soldiers within the selected budget, but also if looking for a quality model it can remove some of the cheaper alternatives by selecting a high minimum price.
Buying format. Choosing between the auction and 'buy it now' formats is also an option. Auctions on eBay offer the chance to potentially win an item at a lower price than usual, but can be unpredictable. Buy it now toy soldiers can be purchased for the price advertised.
Location. If looking to collect the item in person, then searching for models located within a certain mileage of your own location is an option.
Delivery. Some eBayers may offer the toy soldiers with free postage and packaging to attract more interest or bidders. Some models will require more efficient wrapping in order to protect them during the journey.
Payment method. Using Paypal is the preferred method of most eBayers so only showing results of sellers who accept it is presented also.
Sort By
By using the advanced search and having saved it if necessary, then sorting the toy soldiers on the results page can also save a lot of time and bring up the most desired necessary items first. Next to the search bar is the 'Sort By' menu where it is possible to arrange the listings by:
The best match in regards to the keyword search.
The time the listing will end.
The cost of the soldiers from lowest to highest
The price of postage and packaging from lowest to highest.
The condition of the item.
The distance of the toy soldiers from your location.
Conclusion
This guide has provided a basic run through of the different types of toy soldier and how to go about buying them from eBay. When coming to make a purchase then it is advisable to read the item's description as carefully as possible to ensure it is the most suitable model. Don't be afraid to ask questions from the seller, be it in store or online, to feel more confident about the purchase.