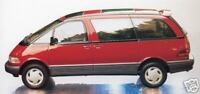 Having now owned 2 of these Japanese imported cars and carried out various repairs during those ownerships, I felt I should try and pass on some tips and advice on owning these highly practical cars.
The range of Estimas, Lucidas and Eminas are all very similar. The difference being in the level of interior equipment, whether it is 2 or 4 wheel drive and manual or automatic.
All the cars share the same bodyshell. This is based on the more common Previa. The Previa is what is commonly know an the 'wide' body and the Estimas etc as the 'narrow' body. This difference came about because of the taxation laws in Japan. The larger and wider a vehicle is the more road tax the owner pays. Therefore Toyota produced the home range with a slightly narrower bodyshell. The difference is less than 5 inches so is really unoticable compared to a UK previa.
The biggest benefit to buying the imported range from Japan is the higher interior equipment levels. Air conditioning,CD players, reverse sensors, captains chairs, electric curtains, rear AC etc being some the equipment you would rarely find on a UK Previa.
The imported models come with either a Turbo diesel or petrol engine. Personally I have owned only the diesel versions. These are slow revving, high torque engines which will pull tree stumps up if you wanted to, BUT they are prone to overheating.
Both my cars (Lucida 4wd and Estima 2wd) required replacement cylinder heads after cracking and overheating. The problem is due to over working them and poor maintenance. The coolant systems MUST be kept in good order and with the correct ratio of anti-freeze to water at all times.
Driving a diesel is a pleasant and comfortable experience. It is NOT a sports car and should be treated accordingly, also it should NEVER be revved over 3,000 rpm. It will run all day at 2500 to 3000 rpm at 60 to 70 mph, but should never be revved hard or driven like a petrol engine. It will not survive this treatment for long. To replace a head and all related work, (gaskets, filters, timing belt etc.etc) will cost in the region of £1500. The cylinder heads CANNOT be machined or repaired, they MUST be replaced with new. NEVER buy a second hand head. You have no idea how hard the original engine was driven, and may find it will last only a matter of months.
However if treated well, serviced regularly and generally driven with sympathy, they are reliable and quite economical to run, returning around 30 to 35mpg in an automatic. The only other point to remember is the engine oil MUST be replaced every 6 months regardless of mileage. They do 'use' their oil and the turbos need fresh oil to be reliable. Don't scrimp on this. It will only cost more in the long run.
The petrol engines are a different matter. They generally come with a manual gearbox. Being petrol they are free revving and quite quick off the mark. No problems with overheating or cracked heads are known of, but they do suffer from electrical and ignition faults. This often requires distributor and alternator replacments. Not as expensive as a cylinder head, but if you are paying a garage to carry out the work, the repair bill will quickly mount up.
Also the petrol engines although fast motorway cruisers, are not the most powerful at low revs, so if you plan to tow, a diesel is probably your best option. Fuel consumption also is higher than the diesel so running costs are higher. As the saying goes, "you pay your money, you take your choice."
Where the whole range of Estimas etc. excells is in the interior. All versions are available as 7 or 8 seaters. The difference being in the centre row. The 8 seater has a 3 seat bench in the middle, which can fold down to meet the rear row and make a full size bed, or can swivel to face the rear for more sociable seating when travelling.
The 7 seaters come with 2 captains chairs in the centre, with arm rests and lots of elbow space. They won't make into a double bed, but they do swivel and recline and are very comfortable and supportive. Ideal for long journeys.
The rear row in all models is very clever. The rear bench is a 3 seater, but it splits into 2 equal halves, which fold down flat into the rear boot space and can then be folded up flat against the car sides and held in place with a strap. This means when you are not using the rear seats, you have an ENORMOUS luggage space! Without the need to remove the seats completely and store in a shed or garage.
Either model (7 or 8 seats) has a large luggage space in the rear even when all seats are in use. Large enough to take several large suitcases.
The 7 seat has another advantage. When transporting long narrow loads (wood etc.) there is a gap between the two captains chairs. This gives a front to rear length of over 6 feet. Longer of you wish to allow a load to sit between the two front seats.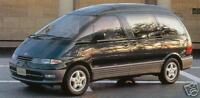 When you look for a Estima or Lucida to buy you will come across 2 types of roof. Strange as they may seem, Toyota offered an optional roof configuration. The roofs are either standard flat roofs with two sunroofs built in, a tilt opening in the front and an electric sliding glass roof in the rear, or they can have a raised roof area. (see picture above)
This gives a few more extra inches of head height, but also still comes with a sliding electric sunroof.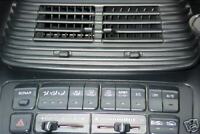 Heating and air conditioning systems will vary across the range. The standard system has AC in the front cabin, with a roof mounted ventilation fan in the rear. The highest spec verison has AC front and rear, independantly controlled, and seperate heating controls in the rear also. Again try to find the highest spec car you can when buying.
The 4wd drive versions are quite capable off roaders. They are NOT Landrovers and cannot be treated as such, but they will happily pull themselves out of muddy fields and slippery slopes. This maybe an ideal option to look for if you plan to tow with the car. 4wd is more commonly found on the Lucida version, but the Lucida will come with lower interior equipment levels.
Overall I can happily recommed the Estima range as a practical and reliable family car or workhorse. However great care must be taken to find one with low mileage, a service record if possible and obvious signs of careful ownership, particularly if buying a diesel. There are lots of these cars in the UK now, so take your time to find a good one and you will be well rewarded.