Why Toys Are So Important For Rabbits
Without challenging activities, your rabbit will get bored, especially if they have no other rabbit to keep them company. This feeling of isolation often leads to depression and/or destructiveness. Rabbits need a lot of entertainment to prevent them from becoming bored. Boredom in rabbits can easily lead to depression, which can lead to them stopping eating eventually resulting in death. Like us every rabbit has a different personality and will like a variety of toys depending on what they enjoy doing. As well as mental stimulation toys are also for physical health and exercise.
Your rabbit needs safe activities to keep their body in shape as well as their mind, without outlets for their physical needs, they may become overweight or depressed.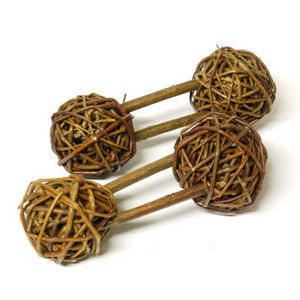 Aggressive Rabbits
Rabbits that show aggression during play are more likely to enjoy toys which they can 'bully' and destroy. I myself have a play aggressive rabbit and I was having issues with her bullying my guineas pigs. I bought her a variety of toys which she could pull apart and chew which meant she had other ways to focus her aggression. Aggressive rabbits often enjoy using toys that they can shove around and move such as tunnels, tubes and small cardboard boxes, it also helps if they are able to chew on the box. To make it more interesting for them you can also put small treats or fruit and vegetables inside the box or tunnel. You can also stuff cardboard tubes with things such as hay, treats or vegetables, as this will provide a challenge for your rabbit. When buying toys for your play aggressive rabbit you should be looking for toys which can be destroyed without causing any harm to the rabbit. The dumbbells show in the picture would be perfect for an aggressive rabbit because as well as being able to throw them around they would also be able to chew them and pull them apart. Anything that is partially immobile, yet is flexible enough to move when hit, is fun. Hanging parrot toys,don't get the small bird toys, because the plastic can be easily chewed apart, or a plastic rainbow slinky which has been hung on the top of the cage.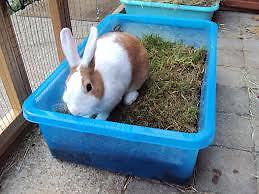 Diggers
Some rabbits just love to dig! One of the best toys you can make for a rabbit who loves to dig is a large tray, something like a (new) cat litter tray, and fill it with soil. Then bury your rabbits favorite treats and vegetables in the soil, this way not only do they get to do their favorite thing, digging, but they also get a nice treat along the way. Another option is to take a large cardboard box and fill it with hay this time but the same treats and vegetables. This allows the rabbit to still dig but a change to substance will ensure your rabbit doesn't get bored.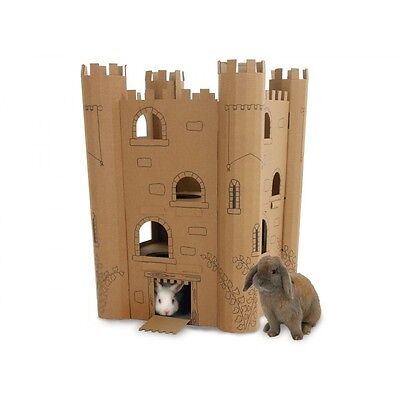 Climbers
Some rabbits love to climb and jump from object to object. The most important thing to remember if your rabbit likes to climb is that anything you provide for them is not too high up. For your climbing rabbit set up a series of boxes which are stabilised at the bottom, so that your rabbit can safely climb from level to level. Some commercial cat trees are also great for rabbits, as they provide perches at the top of each level. You can use ramps to help your little explorer get onto the tops of things providing it is safe for them. You can also buy toys which are already assembled with different levels for your rabbit to climb up and down, these are often made of wood and have little toys on each level. Another product out there is a cardboard castle (pictured) which contains a ramp for your rabbit to run up and down and also a platform at the top for them to sit on.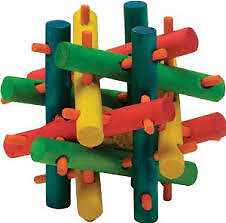 Chewers
Practically every rabbit loves chewing. Not only does it provide them with both mental and physical stimulation it is also good for their teeth to prevent them from over growing, it is important to provide chewing toys for your rabbit for this reason alone. You can buy chew sticks for your rabbit which your often hang off the bars and they eat as they please, but there are also products which are food based. Wicker baskets, non-poisonous logs and sticks, cardboard, paper, straw, and pine cones are all fine for your rabbit to chew on. Some rabbits may prefer some things over others, you just have to work out what your bunny likes. You can provide your rabbit with a cardboard box to chew, little treat sticks or buy them wooden toys which they can chew and pull apart.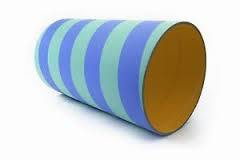 Shredders
Rabbits who like to shred need to have paper products aplenty. The Yellow Pages is one of the best shredding choices. Unless your rabbit eats a great deal of the paper, shredding itself is not harmful. You can give your rabbit the Yellow Pages on its own or in a box with other shreddable items. A straw broom also provides a fun shredding. You can buy your rabbit toys which shred or it is just as easy to make your own, anything cardboard or wicker your rabbit will love. You can also purchase cardboard tubes for your bunny, these are great for them to run threw, sit in and shred.
The most important thing to remember is that your rabbits need a variety of toys and activities to keep them stimulated. It may take a while but as you get to know your rabbit you will begin to learn what they do enjoy and what they don't enjoy. Always remember to ensure any toy you give your pet is safe.