Tractors of the 1950s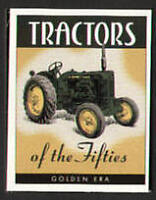 This is one of many illustrated classic tractor guides I've created for the eBay community. I hope you enjoy it. If you would like to find out more about the classic 1950's farm tractor art featured in this guide please click here.
The 1950s can be considered as the Golden Age of the tractor, a time of steady demand and a proliferation of makes and models. With the end of the war, farmers, who had done relatively well from the war-time production drive, sought to replace worn out machines. New models appeared from the major manufacturers, while many smaller companies rose up to meet the growing demand.
Turner Yeoman of England
An interesting new make of tractor to come to the British market was the Turner Yeoman of England in 1958. Power came from a 40bhp V-4 diesel of Turner's own make and based on a marine engine. Unfortunately, although it was a well designed tractor and pleasant to drive with an upholstered bucket seat, it suffered from mechanical failures, and that, plus the high price stopped production in 1957. The Turner was one of the first tractors to use a dry air-cleaner although this was not successful and was soon replaced by an oil bath type. Dry air-cleaners would become almost standard in later years.
David Brown 30D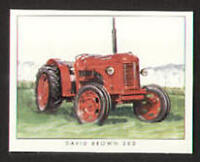 Following on from the original VAK-1 models, the David Brown company came onto the diesel scene with its Cropmaster model. In 1953 an improved version, the 30D arrived, which produced 34-horsepower from its direct injection diesel unit. A 30C model was also available for those preferring a gas-kerosene engine. With the purchase of the makers of Albion implements in the mid-1950s, David Brown were able to offer a full tractor and implement line from 1955. David Brown were now the third largest manufacturer of agricultural tractors in Britain.
Nuffield Universal
In 1948, Lord Nuffield made a noble attempt to break into the world of tractors with a new model made by his Nuffield Mechanisations firm that had built military vehicles during World War II. Produced in Birmingham, his tractor featured sophisticated hydraulic systems, a five-speed gearbox and some useful diesel expertise gained initially from the Swiss firm of Saurer. Nuffield's orange tractors earned a good reputation and became popular in the 1950s. They were offered in a variety of sizes and lasted until 1969 when British Leyland was formed.
New Fordson Major
One of the most popular post-war tractors was the Fordson Diesel Major (also available with vapourising oil and petrol engines), which replaced the E27N Major in 1952. The petrol-engined version had a capacity of 3261cc whilst the diesel and TVO models were both of 3610cc, the former rated at 31.4/37.7hp. Six forward and two reverse gears were available. The Major was the basis of many conversions to all-wheel drive and half or full-track.
Ferguson TE20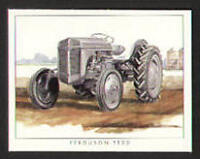 The 24hp Ferguson TE20 tractor was introduced in 1946 and became extremely popular all over the world. It was fitted with a hydraulic three-point linkage and draught control system developed by Irish inventor Harry Ferguson. The TE20 was small and compact and new users were amazed at what they could achieve with this apparently undersize tractor. With mounted implements, jobs could be done quickly and efficiently, although for some the seating position took a little getting used to. Virtually every tractor made today is fitted with a modern version of this ingenious Ferguson system.
Allis-Chalmers D-270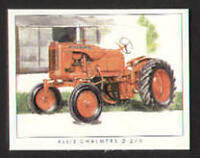 Like International, Allis-Chalmers began to assemble tractors in Britain after WW2. Initially they produced their well known B model (announced in the USA in 1938) and then in 1956 introduced the D-270 from their Essendine Works near Stamford. Like the Model B, it could have four-cylinder 2053cc petrol or vapourising oil engines, or the Perkins P3 2359cc diesel engine. Four forward and one reverse gear were available. The D-270 evolved into the D272 in 1957 but Allis-Chalmers soon discontinued tractor manufacture in Britain, concentrating on larger horsepower tractors and earth-moving machinery in the USA.
Thank you for reading my guide and I hope you found it interesting!