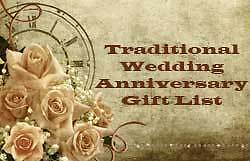 Traditional Wedding Anniversary Gifts in the UK
Here is a quick reminder of what theme or gift symbol is associated with each Wedding Anniversary year. This list is the appropriate list for the UK which varies slightly from the American list.


Traditional Wedding Anniversary Gifts
1st - Cotton or Paper
2nd - Straw or Cotton
3rd - Leather
4th - Fruit & Flowers or Books
5th - Wood
6th - Sugar (Candy) or Iron
7th - Copper or Wool
8th - Bronze or Pottery
9th - Willow or Pottery
10th - Tin or Aluminium
11th - Steel
12th - Silk or Linen
13th - Lace
14th - Ivory
15th - Crystal
20th - China
25th - Silver
30th - Pearls
35th - Coral
40th - Ruby
45th - Sapphire
50th - Golden
55th - Emerald
60th - Diamond
70th - Platinum
70th - Diamond
75th - Diamond
Where an anniversary has more than one material shown the truly traditional item is the first material and the commonly accepted traditional gift shown after.
In those immortal words from Pirates of the Caribbean 'these be more guidelines than rules' so don't feel you must buy a gift made of this material for every year especially as there are also another three lists available (Modern, Gemstone and Flowers)
After the fifteenth anniversary the traditional list only has a symbol for every 5 years and thus in between those years you could either check the Modern Anniversary Gift List or improvise, we'd definitely advise against not celebrating/commemorating it!