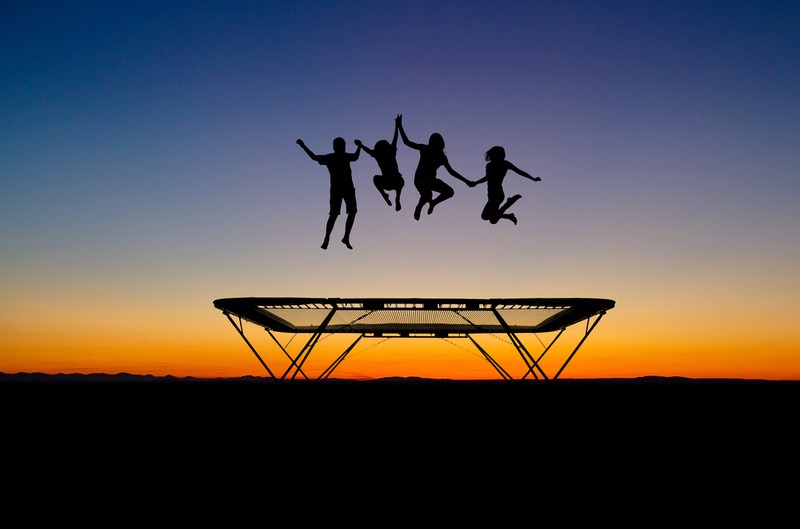 Add a caption
Trampolining can help keep you and the whole family healthy and happy
You've heard the expression jump for joy? Well it's close to the mark when you consider trampolines can be used by people of any age can to become fitter, healthier and, ultimately, happier. Trampolining is a low-impact exercise, which people of all ages and fitness levels can enjoy, but ultimately it's simple and great fun!
What to consider
Before you rush out to buy your trampoline and get started with your new fitness regime, there are a few things to consider.
What do you wish to use the trampoline for? Are you looking to simply get fitter, lose weight and have fun or are you serious about learning techniques and gymnastic skills on the equipment? This will make a big difference to the trampoline you buy.
How much space do you have? Can you fit a six-foot trampoline in your garden, plus safety net, or should you opt for a smaller, rebounder design for use in the house?
How much weight does the trampoline need to take? Will it just be the kids climbing on or will adults be regularly jumping?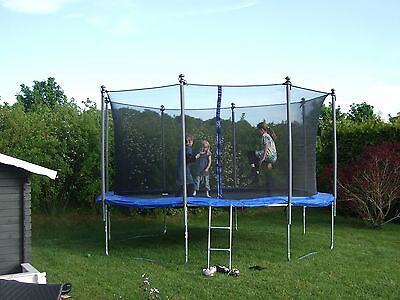 Add a caption
Round trampolines have grown in popularity for families
Round trampolines
If you are looking for a general piece of equipment that will go out in the garden and be used by both kids and adults alike, a round trampoline is a good choice. It is one of the most popular types of trampoline and is perfect for family use. It's also a great piece of outdoor equipment that you can use when the kids are out of the way to stay fit and active with minimum impact on joints.

How it keeps you healthy and happy
It's great for entertainment at family get-togethers or for use on those warm days spent out in the garden with the kids.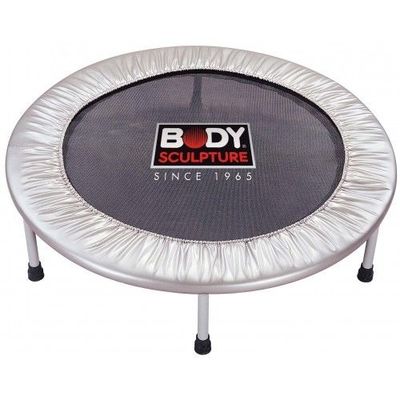 Add a caption
Rebounding burns more calories per hour than running
Rebounding
If you're simply looking for a trampoline to boost your fitness levels and help you lead a healthier lifestyle, then a
rebounder
trampoline is a great choice. It's small enough to fit in your living room, to use while watching your soaps. Rebounding is great for toning the legs, buttocks, back and stomach, you can also combine your jumping exercises with small weights to help tone your arms. Rebounding is something that everyone can do, no matter what age or fitness level and just 10 minutes' jumping can burn more calories than 30 minutes of running.
How it keeps you healthy and happy
It's great for those who can only do low impact exercise, but want to keep healthy and continue to stay active.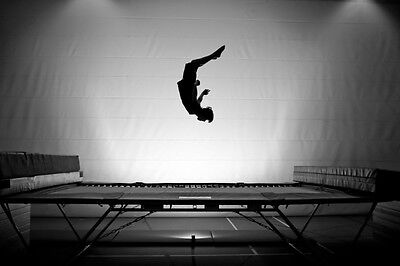 Add a caption
Serious athletes should choose a large rectangle trampoline
Rectangle trampolines
For those serious about fitness, trampolining is not dissimilar to gymnastics and a rectangular trampoline with extra strong springs will be the best choice for those looking to develop a taste and learn how to perform moves. From seat drops to back flips, a rectangular trampoline has springs that work at different rates, so offers a quicker response for the jumper and a more powerful lift. Just be sure to stick a safety net enclosure up to protect against any falls!

How it keeps you healthy and happy
If you're serious about your trampolining and gymnastics you can train from home in privacy and with no pressure.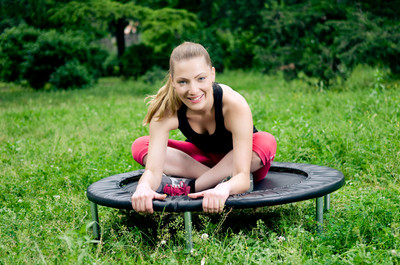 Exercise the easy way
Trampolining is a low-impact exercise that offers high results. It is believed that just 10 minutes' of trampolining is more effective and can burn more calories than a 30-minute jog. NASA scientists have actually conducted studies and come to the conclusion that trampolining is the best form of exercise, due to its 'low level trauma on the musculoskeletal system'. A piece of exercise equipment that's fun, low-impact and that you can use while watching the telly? It's time to invest in a Rebounder.

How it keeps you healthy and happy
Exercise is a proven mood booster and if you can fit in a daily routine, whether it be 10, 20 or 30 minutes, just once or twice a week, you'll soon start seeing results.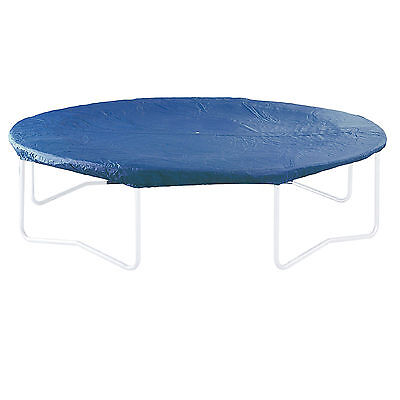 Add a caption
Keep your trampoline covered over in the winter months
Maintain your trampoline
It's important that you have fun but also strive to maintain and keep your trampoline in good working order to save yourself from any accidents due to the equipment breaking.
Watch out for rusted
springs
, broken safety pads and netting and any slippery moss build up over winter. To avoid some of these issues invest in a
trampoline cover
for use in the cooler months. You can find heavy PVC covers, but nylon material, similar to
tent
material, will work just as well and is a little less expensive. This will protect the trampoline from moss build up, water damage, bird droppings and damage from tree debris.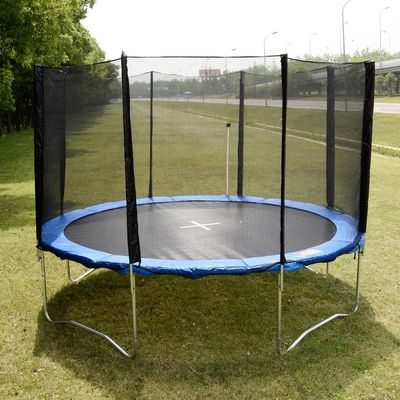 Health and safety
It's important to consider health and safety when using a trampoline. On the larger designs you are able to jump a good few feet into the air and could do serious injury should you fall off or land on the springs around the edges. This is why it is important to ensure two crucial safety precautions are installed on your trampoline.
A six foot, safety enclosure
net
will help you stay on, should you lose your balance, and
pads
attached on top of the springs will ensure you don't hurt yourself if you land awkwardly and not on the mat area. Be sure to choose closed-cell polyethylene foam pads, as these are waterproof and can be left outside when the trampoline is not in use.