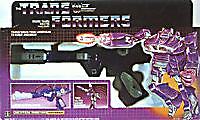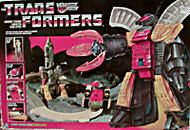 The first wave of Autobot Minicars, marked Taraka '82 they were repackaged in 1985 along with a free Transformer, these are called Minispies. The came different designs, a Jeep, Buggy and Porsche. They only had one applied sticker, which was the rubsign, this shows if they are an Autobot or Decepticon. You can also have a motor, which is pretty weak, so you can pull them back and let them go. Finally they came in three different colours, white, yellow and blue.
Unlike the first year, many Transformers released in the US were never official available in the UK and Europe.
Again the Mail Away offers in the US are different from the UK and the Omibots and Powerdashers were not available.
Please click on the Checklist you wish view below.
Transformers G1 1984 Checklist
Transformers G1 1985 Checklist
Transformers G1 1986 Checklist
Transformers G1 1987 Checklist
Transformers G1 1988 Checklist
Transformers G1 1989 Checklist
Transformers G1 1990 Checklist
Transformers G1 1991 Checklist
Transformers G1 1985
Autobot Minicars
Beachcomber
Cosmos
Powerglide
Seaspray
Warpath
Autobot Cars
Grapple
Hoist
Inferno
Red Alert
Skids
Smokescreen
Tracks
Constructicons (not official released in the UK)
Bonecrusher
Hook
Long
Haul
Mixmaster
Scavenger
Scrapper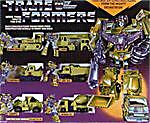 Insecticons
Bombshell
Kickback
Shrapnel
Deluxe Insecticons (not official released in the UK)
Barrage
Chopshop (pictured below)
Ransack
Venom

Jumpstarters
Triple Changers
Dinobots
Grimlock
Slag
Sludge
Snarl
Swoop (not official released in the UK)
Others
Shockwave (not official released in the UK)
Blaster (not official released in the UK)
Jetfire
Omega Supreme (not official released in the UK)
Perceptor (not official released in the UK)
Roadbuster (not official released in the UK)
Whirl (not official released in the UK)

Mail Aways (not official released in the UK)
Omnibots
Camshaft
Downshift
Overdrive
Powerdashers