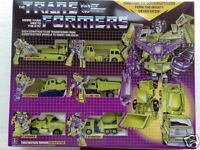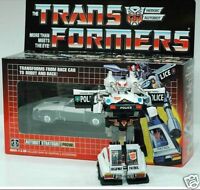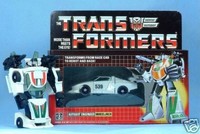 Remember the phrase, "Buyer Beware" and "If's too good to be true, it probable is". Well you could apply these to a lot of boxed Transformers currently selling on ebay, which are in fact knock offs Transformers made in china.
I like the reissues, as they better quality than the official ones over the years,
but what I don't like are sellers who pretend these are vintage/originals in their descriptions.
In fact recently, sellers are aging these new boxes and selling them as old, from childhood, found in attic or just as MISB looks really good for it's age.
Did you know what 1 in 5 Optimus Prime's that sell on ebay are reissue?.
Does the seller tell you their description it's a knock off?
Current list of knock offs/reissues, all boxed unless stated.
Optimus Prime
Hubcap MOSC
Bumblebee MOSC
Brawn MOSC
Cliffjumper MOSC
Powerglide MOSC
Beachcomber MOSC
Cosmos MOSC
Outback MOSC
Seaspray MOSC
Metroplex
Snarl
Swoop
Grimlock
Slag
Sludge
Prowl (knock off does not have police print on side, see picture above)
Blue Streak (yes with the blue streak on the toy, not completely silver)
Mirage
Sideswipe
Red Alert
Smokescreen
Jazz
Wheeljack
Shockwave (not boxed)
Cyclonus
Gnaw
Frenzy & Laserbeak
Frenzy & Ratbat
Rumble & Ravage
Rumble & Ratbat
Scourge
Reflector (yes included with replica white box!)
Devastator
Bombshell
Shrapnel
Kickback
Remember always ask the buyer lots of questions and if in doubt, dont buy!