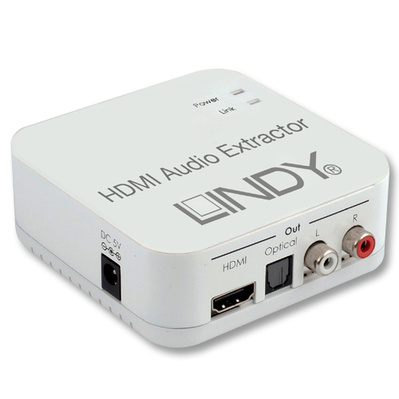 HDMI, or 'High-Definition Multimedia Interface', is the latest standard in audio and video connectivity. HDMI ports are found on HDTVs, Blu-ray players, computers, smart phones, tablet PCs, video game consoles, and camcorders. This interface transfers very high quality digital, multi-channel audio and video signals. HDMI connections can do this because they do not suffer the electromagnetic interference that interrupt analogue signals. Devices can be connected using HDMI cables or signals can be transmitted using wireless transmitters.
When setting up a wireless HDMI transmitter in the home, the buyer first needs to consider whether a wireless setup will meet their entertainment needs. One should examine the features and benefits of connecting devices by transmitting HDMI signals without wires, as well as the limitations of such a setup. It is also important that the buyer take the necessary measures to secure their wireless network. eBay has hundreds of current listings for wireless HDMI transmitters and adapters, as well as a variety of home entertainment devices, both new and used.
What Is HDMI?
High-Definition Multimedia Interface (HDMI) is a means of transmitting digital data. Typically HDMI requires a cable to connect a transmitter to the television or computer, facilitating the flow of data from one device to the other. HDMI conditions and compliance are enforced by HDMI Licensing, LLC, an organisation that represents the seven companies who together created and defined HDMI. Since its creation, HDMI has demonstrated several advantages over other types of connections. For instance, a single HDMI cable can conduct high resolution (1080p) video signals as well as audio signals. If HDTVs need to be connected to set-top boxes or Blu-ray players, HDMI cables are required or a wireless connection needs to be established.
HDMI has been designed to be compatible with older technologies. This is referred to as backwards compatibility. For instance, a Blu-ray player with 1080p, built to newer specifications can work with a 1080i television built to older specifications. Wireless HDMI is an alternate means for connecting devices and has been around since 2007.
Types of Wireless Networks
Over the last decade, wireless networks have started appearing in offices, cafes, parks, shopping centres, and homes. There are different types of wireless networks. They include WLANs, WPANs, WMANs, and WWANs.
| Type of Network | Features |
| --- | --- |
| Wireless Local Area Network (WLAN) | Set up at home or the office; enables a shared Internet connection accessed by multiple devices. |
| Wireless Personal Area Network (WPAN) | Much smaller than a WLAN; used when connecting a Bluetooth-enabled mobile phone to an earpiece, or a wireless mouse to a laptop |
| Wireless Metropolitan Area Network (WMAN) | Linking of multiple WLANs |
| Wireless Wide Area Network (WWAN) | Single wireless network extending over large outdoor areas; used to provide Wi-Fi Internet access in public areas |
These networks are categorised according to their size, the number of devices accessing the network, and the area that they cover. For a home wireless HDMI setup, WiHD or WHDI connections are used to connect two or more devices to the wireless home HDMI network.
Wireless HDMI Networks
Recent advances in domestic wireless network technology means that wireless HDMI setups are becoming increasingly popular. However, this new technology is not without its limitations and the buyer should be aware of these limitations. For instance, there can be 'dead spots' where the wireless signal just cannot reach, low latency, and the signal can sometimes cause problems with other Wi-Fi devices. There is also the higher cost of setup to consider.
The Advantages of Wireless HDMI
There are, however, some distinct advantages to transmitting HDMI signals without wires. With a wireless HDMI setup, the need to drill into walls and floors is eliminated. There is no longer the need to tuck wires into difficult locations. Wireless HDMI can be utilised for wall mounted TVs, where the user is trying to avoid the unpleasant sight of tangled cords spilling from the back of the television onto the floor. However, even a 'wireless' HDMI system still has few wires. This is because speakers, TVs and other devices linked by wireless HDMI still need to draw power from wall outlets.
The benefit of wireless HDMI home theatre setups is that multiple devices, including DVD or Blu-ray players,, computers, and HDTVs can communicate with each other by way of HDMI signals. Because the HDMI signal is broadcast in the 3 to 5 GHz range, the signal should not interfere with other Wi-Fi devices. In addition, wireless HDMI transmitters can broadcast radio signals as well. This removes any line of sight issues that often plague infrared transmissions.
Currently, the maximum signal range of wireless HDMI transmitters varies, but it can extend up to 30 m. Certain transmitters will only work with TVs and devices made by the same manufacturer. Although they may be the same brand, one should expect the occasional slowdown, whereby a frame on the TV screen only comes up as partially rendered. New wireless transmitters are generally quite costly, making the purchase of a used transmitter from a reputable source a very good idea. eBay has a large selection of HDMI transmitters, as well as other home theatre devices.
Types of Wireless HDMI Networks
There are two types of wireless HDMI networks available for the home: Wireless HD (WiHD) and Wireless Home Digital Interface (WHDI). Both types of wireless systems requires a signal from the HD transmitter be transmitted to a receiver attached to the TV's HDMI outlet. Both devices have a range of about 9 m in an empty room with nothing blocking the signal, but with furniture or other objects between the transmitter and receiver the transmission range is often less than that. WHDI can transmit through walls, allowing a user to connect multiple devices in multiple rooms.
To bypass the receiver and hook up multiple devices to a wireless HDMI transmitter there are specific brands of transmitters that can be tasked for this. However, they utilise WiHD, and this HDMI signal does not pass through walls. Therefore such a wireless setup needs to be kept in the same room as all the devices that need to access the network. The upside of this scenario is that these transmitters do support 3D content, if the buyer has a 3D compatible TV.
WiHD operates in a very high frequency band and is therefore able to transmit compressed as well as uncompressed signals. At this high frequency there is much more bandwidth available. Theoretically, WiHD has the capability to run at 25 Gbps which makes it powerful enough to handle high-definition content. This technology requires the transmitter be able to 'see' the receiver connected to the TV and this is an issue that the manufacturers are working to resolve.
Moving the wireless HDMI components away from the TV could result in the regular remote control not being able to reach them as well, so it is a good idea to check the connection and perhaps buy a remote control extender to relay the signal.
How to Buy a Wireless HDMI Transmitter on eBay
To begin searching for a wireless HDMI transmitter, simply enter keywords that describe the transmitter you are looking for. You will find a search bar on the homepage and any page on the eBay website. For example, simply enter the exact words, 'wireless HDMI transmitter' and the site's local search engine will populate a results page with all the current listings for transmitter hardware.
When you are ready to buy a specific wireless HDMI transmitter, consider reviewing the seller's feedback score .This feedback score is essential for determining whether or not a seller has fulfilled their commitments to buyers in the past. You can find the feedback score in the seller's profile. To go into the seller's profile page, simply click on their username. While you are in the seller's profile page, look for the contact link. This is how you can reach out to the seller and ask questions about the HDMI transmitter they have listed for sale. If you have any concerns about the transmitter's compatibility with your current system, you should query this with the seller.
Conclusion
Wireless HDMI is not by any means perfected. It has only been on the market since 2007, but for the user who would rather not have to deal with the unsightly tangle of HDMI cords that comes with connecting myriad devices like HDTV and Blu-ray players, wireless HDMI is the solution. What a wireless HDMI transmitter offers the consumer is the promise of the 'wireless living room'.
Currently wireless HDMI comes in two flavours: WiHD and WHDI. WiHD has a signal range of 10 m compared to WHDI, which has a range of 30 m. This means that with WHDI, multiple TVs in multiple rooms can be connected to a single wireless network as the signal can be transmitted through walls.
As with any wireless technology, this one is prone to the occasional dead zone, where the signal does not reach. One should also expect the occasional interruption due to signal interference by devices that emit radio signals, like cordless phones, and home Wi-Fi networks. In assessing the suitability of this new technology, the user should consider the number of devices they will need to connect, the types of devices, and where they are located in the house. Buyers will find a selection of new and used HD home entertainment devices as well as HDMI cords and wireless transmitters on eBay.