Triumph Saloon Cars - 1960s and 1970s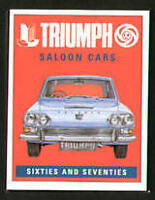 This is one of many illustrated classic car guides I've created for the community. I hope you enjoy it. If you wish to find out more about the classic Triumph saloon car art featured in this guide please click here.
This guide covers classic Triumph saloon cars of the 1960s and 1970s. It includes the Herald / Vitesse series with their famed Michelotti styling, plus the 2000 range, first shown in 1962 and lasting in Mark 2 form until 1977. The Triumph Dolomite Sprint was one of the finest traditional sports saloons of the 1970s.
Herald 1200 1961-1970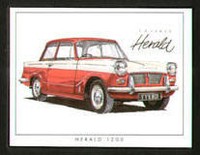 Announced in 1959 in 948cc form, the Herald marked the return of Triumph to the small saloon market. Built on a separate chassis, it used rack-and-pinion steering and all-independent suspension, which combined to make it a great car to drive. Its engine capacity was increased to 1,147cc in 1961, as the Herald 1200 and a multitude of different body/engine combinations proliferated within the Herald range until production ended 1971.
Herald - 1959-61, Herald S -1961-63, Herald 1200 - 1961-70, Herald 12/50 - 1963-67, Herald 13/60 - 1967-71.
Vitesse 1600 1962-1966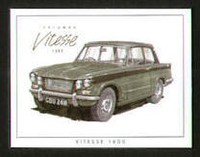 Having started life as a pint-sized1, 596cc six-cylinder, the Vitesse gained the 2-litre engine from the Triumph 2000 saloon in 1966. In GT6 tune, with twin Strombergs it was good for 95mph. The original swing axle inherited from the Herald was a questionable feature of the original Vitesse so a Mk2 version with revised wishbone rear appeared in 1968. Convertibles available throughout production.
Vitesse 1600 - 1962-66, Vitesse 2-litre - 1966-68, Vitesse 2-litre Mk 2 - 1968-71.
2000 Mk1 1963-1969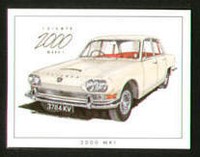 TwinTwin-carburettor Standard Vanguard engine in a new unitary Triumph with all-synchro gearbox, servo disc/drum brakes and all-independent suspension. A competitor for the Rover 2000 with over 90mph and reasonable mpg. Optional overdrive and automatic, and estate version from October 1965. Total production 120,645.
Triumph 2000 Mk 1 - 1963-69, Triumph 2.5PI Mk 1 - 1968-69
1300TC 1967-70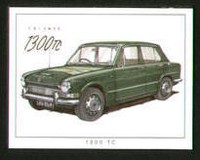 Launched in the spring of 1967, the Triumph 1300TC was an interesting version of the front-wheel-drive 1300 saloon fitted with the twin-carburettor, 75bhp Spitfire 3 engine and servo brakes. Perhaps less exciting than a Vitesse, but it could manage 90mph and turn-in 30mpg. Total production was 35,342.
Triumph 1300 - 1965-70, Triumph 1300TC - 1967-70
2.5PI Mk2 1969-1975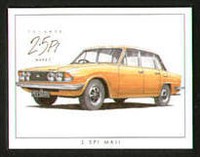 Launched in autumn 1969, the Triumph 2.5PI was an exciting flagship to the new Mk 2 range, offering styling and cosmetics as for the 2000s, plus a separate rev counter, a vacuum reservoir for the brakes and a power steering option. Carburettor versions of the car became available from mid-1974, evolving into the 2500S with 106bhp and overdrive as standard.
Triumph 2000 Mk 2 - 1969-77, Triumph 2.5PI Mk 2 - 1969-75, Triumph 2500TC - 1974-77, Triumph 2500S - 1975-77
Dolomite Sprint 1973-1980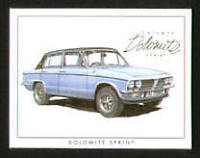 Constructed along traditional lines with fore-and-aft engines and rear-wheel-drive, the Dolomite range was ultimately descended from the front-wheel-drive Triumph 1300 of 1965.
Dolomite 1300 - 1976-80, Dolomite 1500/1500HL - 1976-80, Dolomite 1850 - 1976-80, Dolomite Sprint - 1973-80.
Thank you for reading my guide and I hope you found it interesting!