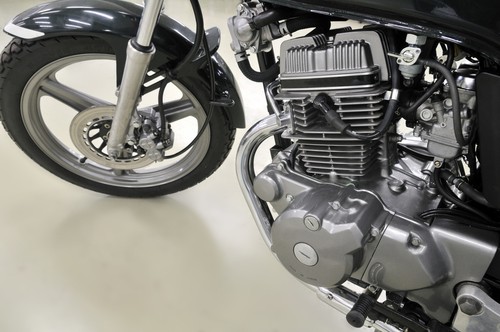 Triumph Motorcycles Ltd. is the successor of Triumph Engineering Co., Ltd., which ended in the 1980s. Established by John Bloor in the year 1984, Triumph Motorcycles Ltd. is the biggest motorcycle manufacturer in the United Kingdom. The company has maintained the record motorbike production of its predecessor. Some 49,000 motorbikes were produced in the fiscal year that ended 30 June, 2012, and the company employs a staff of around 1,600 people.
Needless to say, with so many Triumph motorbikes on the road, there is always a need for spare parts. eBay features a variety of Triumph motorbike spare parts, including brakes, filters, chains, sprockets, and levers, from miscellaneous models (or series) in different conditions and price ranges. Buyers can also visit motorbike specialty shops locally to search for Triumph spare parts. Shops that do not keep items in stock can sometimes order them. Spare parts can be used as replacements, modifications, or enhancements. Knowledge of the different categories of Triumph motorbikes, Triumph genuine accessories, and various associated tools, makes it easier to find the right items at the right price without a lot of hassle.
Triumph Motorbikes
Triumph has been creating classic distinctive motorbikes since 1902. The unique engine sound and world-class design and engineering help these motorbikes outperform their competitors in the motorbike industry by a huge margin. Triumph motorbikes offer an outstanding riding experience, and many Triumphs combine classic British style and engineering with the latest technology.
Furthermore, Triumph features award-winning motorbikes and has a worldwide network of approximately 750 dealers. Building on its rich heritage, the modern day Triumph motorbikes are innovative creations. Some popular bikes, such as the Daytona 675, Rocket III, and Speed Triple, stand proudly with their predecessors. The various parts and accessories go through a rigorous assessment programme and are simulated for the worst conditions.
Triumph also offers genuine motorbike parts and accessories that are designed to deliver optimum reliability and performance to keep a motorbike in perfect condition. The genuine accessories provided by Triumph are tested for extreme conditions to make sure that they are up to par and meet international standards.
Categories and Tools of Triumph Motorbikes
There are three major categories of Triumph motorbikes: cruisers, urban sports, and the modern classics. Modern classics have the following three types: the Speed Triple, the Rocket III Roadster, and the Bonneville T100. Additionally, there are several tools that are helpful in the maintenance of Triumph motorbikes. The Triumph BSA MG Whitworth wrench set, for example, is required for basic-level maintenance of pre-1970 Triumph motorbikes. A torx head screwdriver is used to remove the motor mount bolt on a Triumph motorbike, and a Triumph valve shim removal tool is required to adjust the valves on a Triumph.
Triumph Motorbike Accessories and Spare Parts
Genuine motorbike accessories not only last longer, but they also add to the overall performance of a motorbike. From titanium exhausts to touring screens, whatever a buyer wants could have a matching genuine accessory. A recommended practice is to go through the various options for spare parts and their detailed features before making a purchasing decision.
Long Haul Touring
A range of touring-related Triumph motorbike spare parts and accessories make long distance touring comfortable for a rider. Accessories like backrests and accessory screens add to the comfort level of riders and enable them to travel for comparatively longer periods of time. For two-up touring, the Thunderbird sissy bar offers a comfortable and secure ride. The quick-release mounting arrangements enable buyers to easily install or remove the sissy bar according to their own preferences. Adjustable rider backrests offer additional support to the rider and increase the comfort level and reduce the muscle strain.
A cruiser screen is a highly recommended accessory for long rides. It not only reduces wind noise, but it is also helpful in protecting from wind chill. Triumph cruiser screens are scratch-resistant, and yet they offer great optical clarity. Manufactured from high-quality materials, these screens feature a crystal clear hard quantum coating that increases the scratch resistance. Some recent models also offer quick release mounting options.
Paint Protection Kits
Paint protection kits are a handy accessory and, as the name suggests, are used to protect the paint of the Triumph motorbikes from scratches and weather damage. Paint protection kits are extremely strong transparent films that are pre-cut to match the exact dimensions of motorbikes of various models and series. They do not turn yellow over time like ordinary plastic sheets of low quality. The paintwork and other protected parts of the motorbike age at the same rate without awkward colour differences if the protection is removed at any point in time. Paint protection kits feature one of the best films on the market and require little to no maintenance.
Bespoke Exhausts
Since 2006, Italian performance exhaust manufacturer Arrow Special Parts in collaboration with Triumph Genuine Parts has been producing an exclusive range of bespoke exhausts designed specifically to suit the Triumph motorbike models. From Slip-On Silencers 'E' that are approved for noise to the full Race Exhausts Systems that are offered for track use, the product line of this partnership contains virtually everything.
Premium materials like carbon fibre and titanium are used to manufacture bespoke exhausts. These exhausts not only offer weight savings a buyer would love to have, but the tonal quality is also improved. For certain models, the swapping of the silencers tremendously lowers the centre of gravity of the motorcycle, and this is beneficial from a security point of view. In order to ensure optimum performance levels, a dedicated engine tune download is often supplied along with Triumph Arrow exhausts.
Triumph Quickshifter
The plug-and-play Triumph Quickshifter allows throttle gear 'up-shifts', full as well as partial, without using the clutch or releasing the throttle, and this results in quicker and smoother gear changes. Rider fatigue may also decrease as a result, and motorbike acceleration and corner stability are also improved by the use of Triumph Quickshifter, which is offered as an accessory with certain Triumph models. No changes have to be made to the motorbike harness for plug-and-play installations.
Race Products and Features
Triumph Daytona 675, one of the fastest motorbikes in the Supersport World Championship, along with a range of race products that helped transform it into a race-winning motorbike, is developed by Triumph in collaboration with its partners in the World and British supersports championships. One of the most famous Triumph genuine race products is Triumph Race Calibration Software (TRACS). EFI calibration engineers at Triumph developed this computer program to permit the teams to tune the new programmable race ECU on their laptop PCs.
Triumph-Arrow Race Rearsets
CNC machined, adjustable race rearsets are a result of another collaboration between Arrow and Triumph. They are available in reverse shift and standard patterns and mostly have a black anodised finish. These race rearsets can be used with the latest Triumph Quickshifter. Buyers intending to use a Daytona 675 for racing purposes should also consider having them.
Other Triumph Motorbike Spare Parts
Badges, control cables, gaskets, chain guards, screw sets, decals, transfers, brakes, filters, sprockets, levers, and spark plugs are some of the other Triumph motorbike spare parts. Depending on the motorbike, these can be used as replacements, enhancements, or modifications. Original accessories and original spare parts should always be the preferred option of buyers.
How to Buy Triumph Motorbike Spare Parts on eBay
To begin your hunt for the Triumph spare parts and accessories you need, the eBay home page is a good place to start. You can enter a relevant query into the search bar on the eBay home page to find a variety of options. For some entries, eBay suggests related searches that are often helpful when it comes to finding the right product. You can also filter the search results based on your own preferences in order to shortlist the options. Possible search terms for this case might be 'Triumph spare parts', Triumph motorbike spare parts', 'Triumph motorbikes', for example.
Some motorbike parts and accessories may be quite heavy, so it might be a good idea to enter your postcode in the filter to find local listings in order to avoid shipping charges, which could be very costly on large, heavy items. If an item is not found in your vicinity, then you can certainly look for it in other places. Another recommended practice is to review the seller's feedback history before committing to a purchase. It gives you further insight on the seller and helps facilitate the buying process.
Conclusion
Triumph Motorcycles Ltd. is the largest motorcycle manufacturer in the United Kingdom. The company employs a large staff and produces tens of thousands of motorbikes every year. Genuine Triumph accessories and spare parts for these motorbikes not only last longer, but they are also more reliable and add to the overall performance of the motorbike.
eBay features a variety of Triumph motorbike spare parts and accessories, or buyers can work with local motorbike shops to find the parts they need. These spare parts can be used to make repairs or add a little something extra to a Triumph motorbike. Searching for spare parts generally gets off to a better start when buyers have some general knowledge of Triumph motorbike spare parts, accessories, and required tools. Staying on top of the details enables virtually any buyer to keep his or her Triumph motorbike in top condition and roaring over the countryside.