Triumph Spitfire Mk1 and Mk2
This is one of many illustrated classic car guides I've created for the community. I hope you enjoy it and if you would like to find out more about the classic Triumph Spitfire car art featured in this guide please click here.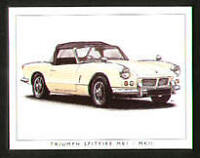 The Spitfire made its debut at the London Motor Show in October 1962. With chassis and mechanics derived largely from the Triumph Herald and body styling by Michelotti, it was an immediate success. Longer, leaner and better looking than its main competitors, the Austin Healey Sprite and MG Midget, the Spitfire had some definite advantages, although it was slightly higher priced at £641 when new in 1963. From March 1965 the Mk 2 became available. It featured a slightly more powerful engine and a higher level of trim, but was identical externally to the Mk 1, differing only in the style of the grille mesh.
If you would like to see more guides on Triumph Spitfire cars please click!
Thank you for reading my guide and I hope you found it interesting!