Triumph TR6
This is one of many illustrated classic car guides I've created for the community. I hope you enjoy it. If you wish to find out more about the classic Triumph TR car art featured in this guide please click here.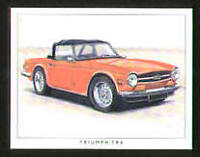 Styled by Karmann of Germany, the last of the traditional Triumph sports cars, the TR6, was produced between November 1968 and February 1975. The TR6 was to be the last in a line of cars that could trace ancestry directly back to the TR4 of 1961. The TR6 utilized the chassis of the TR4A and the engine of the TR5 and naturally some onlookers suggested the car offered little new. Despite the criticisms, the TR6 sold readily with 94,619 examples being produced, most going for export. Performance was excellent from the lusty 2,498cc capacity (152cu.in.), fuel injected six-cylinder engine and even by the end of the production in the mid-seventites, 0-60mph (0-96km/h) in 8.2 seconds was still more than a match for most of its competitors.
If you would like to see more guides on Triumph TR cars please click!
Thank you for reading my guide and I hope you found it interesting!