Triumph TR7
This is one of many illustrated classic car guides I've created for the community. I hope you enjoy it. If you wish to find out more about the classic Triumph TR car art featured in this guide please click here.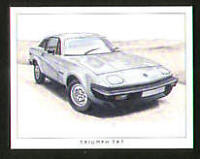 The TR7's six year career began in January 1975 after Triumph beat MG in a design competition to produce the all-new British Leyland sports car. Carrying the TR name and linking itself with an illustrious group of forbears was perhaps unfortunate, for in reality it was a vehicle from another era of automotive manufacture. Thoroughly modern in appearance with a clean, crisp shape, it did not appeal to the Triumph traditionalists despite being the best handling TR of all time and the most comfortably and comprehensively equipped. A convertible option was offered from 1979, and today these are the most desirable models. Production of the TR7 ended in October 1981 making it the last Triumph sports car ever to be produced.
If you would like to see more guides on Triumph TR cars please click!
Thank you for reading my guide and I hope you found it interesting!