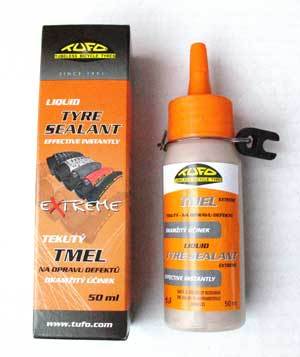 Tufo's Tyre Sealant Extreme does what it says on the tin and that is all it needs to do.
Tufo tubular tyres, unlike other brands, cannot be unstitched and repaired in the traditional way. That means if you are a Tufo user you are pretty reliant on this stuff. For those of you used to an overflowing saddlebag crammed full of roadside repair paraphernalia it will take some bottle to use this stuff. No tubes, no patch kit, no tyre levers; you can be forgiven for feeling naked when heading out of the door with just your bottle of sealant for protection. Thankfully, it does just the job.
Tufo's Tyre Sealant Extreme has come up trumps sealing in two different scenarios, despite saying clearly in the instructions this is for post puncture application only. First, as prescribed, post-puncture roadside sealant retro-fit, followed by furious mini-pump action. Second, one month after sealant injection, the original dose of gunk still was liquid enough to plug the gap - impressive.
It was the latter situation that truly revealed the stickiness of this stuff. Riding along I was picking up a faint spray on my legs, initially thinking it was an open bottle cap. It turned out to be sealant - everywhere. The hole sealed not too many metres down the road but the residue now covering the down tube and my arm lasted for days like a commemorative brown henna tattoo. Who knows how many smaller punctures the front tyre had endured without this elaborate Catherine wheel spray of sealant.
On the downside, given that this is designed for in-the-field application, the cap was rather fiddly, small and easily lost. It went missing after the first roadside application meaning riding with an open bottle delicately balanced in your jersey. Also, if you are relying on this to get you home, don't forget to pack the valve tool; one is included in the kit although it had gone missing by the time the test sample got to me. I'm sure you will be able to keep hold of your valve tool and enjoy even better performance. With a non-loseable style cap which incorporated a valve tool this would be a genuine 5 star product.
Verdict
Ronseal don't make tyre sealant, but if they did it would probably be a lot like this. Does exactly what it needs to do. All my tubs now have a healthy dose.