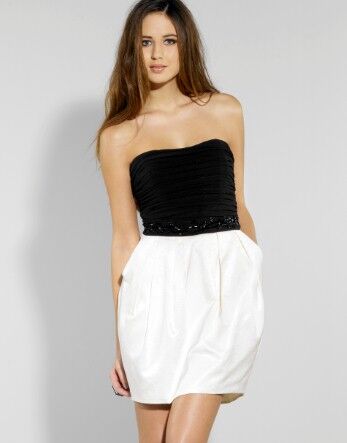 The tulip skirt (or bubble skirt, as it is also known) became popular in the 1950s, and then again in the 1980s. Pierre Cardin designed bubble skirts for his Maison de Couture in the rue Richepanse. Many of his early designs used a bubble skirt or dress that took the world by storm in 1954 when he opened his women's boutique called 'Eve'. Likewise, Christian Lacroix launched his namesake couture label with a bouffant skirt in 1986. His fantastical puffy skirt became a milestone in fashion history and reignited the craze for tulip skirts. When Lacroix expanded his line to include ready-to-wear pieces, he continued to garner critical praise for his skirt designs.
Tulip skirts continue to remain popular with high fashion designers. The skirt takes its name from the shape of the garment itself. There is more material around the waistline of the skirt than the hip, and it boasts a close-fitting hemline. This style of skirt is very flattering for all shapes and sizes, and can be worn dressy or casual. The tulip style is a nice alternative to other varieties of skirts, such as the pencil skirt or the mini skirt.
How to Wear a Tulip Skirt
Fit is critical for a flattering tulip skirt. Avoid skirts that are overly full, as too much pouf will not be pleasing to the eye. A fitted waistband is more flattering than a low rise one, particularly with a fuller skirt. If the wearer chooses a striped black and white tulip skirt, for example, look for vertical stripes that aren't too wide and make sure the stripes lie in a pleasing way, especially at the bubbled hem. To create a playful look, consider pairing, for example, a black and white-striped tulip skirt with a bold colour. An excellent addition is a fitted top and tights in a bright and bold hue, like peacock blue or deep plum. This is a young and energetic option for daytime wear. Take a tulip skirt into night time, by pairing that same black and white-striped tulip skirt with a sophisticated black top. Add opaque black tights for a clean line. To add length to the legs when wearing a tulip skirt, always choose heeled shoes. For the leanest look, match the colour of the heels to the tights. If accenting the skirt with a splash of colour, this is a terrific opportunity to make the most of an amazing pair of brightly coloured shoes. For an evening look, pair high heels or black peep toe heels with black tights. In cooler temperatures, the skirt may be combined with a cropped jacket or sweater.
A tulip skirt looks stunning with a wide belt to accentuate the narrowness of the waist. A tightly fitted or clinched top will also emphasise the waist and create a sexy silhouette. A casual elastic-style belt for daytime wear or luxurious satin for evening helps to complete the look. Accessorise with simple jewellery. One strong piece will make the biggest fashion statement, like a pair of bold earrings or a chunky necklace.
How to Choose the Right Tulip Skirt for Your Figure
Many fashion-conscious ladies claim this style is only for those women who are tall and thin. However, this is not the case if the tulip skirt fits the wearer's body type. There is a multitude of styles available that will flatter most figures. Purchase a tulip skirt that has a wide waistband and is made of soft, pliable fabric. The wide waistband makes the derrière look smooth, and the soft fabric allows for plenty of pleats that lie well. Choose a simple style that can be worn for both casual and dressier occasions.
There are some variations to look for when choosing a flattering tulip skirt:
| Body Type | How to wear a tulip skirt |
| --- | --- |
| Short figure | looks best with vertical detailing or embellishments to create the illusion of length |
| Thick waist | avoid embellishments, as these will draw unwanted attention to the waist |
| Curvy figure | soft, fluid fabrics that float over the curves, while avoiding styles with pleats and horizontal patterning |
| Large stomach | avoid wide waistbands, pleats, darts in the front, and gathered styles but wear dark colours and simple textures are the best |
| Slim, boyish figure | soft pleating, and a small waist is highlighted nicely with a thick waistband or wide belt |
| Flat bottoms | wear tulip skirts made of satin or silk as they create the illusion of a fuller backside |
| Long waist and short legs | choose a belt in the same colour of the skirt to shorten the upper body |
| Long legs | wear tulip skirts with a dropped waist and fluid fabrics |
Although the chart above is not inclusive of all possible body type combinations, it does offer several potential options for styling a tulips skirt.
Tulip Skirts in Today's Fashion
Many top designers continue to carry the torch by incorporating tulip skirts into couture and ready-to-wear lines. Christian Lacroix, Diane von Furstenburg, and Jimmy Jones are just some of the well known designers adopting this style in their fashion lines. Variations of the tulip skirt have evolved into bubble dresses, conceptual bubble skirts, and puffball skirts. The outlandishness of some styles, however, has resulted in a backlash with consumers. Photos depicting models with knobby knees and unflattering fabric cuts have resulted in the tulip skirt being deemed a fashion faux pas in some high fashion circles.
How to Make a Tulip Skirt
Sometimes it is a challenge to find the perfect skirt. Sewing a tulip skirt is a viable alternative to purchasing. A novice seamstress can learn quickly by watching tutorials found on the Internet and mimicking the styles and patterned fabrics offered on eBay.
There are three major factors in the design of a tulip skirt. The cut is composed of a long, extra-wide external layer, a thin, shorter, internal layer, and the waistband. Although these skirts are usually made up of just three pieces, they can involve some ingenuity to put together. To make a custom tulip skirt, the seamstress should scale from waist to mid-thigh, and then add an additional 20 centimetres to the length. The resulting total corresponds to the length of the fabric piece that should be trimmed for the outer layer. The waistband should be trimmed to the scale of the wearer's waist, with around five centimetres added for closure and ease.
Once the fabric pieces for the tulip skirt are cut, they are ready to be pieced together. The lower border of the external piece of fabric should be finely aligned to the lower border of the internal piece. The upper border of the external piece should be aligned to the upper border of the internal piece, once again aligning the external piece to fit the internal section. At this point, both pieces can be joined together and ready to gather into a waistline. Once this is completed, the skirt can be finished by inserting a button and zipper closure. Some patterns of tulip skirt use broad bands of elastic in lieu of sewn waistbands. Employing elastic allows for a simpler fit, but adhering fabric to elastic can occasionally be dodgy, particularly for beginners. The elastic must be expanded as the fabric is sewn. Failure to do so may cause the elastic to lose its elasticity, defeating the purpose. Tulip skirts can be created from any soft, supple fabric. Christian Lacroix constructed many of his earliest designs using polyester or cotton knits before graduating to higher quality material. Other fabrics that work for this type of skirt are satin, taffeta, and silk.
How to Find Tulip Skirts on eBay
Buying tulip skirts on eBay involves simply typing 'women's tulip skirt' into the search box, upon which literally hundreds, if not thousands, of skirts will be displayed for you to choose from. From there, you may narrow in your search typing extra feature keywords into the search box; for example, adding 'pink taffeta' will narrow down the selections considerably. Take sufficient time to peruse the vast array of skirts, and select the styles and fabrics you think will flatter your body type best. It is always worth noting the seller's returns policy before placing an order, just in case the skirt you select proves not to be as flattering as you had hoped, or if you need a smaller or larger size. The cost of a tulip skirt varies according to designer and style. Take your time and thoroughly read each listing. Compare several listings to ascertain which seller is offering the best value.
Conclusion
Since its first incarnation in the 1950s, the tulip skirt has become an iconic fashion staple in couture and ready-to-wear collections. Initially designed by Pierre Cardin in the 1950s, and then brought back by Christian Lacroix in the 1980s, the tulip skirt's timeless style and versatility from daywear to nightwear has made it immensely popular. This skirt is extremely flattering on most body types, and, when worn with the right accessories, can make the outfit a real head-turner.
If the perfect skirt is not within reach, then an excellent alternative is to sew the style oneself. It is fairly simple for a novice, but take care while assembling the skirt as, noted above, this can be tricky. Follow the pattern's directions carefully, especially when measuring and cutting the fabric. Tulip skirts drape well when made from cotton or knit fabrics, but are especially flattering in luxurious silks and satins.
The design of a tulip or bubble skirt is ageless, and will continue to evolve in high fashion as new designers reinterpret this classic. No matter how the skirt is worn, if paired properly with the right accessories and shoes, the wearer can feel confident in this style choice.