The Tummy Tub Information Page
TummyTub®The new concept in bathing babies up to 6 months. The benefits are acknowledged in maternity hospitals and homes throughout Europe. Endorsed by physicians, midwives and nursery nurses.
TummyTub® was designed in the Netherlands by childcarers to ease the transition from the comfort of the mother's womb.

Safety
View on your baby from all sides because of transparent material
Easy to hold the baby
Non toxic components
No sharp edges
High stability
Anti-skid because of rubber ring in the bottom
TÜV and BSI tested and approved
Product development
The tummy tub was developed in cooperation with midwives nursery nurses physicians and psychologists Benefits for the babys security because of the special form of the TummyTub®
Soft babyfriendly material
Relaxing warmth all over the body
Stressfree bathing
Using the TummyTub® lightweight even when filled with water (important for women who have just delivered) easy to transport because of ergonomically formed handgrips
Not taking much space very easy to bring along on a trip
Wide rim to rest your arms upon comfortably relaxed upright position for the mother
Why not a normal bucket
Normal buckets don't have an anti-skid bottom. The bottom is not curved and therefore does not give the baby any support
Babies discover their new world by touching with their hands and tasting with their mouth. The pigments in plastic buckets will most likely contain toxic elements as normal buckets aren't ment for bathing babies
You can view on your baby from all sides because of transparent material of original TummyTub®
The handle of the bucket can easily hurt the fingers of the baby. It also does brings an extra risk as an older brother or sister could – by holding it –pull the bucket from the table
Normal buckets are too low and narrow. The waterlevel is therefore also too low and the children can't stay warm. Apart from that mother and child are hindered in their movements. However simply using a bigger bucket doesn't give the child the support and a comfortable sitting position
A normal bucket would never have the TÜV and BSI approval for babybathing
To Summarise
Advantages For Baby:
Bath time enjoyment from birth.
The special design of the original TummyTub® ensures babies relax in the familiar foetal position.
Soft baby-friendly material.
The baby can be immersed in the water up to shoulder level and will therefore remain warmer for longer.
Babies feel warm, reassured and secure.
Especially recommended for premature babies.
Helps babies settle and sleep, and is excellent for colicky babies.

Advantages For The Parents:
Stress-free bathing for babies.
Easy handling, ergonomic hand grips for carrying, and lightweight even when full (very important for new mothers).
Takes up less space and is easy to transport.
Wide rim to support parents' arms, allowing a relaxed position for the mother.

Safety And Ecological Considerations:
Polypropylene material allows easy viewing of your baby.
Safe and easy handling of the baby within the TummyTub®.
No harmful substances or sharp edges.
High stability with an anti-skid base.
TummyTub® has the Rheinland Germany TUV safety certificate/assessed by BSI.
Conforms to the CE Certification 93/42 EWG Medical product law regulations.
TummyTub® is fully recyclable, uses less water, and saves energy.


Colours available
Clear
Pink Glitter
Blue Glitter
Tummy Tub Two Step Stool and Cup
The Two Stepstool can be used with the Tub, secured using a special attachment cup. When the attachment is removed you have a child's seat with a storage compartment. This can also be adjusted to provide a stepstool which is great for children to use in the bathroom.

Colours available
Pink
Blue
Green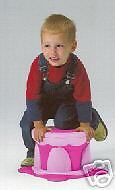 We hope you have found this page helpful and if you have any further questions please do not hesiate to mail us as we are experienced in using this product. Our tub is now used as a Polly Pocket Box for our duaghter and it has endless uses when you are finished using it as a bath.