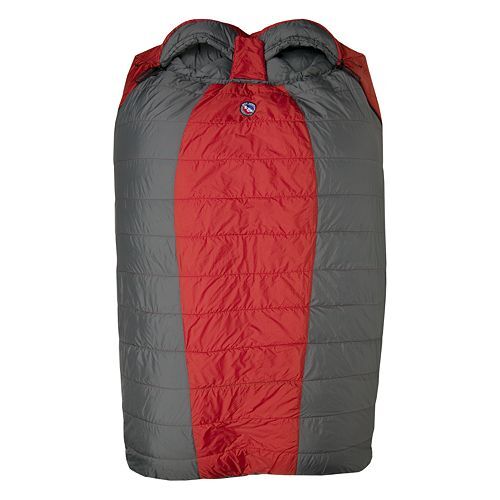 There are a wide variety of sleeping bags available on the market. They range in a number of ways. From different sizes, thicknesses and levels of insulation, there are sleeping bags to suit a range of different sleeping preferences.
Included in this extensive variety of sleeping bags are those that are able to fit two people inside. These are commonly known as double sleeping bags. Before the proper invention and common use of double sleeping bags, people used to buy a sleeping bag with a left-sided zip and sleeping bag with a right-sided sleeping bag and zip them together. However, this led to complications and restrictions involving comfortability and the exiting of the sleeping bag, hence the invention of the double sleeping bag.
Two person sleeping bags are readily available on eBay and this guide aims to take buyers through the considerations involved in the buying of one.
Two Person Sleeping Bag Features
Before the search for a two person sleeping bag can begin, one should fully understand the features that come with a product of this nature. Due to the fact that there are so many variations in the type of sleeping bag available, an understanding of these differences can make the difference between a rushed purchase and a sensible one. Here are some of the features that need to be understood and considered before a purchase is followed through:
Suggested Use Rating
Sleeping bags are distinguished by the manner in which they deal with certain temperatures. There are two different measurements that are used to determine the most suitable usage amongst certain temperatures:
Rating

Description

Seasonal Rating

This rating is based on the number of seasons that they sleeping bag can be used in. It uses the standard seasons of winter, spring, summer and autumn. There are four categories of seasonal rating and they are as follows:

- 1 Season:1 season sleeping bags are usually only recommended for use in summer and in temperatures at night that plateau at around 4 degrees Celsius.

- 2 Season: Sleeping bags rated as 2 season sleeping bags are best used in months such as late March through to May and late August to October. They are one of the more commonly used of the seasonal ratings and are made for nightly temperatures of around 0 to 3 degrees Celsius.

- 3 Season:3 season sleeping bags contain a lot more measurements to keep users warmer in cold night that may reach -5 degrees Celsius.

- 4 Season: These are the warmest of the sleeping bags and are for use in the coldest of conditions. 4 season sleeping bags much more advanced in their insulation technologies and can keep sleepers warm in temperatures on a scale between -6 to -10 degrees Celsius.

It is important to know which number of season rating that the sleeping bag has to ensure that the sleeping experience is as comfortable as possible.

EN 13537 Rating

The EN 13537 rating was introduced in 2002, as a sleeping bag rating that was designed to be more specific and realistic than the seasonal rating. This was due to the fact that many found the seasonal rating too vague and did not leave room for a number of temperatures to be accounted for. There are four levels and limits involved in the EN 13537 rating system:

- The Upper Limit: Upper limit sleeping bags are those that can be used on a standard summer night without an abnormal amount of sweat occurring.

- The Comfort Level: This was measured against the comfortable level that a woman could sleep at in a variety of different temperatures. This is the broadest range of sleeping bag temperature ratings that were tested.

- The Lower Limit: The lower limit accounts for a temperature that may not be the most comfortable, but will be able to sleep without any problems.

- Extreme Limit: This is not a limit that particularly concerns double sleeping bags, as the temperatures involved in testing these limits should only be slept in with a single sleeping bag to prevent heat from escaping easily.

This form of rating, however, is not widely used, as it is not compulsory. One is much more likely to find a double sleeping bag with a seasonal rating.
Sleeping Bag Insulation
The insulation of a sleeping bag is also an important factor that needs deliberation before buying a two person sleeping bag, because it may affect the comfortability of the bag, as well as the price and the weight. There are two popular types of sleeping bag insulation:
| Insulation | Description |
| --- | --- |
| Synthetic Insulation | This is a man-made form of insulation that is made with the synthetic form of the down, the other type of insulation. Compared to down, synthetic insulation is considerably thinner. Due to this, synthetically insulated sleeping bags are better for summer temperature as their breathability is well suited to these months. This can, however, be a disadvantage in colder months. Synthetically insulated sleeping bags are more reasonably priced than natural down sleeping bags and do not suffer from too much damage when made wet. It is also easier to maintain condition and quality, yet is more bulky when packed. |
| Down Insulation | Sleeping bags with down insulation use the feathers of birds, such as ducks and geese. Down made from goose feathers tend to be uncommon and more expensive than duck down, but they are more insulating. Down has many advantages as an insulation material. It is able to packed tight, allowing for a lighter pack weight and considering its weight it is also very warm. However, down insulation is also slightly higher on the price scale due the nature of the products used, and it struggles in terms of its breathability. |
Sleeping Bag Lining
The inner lining of the sleeping bag is important for the buyer to think about. It provides an added layer between the body and the outside of the sleeping bag. There are a number of different linings available, including reflective lining. This form of lining is extremely effective as it reflects body heat back to the body, yet, much like all linings, affects the breathability of the bag. Two person sleeping bags with an inner lining are commonly found, yet should only be used in colder temperatures.
Sleeping Bag Outer Shell
The outer shell of a sleeping bag is the part of the sleeping bag that is visible from the outside. It is made of a variety of materials that perform to different levels of insulation and are often designed to prevent leakages and sleepers being affected by wind. Most outer shells will be made from a DWR, which is a durable water-repellent material. There are a number of these materials available:
Dry-Loft: This material is suitable for summer and spring months as it provides sleepers with a sufficient level of breathability, as well as being somewhat water-repellent.
Microfibre:Microfibre material is best used in the summer months, as it is extremely breathable, but is lacking when it comes to being used in damper conditions.
Gore-Tex: This is similar to Dry-Loft, but is considerably more waterproof. Gore-Tex is a commonly used material for the outer shell of sleeping bags that are to be used in colder conditions, as they suffer from a lack of breathability.
Packing
The weight and size of a two person sleeping bag is also an important feature that should be discussed before the purchase of a sleeping bag is made. This is especially true of double sleeping bags, as they can take up a lot more room when folded and packed away.
It is worth checking the packing weight and size to make sure that it is suitable for the specific conditions that the sleeping bag is to be used in. For example, a sleeping bag with a large pack weight may be a burden during camping trips that last for an extended period of time, especially if space is an issue.
Buying a Two Person Sleeping Bag Online
There are plenty of specialised camping blogs and forums run by experts that offer advice on the best two person sleeping bags to purchase and use for specific conditions. These should be used to further understanding of the variety of double sleeping bags that are available, as well as enabling potential buyers to gain insider tips on the various additional features that may be available.
Whilst there are also many online retailers that sell double sleeping bags, these should only be used as price guidelines and comparison sites. One of the better places of finding an affordable double sleeping bag is an auction site, like eBay.
Buying a Two Person Sleeping Bag on eBay
eBay provides ample opportunity for buyers of two person sleeping bags to purchase a product that matches personal taste and necessities, whilst also providing the chance for buyers to purchase a sleeping bag through the auction process by placing a Bid.. More regular and recognised sellers on eBay may also allow the chance for buyers to purchase a double sleeping bag through the Buy It Now option. Any enquiries regarding these buying processes can be directed to the sellers who will be more than willing to answer questions if a potential sale is at stake.
To view eBay's range of two person sleeping bags, one should visit the Sporting Goods category of the site and then select the Camping option. After that, one can click on the Sleeping Bags filter tab. The final step is to either type 'double sleeping bag' into the keyword search bar, or to make use of the Double filter tab at the side of the page.
Conclusion
Therefore, whilst the buying process of a two person sleeping bag is not necessarily a difficult one, there is a lot on information to take in and think about to ensure that the transaction being made is a reasonable one.
Any potential buyer of a two person sleeping bag should be well informed on the variety of options and considerations that exist to make sure that the price and usability of the sleeping bag is sensible and honest.
Remember to think about the weather and the temperatures that the sleeping bag is to be used in and thus, the rating of the sleeping bag.
It is also worth reading eBay's terms and conditions before finalising a transaction to make sure that is a secure and smooth one, and take note that eBay provides means of Buyer Protection,, as does PayPal..