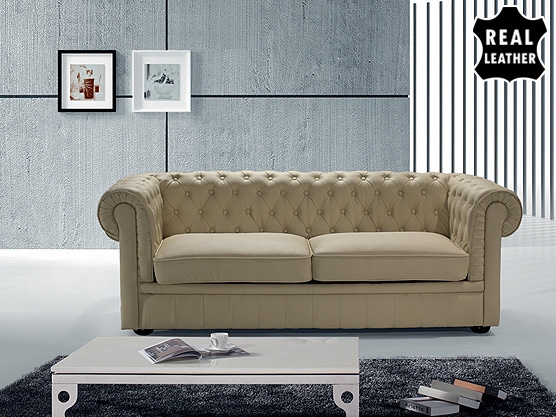 Sofas are a big purchase, in terms of both size and expenditure. The sofa is often one of the biggest pieces of furniture in a living room, which sometimes makes for a cramped space. However, a two seater sofa instead of a three seater sofa makes much more room available to add other pieces of furniture or just have open space.
There are a multitude of sofa styles on the market as well as sofa sets, sectionals, and sleeper sofas. One should not choose a two seater sofa based solely on how it looks, because looks can be deceiving. Choosing a two seater sofa involves learning about sofa sizes, styles, fabrics, and benefits, as well as how to care for specific fabrics and accessorising options.
There are a number of places one can purchase a two seater sofa, such as furniture stores, furniture departments of department stores, and online venues such as eBay. When shopping for a two seater sofa, one should do a little homework, consider every option, feature, benefit, and style, and measure the space the sofa will occupy to be sure it will fit. After one makes a decision it is time to shop, and eBay has an extensive number of two seater sofa listings from which to choose.
Why Choose a Two Seater Sofa?
Unlike larger, three seater sofas, a two seater, or loveseat, sofa has only two cushions. This type of sofa is one of the most popular types of living room furniture because two seaters do not take up as much space as a larger sofa, which allows for additional pieces to be added to the room for decorating purposes. Another advantage to buying a two seater sofa is that there are only two cushions, making it easy to flip them over to keep the sofa looking new longer. Two seater sofas are made from a variety of fabrics, and usually measure between 152.40 cm to 182.88 cm in length, and comfortably seat two people.
Two Seater Sofa Features
There are many things to consider when thinking about buying a two seater sofa, including the various elements of their construction.
| The Parts of a Sofa | Features and Benefits |
| --- | --- |
| Sofa Backs | Some back cushions are attached to the frame of the sofa, while others have large, detachable pillow cushions that rest against the frame back. Another type of cushion is attached at the top but loose at the bottom. |
| Sofa Feet | Sofa feet are generally straight and unadorned, made from wood or metal. Some designs of sofa have hidden feet that allows the sofa to sit closer to the ground. |
| Sofa Skirt | A skirt is a piece of sofa fabric that is sewn along the bottom of a couch to allow for hidden sofa feet. |
| Sofa Arms | Sofa arms can be high, low, square, curved, upholstered, or simply made from wood; they may be unadorned or ornate. |
| Sofa Cushions | Traditionally, the number of cushions a sofa has dictates the number of adults who can sit on the sofa. Two seater sofas have only two cushions, allowing for two adult occupants. |
| Sofa Frames | A sofa frame may be made from kiln-dried hardwood or metal. Sofa frames should be quite sturdy and capable of bearing a large amount of weight. |
| Sofa Springs | The best sofas have eight-way, hand-tied sofa coils, while models of lesser quality may have pre-assembled coils or simply wire that is stapled to the frame. |
| Sofa Upholstery Fabrics | Choose tightly woven fabrics are durable and allow for longer use. Microfibre and leather are good choices for households with children or for high traffic areas. |
Two seater sofas can be made from a variety of fabrics, in many colours, textures, and weaves. Below are the most commonly used fabrics for sofas.
Types of Sofa Fabric
When choosing the type of fabric for a two seater sofa, there are really only two options: fabric or leather. Each offers specific advantages and disadvantages. Fabric is inexpensive and do not show scratches; however, leather sofas last longer and look better with age than most fabric sofas.
Traditional Upholstery
Upholstery encompasses the majority of available fabrics, and offers a large variety of options for colour and design.
Microfibre
Made from tightly packed filaments that create a moisture-resistant and durable fabric, microfibre is breathable and very easy to maintain. This fabric has become extremely popular because of its softness and durability.
Leather
Leather two seater sofas are elegant yet extremely durable. Leather lasts for quite a long time in great condition, especially if the leather is conditioned to prevent staining. The downfall of leather is its price: A leather sofa generally costs much more than a fabric sofa. However, if a lower grade leather is used, the price of the furniture will be lower as well, but may not feel and look as good as the higher grade leather.
Cleaning a Sofa
Cleaning any type of sofa is a good idea from time to time, even if they do not appear to be dirty. Dust settles on the fabric and can make it look dull and faded, and cleaning it can bring colours back out. Additionally, dust can cause dust mites to proliferate, making cleaning furniture a necessity rather than an option. To clean most fabric furniture, one can use any type of upholstery cleaner. Step-by-step instructions for cleaning take the mystery out of the process.
Fabric Sofas
Take cushions off of the sofa if they can be removed, and set aside to clean separately.
Using a vacuum with a hose attachment, and vacuum up any crumbs and dirt. Vacuum the entire sofa but do not rub the hose into the fabric while vacuuming, as it will force dirt into the fibres.
Spray a foaming upholstery cleaner onto the most heavily soiled parts of the sofa first, shaking the can frequently.
Gently rub the foam into the fabric with a clean, damp sponge, or a dry sponge for microfibre sofas. Rinse the sponge as it becomes dirty.
Apply the cleaner over the entire sofa in this manner and allow it to dry completely. A fan can help speed up the drying process. While the sofa itself is drying, clean the cushions in the same manner.
After the sofa and cushions are completely dry, vacuum the entire surface again to remove excess cleaner from the fabric.
Leather Sofas
Use a small amount of moisturizing soap to clean a leather sofa. Work the soap into a lather, taking care not to wet the leather too much.
With another damp cloth, wipe off the soapy leather. Polish with a dry towel and then treat the clean leather with a leather conditioner.
If the specific type of leather is not known, a universal leather cleaner is recommended.
How to Accessorise Two Seater Sofas
Two seater sofas offer elegance and style all on their own, but to complete the rooms' decor and create a cosy and homey feel, accessorise with pillows, throw blankets, or slip covers.
Colour and Pattern
A colourful slipcover is an instant sofa makeover Choosing a new, bright colour or a different texture creates a whole new look for the room. For a cosy look and feel, choose warm, dark colours; for a sense of drama, opt for bold and bright colours.
Throw Pillows
Throw pillows are available in a variety of sizes, shapes, colours, textures and style. They accentuate any home decor, so matter what the look, there is a pillow that will help to accessorise it.
Throw Blankets
Throw blankets are another way to add a splash of colour. They not only complement the sofa, they also are cosy. Throw blankets are perfect for snuggling up and staying warm on a cold evening.
How to Measure a Sofa
Before buying a two seater sofa, one must take careful measurements to ensure that it will fit into the room that will house it. The first measurement is the space it will occupy, then the dimensions of the sofa. Compare the two to be certain that the sofa will fit, checking for width, height, and depth.
The width of the sofa is measured from arm to arm at the widest point of the sofa. For rolled arm sofas, for example, measure from of the outside the widest part of one arm to the outside of the widest part of the other arm, rather than at the bottom near the legs. When measuring the height, one should take care to measure at the highest point, as some sofas are higher in the centre. There are two depth measurements: the measurement from the outside edge of the seat to the back and the diagonal depth, obtained by measuring from the top back of the sofa frame to the bottom front.
How to Buy a Two Seater Sofa on eBay
To begin searching for a two seater sofa on eBay, choose keywords that relate to the style or type of sofa you are looking for and enter them in the search bar at the top of any page on eBay. For example, you can enter "leather two seater sofa&" and you will be rewarded with thousands of listings in a variety of styles and colours. If you are interested in a particular pattern, you can also type that into the search bar: for example, "floral two seater sofa&".
Be sure to read the listing carefully regarding specific refund or exchange policies as well. If you have any questions, ask the seller by going to the member profile and clicking on the seller's name. While on their member profile, take a peek at their feedback scores to see how other buyers have rated them in the past. This could be important: if the seller has a less-than-satisfactory score, you may wish to choose another seller. Finally, for heavy items such as a sofa it is advisable to search first within one's area, locating a seller close enough that the sofa can be picked up rather than shipped.
Conclusion
Choosing a sofa requires a substantial investment of finances and time, so before buying one should consider carefully several different factors. These include the styles of two seater sofas, their construction, and the best fabric choice for one's home, including whether the sofa is easy or difficult to clean. There are many locations from which to buy a two seater sofa. Whether one buys from local dealers or online venues such as eBay, one should research thoroughly to ensure that he or she selects the type of two seater sofa that will work best for the home. When the budget allows, it is worthwhile to choose a high-quality sofa it at all possible because the old adage about getting what is paid for fully applies to the purchase of a two seater sofa. The money spent on a good two seater sofa is an investment that that will last for years to come.