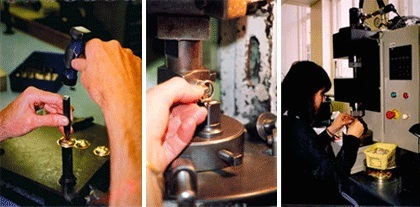 UK Hallmarking Law
When used in jewellery gold, silver, platinum and palladium are rarely used in their purest form but instead they are normally alloyed with lesser metals in order to achieve a desired strength, durability, colour etc.
It is not possible to detect by sight or by touch the gold, silver, platinum or palladium content of an item.
It is therefore a mandatory legal requirement in the UK for all finished items of jewellery offered for retail sale consisting of gold, silver, platinum or palladium (subject to certain exemptions) to be assayed (tested) and hallmarked at one of the official UK Assay Offices, if they are to be described as such.

Main Exemptions
Articles below a certain weight are exempt from hallmarking. The exemption weight is based on the precious metal content only, excluding, for example, weight of diamonds, stones etc, except in the case of articles consisting of precious metal and base metal in which case the exemption weight is based on the total metal weight:
Platinum 0.5 grams
Gold 1.0 gram
Palladium 1.0 gram
Silver 7.78 grams
Any pre-1950 item may now be described and sold as precious metal without a hallmark, if the seller can prove that it is of the described minimum fineness and was manufactured before 1950

The Hallmark Set
The hallmark is applied by stamp or laser and consists of three compulsory symbols:
1. The Sponsor's or Maker's Mark This indicates the maker or sponsor of the article. In the UK this mark consists of at least two letters within a shield. No two marks are the same.
2. Assay Office Mark Indicates the particular Assay Office at which the article was tested and marked.
There are now four Assay Offices in the UK at London, Edinburgh, Birmingham and Sheffield (Yorkshire).
3. Metal and Fineness (purity) Mark indicates the precious metal content of the article and that it is not less than the fineness of the article indicated. The fineness is indicated by a millesimal number (parts per thousand) and the metal type is indicated by the shape of the surround.