Part 2 of Purchase Tax

Record Stamp-errs
Imagine you are a record shop retailer being informed that the Purchase Tax and or the wholesale price is being adjusted and that you will be given the appropriate stamps for adhesion.
Okay, what would you do when receiving them? Adhere them to the records in stock? Remember their purpose? Exactly, for returns, and nothing at all to do with any that are sold. So in principal the only records that would require stamps are the returns. Ah, but then what about the next time there is a change in the rate? Yes, but if the Tax is to be increased again, one could await the next delivery of stamps with the new code and use them on the previously acquired stock, thus making a little bit extra on returns! --> Tax Stamps were for returns; how many Tax Code stamps have you ever found? Exactly. They are few and far between. Thus, to accumulate just one of each example might take you a little time!
This data details the complete history of Purchase Tax Coding Applies in general to :
EMI labels ( Columbia, HMV, MGM, Parlophone, etc.);
Decca labels (Coral, London, RCA, etc); Philips, Polydor.
Thus, using this table, one can date the actual pressing of records t
hat were manufactured from 1939 through to 1963. This logic
overrules quoting matrix numbers, as there are no accounts
kept from source as to how many were pressed of what! Therefore, is only logical to ignore purveyors of vinyl that only inform the reader what they want them to know, and not what is the true form!
If there is no tax code slug (embossing) adjacent to the spindle hole,using spectacles or a magnifying glass, check within the run-off area, in particular at 12 o'clock; this is in relation to the matrix being at 6 o'clock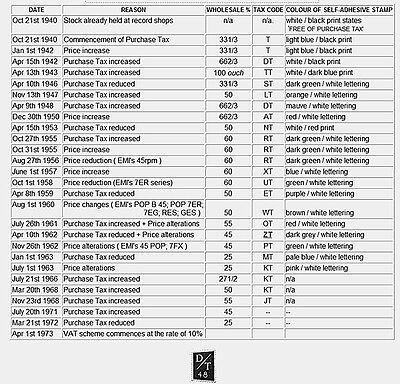 Footnotes for above chart

DT was employed twice. As there was a six year gap between the two, one should give the benefit of doubt this was not a clerical error? However, on the second time around, the self-adhesive stamp included the year date, the only Tax stamp issued to have this criteria.

? I have Decca issue discs (Muffin The |Mule!) pressed in 1948 and 1949 that have CT on the labels

I? have Columbia issue of 5 discs pertaining to 'South Pacific' from 1946, with each having DTP !

With the exception of July 26th 1961 and Aril 10th 1962, where there was a (retail) price increase or reduction, the Purchase Tax remained as before. However, studying the chart, it is somewhat baffling why in some instances a new letter was introduced, and on other occasions unchanged.

During some parts of the 1940's and 1950's, Decca employed a slightly variable lettering scheme.

In the case of Decca, 1960s pressings had the Tax code printed on the label (i.e. no slugs). However, double-check the run-off for coding. An example being that M/T printed on the label, but is possibly superseded with KT

CBS label commenced 1961, but no pressing plant until 1964, when they acquired Oriole's stock-in-trade. Thus, prior to this, vinyl pressings contracted out. Early CBS labels with a purchase tax slug is a Polydor pressing.

Although apparently not officially documented, it should be noted that the letter J was employed for a short period following the end of the 'K' duration. It is also possible to find 'JKT' slugs on some of EMI's November/ December 1968 issues, a few 1969 pressings, and very few 1970. To reiterate, this can also be observed on Decca's labels as printed.

'THE BEATLES' White Album was released on the 22nd of November. Initial pressings included the KT slug. but for some strange reason, usually on one disc only. Much scarcer is the inclusion of J

Records manufactured for 'Export' (i.e. pressed in England but not intended for sale within the United Kingdom) did not require a Tax Code. Thus, in this instance, it is of interest to find examples that include this.

More so is to own any UK Export issues that have the label's contradictory statement "SOLD IN THE U.K. SUBJECT TO RESALE PRICE CONDITIONS SEE PRICE LISTS"!

Whilst 1 G / 1 G are EMI's initial Mother Stampers, during what appears to be the 1963 ~ 1967 period when 'Demonstration Only' singles were being manufactured, some of these' first pressed' discs were actually coded JR (no number). Interestingly, this can also be found on standard commercial stock issues, in particular where the disc received virtually no attention, thus poor sales ensued. This data corroborates that records falling into this category probably were expected not to sell well, and only the initial 300 - 500 or so that were pressed would be suffice.

Finally, for now anyway, all information**, observations, and opinions set out here are devised by yours truly. Any copying and pasting, mimicking, etc, to be acknowledged.

** exception being (most of) the table of coding, which is courtesy of a now previous employee of E.M.I.
Peter Rice