The fuss about these undated 20p coins is finally about to kill the market.
We still see sellers offering coins that are undated on one side and fools buy these coins but now this has come to the attention of the Chinese counterfeiters who are selling fakes of genuine mules at about 10p each!
Some of you have seen that these are available marked COPY or REPLICA but of course, ask around and they can be obtained without the copy stamp and that is why, at the time of writing, the price for these is falling rapidly.
Here is one of the fakes: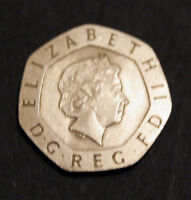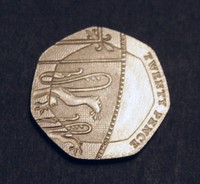 For comparison, here are images of a real coin: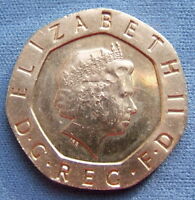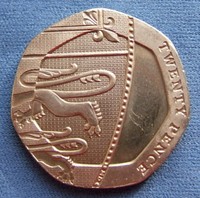 This was purchased from undated20ptrader and as you can see, it has a rather filthy grey matt appearance because this one is made from Asian pot metal. There is also no lustre to the coin. The real coins seem to come in the range 4.97 - 5.03 gm and so, if your is lighter, perhaps 4.75 gm, there is a risk that yours is fake.
A careful examination of the above also reveal a loss of detail in the fakes and that the forgeries are rather pathetically obvious..
If you have bought from undated20ptrader, get your coin/coins checked as a matter of urgency. By the way, the reasons that his feedback is private are that he is selling his fakes privately and on Gumtree and he does not want you and his unlucky victims to see that the two recent negatives he received were from victims accusing him of selling fakes! Although eBay has now closed this crook's account, he is still out there, somewhere.
Of course, just because this crook is gone from eBay, you can't assume you're safe. You should be careful who you buy from and insist on a photo of the article for sale. You should also ask them to explain to you why they have more than one for sale, if this is the case.