The uniden UBC92XLT is a superb budget scanner and will please newcomers to the world of scanners as well as those people who have been in the hobby for some years.
I won't bore you with a long winded review of the scanner instead I'll concentrate on the thing's that you want to know before you take the plunge and buy the scanner.
Some basic details.
Type: HF/VHF/UHF receiver/scanner
Frequency range: 25-87.2625 / 108-137 / 138-174 / 406-512 / 806-960 MHz
Mode's: AM/FM(NFM)
Voltage: 2 * AA batterries or 6v DC external
Impedance: 50 ohms (BNC antenna connector)
Dimensions (W*H*D): 68 * 115 * 32 mm
Weight: 165 grams
Manufactured: 2005-200x
Other: 200 memories (10 * 20) @ 50/sec. "Close call" RF capture technology
This is what it looks like.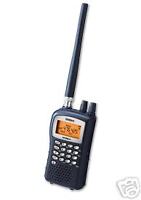 My review.
The main thing that most of you will want to know is how well the Close Call feature works. Err?...How can I put this?...
It work's brilliantly!
Close Call is sometime's called a frequency sniffer and what it does is alert you when there is a transmission in your area (obviously the transmission has to be on a frequency covered by the scanner). It scan work in the background while you are scanning the memory banks. This feature is a very usefull tool for those who don't have any idea about where to search or to anyone wanting to find frequencies being used at air shows or any other event.
The scanner is very easy to use, it cover's most of the busy frequencies, and has some nice feature's (especially the Close Call feature). Reception is sensitive and it works very well, even on the supplied rubber antenna. The sound from it's built in speaker is quite good an easy to listen to and it is a nice light scanner. Another good feature is that it scans in 12.5khz or the new 8.33khz steps on the airband.
My advice...stop reading this and go buy one.