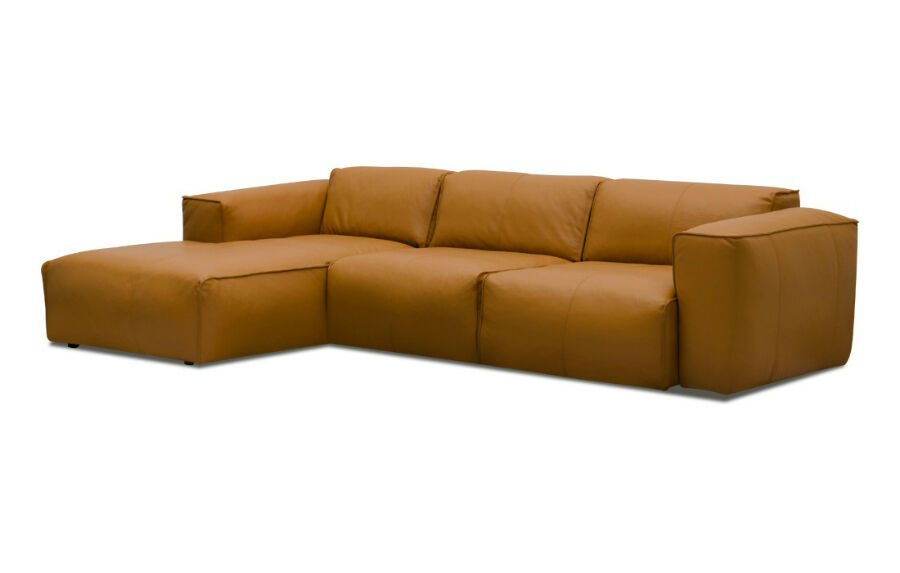 Because sofas are the largest part of the living room furniture, they end up also becoming the centrepiece. This means that they have moved beyond just being a comfortable thing to sit on into also being a decorative item. Purchasing a sofa is a large investment because it becomes a big part of everyone's daily lifestyle. They see it everyday and use it constantly.
For many people, it is difficult to know where to start in the process of finding a sofa. The aesthetics of the sofa is only one part of the scenario. How it is built, whether it will hold up, its size and shape, and whether or not it is comfortable all come into play as well. The following basics guidelines will help people in the process of finding an upholstered sofa that matches their lifestyle and needs.
The Size and Shape of the Sofa
There are a lot of factors to consider when selecting a sofa. The first and most basic factor is how the sofa, or couch, will fit into the area. To figure this out, map out the area where the couch will go. Most sofas are either straight or L-shaped. After mapping it out, measure the space to see how big or small the sofa has to be. Do not go too far under or over the limits because a couch that is too large will swallow up a room and one that is too small will make the room feel empty.
Upholstered Sofa Material
Choosing a material that complements the existing decor of the room can be tricky. All the fabric in the room should not be the same but they should all coexist nicely. Sofas basically come in leather, suede, or other fabrics. Leather is very easy to clean, and has a sophisticated look, but the colours are mostly limited to brown, cream, and black. Fabric sofas add warmth to a room and have a much wider variation of colours and patterns. However, fabric is difficult to clean and often requires the assistance of a professional with specialised tools.
Sofa Features
There are also various characteristics and features to choose from when selecting a couch. Some of them will raise the price of the sofa while others are just simple design changes. Decide ahead of time which features are wanted.
Arms
Sofas come with or without arms. With arms they are more inviting and comfortable, without them they have a more contemporary, clean cut look.
Cup Holders
For those who spend a lot of time on the couch, cup holders may be a good addition for convenience.
Cushions
Some sofas come with matching cushions. However, these blend in and do not do much for the appearance. Pillows that accent the couch and are noticeable are best.
Feet
Whether or not the sofa has feet is a matter of personal preference. Sofas either sit on legs or they sit directly on the ground. An advantage to not having feet is that dirt and debris do not end up under the couch.
Ottoman
A matching ottoman can add to the overall look of the room and provide extra comfort.
Recliner
Recliners allow people to lean back and prop their feet up when sitting. They are very comfortable but also expensive.
Sets
For those who want furniture that matches without the hassle of having to pair different pieces together, a set may be a good option. Typically the sets come with any combination of a sofa, chair, and loveseat.
Skirt
Skirts fit around the bottom of the sofa to hide the feet and prevent people from seeing underneath.
Since the sofa is a piece of furniture that will stay in the house for a long time, it is a good idea to get the desired features because it will most likely be a long time before a replacement sofa is bought.
Types of Upholstered Sofas
After figuring out sizes and features, it is time to decide on the type of sofa to get. Again, there are a variety of options available, so carefully consider each one.
| Type of Sofa | Description |
| --- | --- |
| | An elongated piece of furniture with the back located on the side; designed for people to lie down on in a relaxed, sitting position |
| | Bottom section pulls out to form a bed |
| | A backless sofa typically placed against a wall; extra pillows and cushions are added for comfort |
| | Can convert into a bed; has a wood or metal frame that can be laid flat or put into a sitting position |
| | Designed to sit two people; rectangular shaped and are generally 5 to 6 feet long |
| | Consists of separate seats that can be attached together, usually in an L-shape; range from 9 to 14 feet long |
| | A more formal version of the loveseat, designed to be attractive but not functional; frame is usually wood with upholstered cushions and armrests |
| Traditional | Rectangular shaped and can seat at least three people; range in size from 6 to 8 feet long |
To help with the decision, it is always a good idea to pull up pictures of the different types of sofas and visualise what they will look like in the room.
Sofa Construction
Since sofas have to hold the weight of several people, they need to be built well in order to last a decent amount of time. The first thing to look at is how the frame is built. Avoid soft woods like pine, and check the product description to make sure that the pieces were not glued or stapled together. Wooden blocks, dowels, and screws are the best forms of construction.
Next, check the springs. If the springs are stapled or nailed to the frame, avoid that couch. Coils that are hand-tied will last longer and offer more comfort. Ample cushioning is important as well. No one should ever be able to feel the frame beneath the cushions. The fabric also makes a difference on the life span of the sofa. Leather, suede or tightly woven fabrics will last the longest. Anything with a texture will also show wear and tear over time. Suede and velvets have a tendency to show wear in the areas that are most commonly sat in.
Where to Find Upholstered Sofas
Sofas can be found at nearly any furniture shop. Warehouses will have the largest selection because the sofas on display take up a lot of room so it becomes difficult for shops to have a good inventory. If no warehouses are around, people end up having to go from shop to shop in order to see more options. What most people are not aware of is that it is now possible to do furniture shopping online, and most sellers even offer free postage to encourage people to shop online. Websites like eBay provide buyers with a way to get access to a much larger selection than any store will have.
Shopping for Upholstered Sofas on eBay
eBay has a huge selection of sofas that are all listed by different sellers. This allows people to find and compare sofa prices, designs, and quality all in one place. To get started, go to the eBay website and then use the search bar to find what you need. Simply enter the what you are looking for and then click Search. eBay will then populate a list of everything for sale that meets your criteria. For example, type "sofas" and a list of thousands of sofas will appear. If you do not want to go through this many products, you can be more specific in your search term. Instead of searching for "sofas" search for something like "leather sofa", "sectional sofa", or "loveseat".
Even with more specific searches there will still be a lot of listings to go through. Those who need to streamline the process can enter in some specifications that narrow down the selection to be more tailored to their needs. You can enter in your price range which will eliminate all the couches outside of your range, you can select whether you want a new or used couch, and you can choose the location of the couch. Location comes into play when figuring out postage costs. The closer the couch is to you, the less you will have to pay for postage if there is any.
Conclusion
Purchasing a new sofa is a big deal because it is the biggest item in the room and it has the important task of allowing people to relax in comfort. Without them it would be difficult to host parties or large gatherings because there would not be ample seating space to accommodate everyone. Consider all the aspects of the sofa before purchasing because it is a decision that people have to live with for quite some time. Take time to measure the space accurately, pick out the features, select the type of sofa, and then check to make sure it was quality built. These steps help simplify the process so that people can order their sofa stress-free and then enjoy it in their living room.