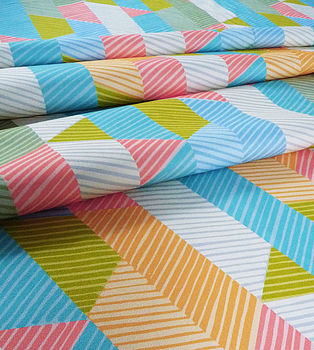 Certain decorating projects require strong upholstery fabrics that provide the durability to withstand daily use. Whether buyers want to hang new drapes or rehab an old piece of furniture, upholstery fabric is a solid, sensible choice. Typically tougher than other types of fabric, textiles designed for upholstery are sold in many fabric shops and furniture design showrooms. Shoppers can also find upholstery fabric online through Internet vendors and websites like eBay.
When attempting to find the right upholstery fabric for a project, people are likely to wonder which type best suits their needs. There are numerous natural and synthetic options available in a wide variety of colours, textures, and patterns. To select an appropriate upholstery fabric, consumers must remember to consider the durability of the fibre along with design factors such as colour and texture. This approach promises to lead buyers to an upholstery fabric that perfectly fits their project plans.
Basic Upholstery Fabric Considerations
Along with overall appearance, there are several production factors to consider when choosing between various upholstery fabrics. Fibre content plays a crucial role in durability, as do the weave and thread count. By learning a bit more about these fabric characteristics, shoppers can browse more efficiently.
Fibre Content
Fibre content is an important characteristic to look at when selecting fabric for a particular purpose. Upholstery fabrics can be broken down into two main categories: natural and synthetic. Within these classifications, there are many different colours and textures available to consumers. In some cases, manufacturers weave natural and synthetic fibres together to boost fabric performance.
Natural Upholstery Fabrics
Upholstery fabric made from plant fibres or animal products is referred to as "natural". Shoppers who prefer to use natural materials in their home have plenty of upholstery fabrics to choose from. These include cotton, linen, silk, and wool. Though it is not a woven fabric, leather also falls into this category because it is made from cowhide. While some natural fabrics are not as durable as synthetic options, they are often selected for their pleasing appearance and luxurious comfort.
Synthetic Upholstery Fabrics
When the fibre used to make upholstery fabric is predominantly man-made, it falls into the synthetic category. Some synthetic fabrics are actually made from natural raw materials; however, the complex production process required to make these fabrics accounts for their inclusion in the synthetic category. For instance, rayon is made from a naturally occurring organic compound known as cellulose. But because this cellulose must be chemically extracted from sources such as wood pulp, rayon is considered synthetic. Other types of synthetic fabrics used for upholstery include acetate, acrylic, nylon, and vinyl.
Fabric Durability
Fabrics vary widely in fibre weight and weave, two of the main factors that help predict durability. Whatever the purpose, durability is generally a top concern for individuals planning to purchase upholstery fabric. By comparing weave type and thread count, shoppers can determine which fabric provides the proper level of durability for their project.
Thread Weave
The way in which threads are woven together to make fabric is known as the weave. By examining the weave of various fabrics, shoppers can better understand the concept of durability. The least expensive and most common fabric weave is the plain weave. The threads in a plain weave are woven over and under each other in an alternating, basket-like pattern. To produce durable plain-weave fabrics, strong threads are woven together tightly. The rib weave is a variation on the plain weave that alternates fine and strong threads to create a ribbed effect. With a satin weave, threads float over the surface of the fabric before weaving in again. Because the fibres are more exposed, satin weaves are less durable, but they offer an opulent look and feel. Pile weaves like velvet include tiny loops, either cut or uncut, which sit on top of the fabric to produce a rich texture. When a distinct design is woven into the fabric using a special loom, the fabric is known as a jacquard weave. Tapestries and damasks fall into this category.
Thread Count
Thread count is closely linked to the weave of a fabric. It refers to the number of threads in a given area of material and measures the tightness of the weave. It is important to note that, depending on the manufacturer's location, the thread count of a given fabric may refer to threads-per-inch or threads-per-centimetre. To avoid confusion, check the product details. In general, fabrics with a higher thread count are more tightly woven and thus stronger, but the quality of the thread also plays a role in durability.
How to Choose the Proper Upholstery Fabric
In order to simplify the selection process, buyers are encouraged to consider several important factors before shopping for upholstery fabric. These include the durability of the fibre, the tightness of the weave, and other aspects that influence performance. Each type of upholstery fabric has various strengths and deficits, so it is crucial for shoppers to weigh these characteristics carefully. After examining the specific needs of the project, it becomes easier to determine which fabric is best.
Determine Project Needs
In order to choose the right upholstery fabric, it is best to have a particular project in mind. An upholstery job on a chair in a busy household requires fabric with a high level of damage resistance. Durability may not be as important in fabric for drapes, but the thickness can impact the amount of sunlight able to pass through. Most importantly, buyers must carefully assess how much fabric they need to complete the project. To be safe, it is always wise to purchase a bit more fabric than needed.
Fabric Measurements
When purchasing upholstery fabric, be sure to note how it is measured by the seller. That way you can be sure to order the right amount. Some sellers measure by the metre, while others sell their fabric by the yard, which is an imperial industry standard equating to three feet. When fabric is sold by the yard and not the metre, remember that one yard is just shy of a metre, measuring 91.44 centimetres.
Upholstery Fabric Options at a Glance
Shoppers are likely to find many different upholstery fabrics available, especially if they shop online. The following chart compares popular materials used to make upholstery fabric. This information can help people narrow down the options and choose fabric that suits their decorative design project.
| Type | Source | Characteristics |
| --- | --- | --- |
| Acetate | Synthetic | Imitation silk; fairly low durability; resistant to moths and shrinkage; prone to sun and mildew damage |
| | Synthetic | Imitation wool; resistant to wrinkling, fading, and dirt; heavy use can lead to pilling in low-cost acrylics |
| | Natural | Level of durability depends on type of weave; prone to stains and wrinkles; sunlight may cause yellowing |
| | Natural | Extremely durable but easily stained if not careful; can look better with age; sensitive to direct sunlight |
| | Natural | Fibre is strong, but wrinkles easily; weakened but not faded by sunlight; not recommended for high traffic |
| | Synthetic | Increases strength when blended with other fibres; may fade or pill, but not as likely to stain or wrinkle |
| Olefin | Synthetic | Lightweight and strong; extremely durable; resists abrasion, mildew, and dirt; sensitive to heat and sun |
| | Synthetic | Seldom used alone, but often blended with other fibres to reduce propensity for wrinkling and fading |
| Rayon | Synthetic | Inexpensive; used in imitation silk, cotton, and linen; durable but wrinkles easily and may shrink |
| | Natural | Very durable; not prone to fading or wrinkles; often woven with synthetic fibre for increased performance |
| | Synthetic | Imitation leather; durability dependent upon quality; damaged by heavy abrasion and high temperatures |
While the above-mentioned factors are certainly important, they must be weighed against the look and feel of the fabric. This way, buyers ends up with a fabric that fits the project and their design scheme.
Explore Colours and Patterns
After selecting a particular type of upholstery fabric, buyers can begin to browse the available colours and prints. Fabrics featuring striped or floral patterns are especially popular for upholstery projects. Those unhindered by design constraints are free to choose any fabric colours and patterns they like. Well-chosen upholstery fabric can serve as the foundation for an entirely new decorative approach in the buyer's home. However, in many situations, an upholstery project must adhere to a predetermined design scheme. If this is the case, shoppers are limited to fabrics that match the existing colour palette. While many people opt for fabrics that match the paint job, selecting drapes or upholstered furnishing that highlight a less-prominent accent colour can help unify various design elements.
Shop for Upholstery Fabric on eBay
To shop for upholstery fabric from the comfort of home, check out the eBay Shops and product listings. There you can find a huge variety of fabric options to consider. By helping you to quickly sort through a large list of search results, eBay makes it easy to find specific types of upholstery fabric. Additionally, eBay offers you a whole new world of fabric possibilities that may not be available in local shops.
Search eBay Listings for Upholstery Fabric
To browse for the perfect material for your next project, simply type the words "upholstery fabric" into the search box on any eBay page. This action brings you to the search results page, which lists all possible matches for your chosen keywords. From there, you can narrow down your options using the available refinements. For instance, input your preferred budget into the price tool, or choose a certain colour or pattern to focus on. By choosing specific keywords, such as "Laura Ashley upholstery fabric", to initiate your search, you can easily locate eBay listings for a particular type of fabric. To keep a close eye on newly posted listings, save your search and sign up for mobile or email notifications.
Conclusion
Upholstery fabrics are perfect for furniture facelifts, as well as for drapes and other decorative applications. Initially, shoppers are likely to be drawn to the look and feel of a particular fabric. While appearance is certainly an important facet to consider, fabric durability cannot be overlooked. Before browsing for upholstery fabric, prepared buyers should carefully consider the project requirements to determine which type is best for the job. While upholstery fabrics are largely understood to be stronger and thicker than other textiles, this product category includes a wide range of distinct options.
A large variety of upholstery fabrics are available through the eBay Shops and product listings. Buyers on the hunt for upholstery fabric are often looking for materials capable of enduring heavy use. Along with the strength, factors such as wrinkle and stain resistance must also be taken into account. After deciding which type of upholstery fabric to purchase, shoppers must calculate the total amount needed. Then, if necessary, they can focus on finding a colour or pattern that works with their current decor.