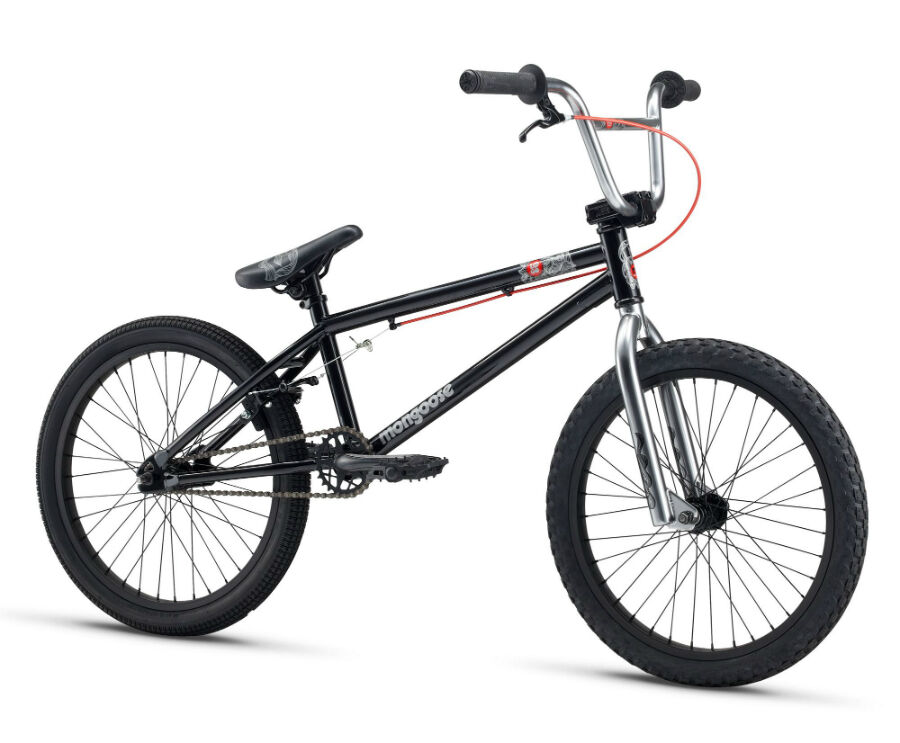 The name BMX is short for Bicycle Motocross. The sport began around the late 1960s when people who couldn't afford or were too young for motocross motorcycles began racing push bikes around dirt tracks with bumps and banked corners (berms) in California. The bikes had high handlebars and frames improvised to emulate motocross frame geometry. That is still the basis shape of BMX frames today.
Why buy a frame separately?
Of all bikes, the BMX is the one people like to build from scratch, perhaps because of the ethos of individuality amongst the BMX clan. It's logical to start with the frame, the triangular heart of the bike. Everything else hangs from it or is attached to it. By custom building the owner can select the parts to suit their preferences and ambitions.
Why Buy a Used Frame?
The frame is the most expensive item on any bike, so even if buying the other components new, there are major savings to be enjoyed. It enables buyers on a budget to step up to a premium brand frame like Skyway, Mongoose, Wethepeople or Fly, which they might not be able to contemplate as part of new bike.
It also enables enthusiasts to buy frames from the 1970's and 1980's, known as 'old school'. Although less technologically advanced than today's frames, they have differences which their devotees prize, such as double top tubes and a place to stand behind the saddle when doing jumps.
What will the completed bike be used for?
There are three BMX disciplines which have arisen over time – BMX Racing, Freestyle and Dirt Jumping. The bikes used for each style vary in the shape and composition of the frame as well as other components such as wheels. To appreciate the differences between used frames on offer, it's a good idea to understand what these disciplines demand.
BMX racing: Light weight and speed are the priority. They usually have 20-inch wheels. The frames are light and sturdy, and the higher the price, the lighter they get.
Freestyle: This bike's ideal use is for flatland tricks, street riding and turning stunts at skate parks. Sturdy construction is the emphasis for frames.
Dirt Jumper: Also known as 'jumpers' these are designed for taking flight. They bridge the gap between BMX racers and freestyle, so the frames should be beefier than the former, lighter than the latter.
This guide is designed to demystify the BMX market.
A quality, standard BMX bike with a single gear and 20 inch wheels and 20 to 21.5 inch top frame tube should be versatile enough for a beginner to have fun and maybe attempt the different styles. The seat post can be raised to accommodate different sizes of rider. Remember that in one way BMX bikes are just like other kinds; the more they cost the lighter and stronger the frames tend to be.
What Kind of Material?
Steel
High tensile steel ("hi-ti" for short) is used on most cheap BMX bikes. This can be contemplated for young or new BMX riders. It weighs more and can actually be weaker than other metals. Buying pre-owned, it doesn't cost much to go one better than steel.
Chromoly
For more experienced riders, a lightweight BMX will be faster and easier to manoeuvre or perform tricks and jumps on. Chromoloy (also known as Chrome Moly) is a steel alloy made from chromium and molybdenum. It is the most popular and common BMX frame material because it's strong and light. There is a general trend towards lighter and stronger frames with each season. High-performance BMX bikes use lightweight 4130 chromoly, or generation 3 chromoly.
Aluminium
This is the most common type material for the frame of BMX race bikes. Frame reinforcements are found on more expensive frames in the form of welds between joints where stress is likely to be maximised. Although aluminium is not as strong as Chromoly BMX frames, it gives a faster, stiffer and very responsive ride that is perfect for races.
What size and shape?
Will a child outgrow the BMX frame and how quickly?
For beginners the good news is that one size can fit all with BMX. Obviously there are slight variations in bottom bracket height, cross bar height and overall cycle geometry but this is more important when sizing up smaller children on a BMX.
The variations are more to suit different riding styles that the size of the rider. No one is too tall for BMX. That's just an old mountain biker's tale. Just buy a longer seat post - adjust the bars and seat backwards and forwards and that should be fine - from ages 6 to 60. More important than size, apart from smaller kids, is the type of riding you are thinking of.
It all comes down to preference. Below are some common abbreviations and their definitions which help with precise selection of a frame .
| Abbreviation | Definition | Description |
| --- | --- | --- |
| TT | Top tube | The length of the tube on top of the frame |
| DT | Down tube | The length of the tube on the lower part of the frame |
| CS | Chain stays | The length of the tubes on the lower part of the rear triangle |
| SS | Seat stays | The length of the tubes on the upper part of the rear triangle |
| HT | Head tube | Angle of the tube at front of bike connecting the TT and DT |
| BB | Bottom Bracket | The base of the frame with chainset, cranks and pedals |
TT: Top tube length Frame size is usually measured by top tube (TT) length, measured along the top tube from the middle of head tube to the middle of the seat tube, normally between 20 and 21.5 inches. The basic idea is that a taller person should select a longer TT; a shorter person should select a shorter TT. The kind of riding also makes a difference. For Freestyle go a little shorter. This makes the bike easier to do tricks on. For dirt jumping, aim for the longer size as it's more stable and easier to control in the air. But these are guidelines only. It all comes down to preference.
HT: Head tube angle Measured as the angle of the head tube compared to axle line, this is normally between 74-75 degrees The steeper the head tube angle the more room the rider has up-front but it also shortens the wheel base and therefore makes the frame react more quickly.
BB: Bottom bracket height Measured from the axle line to the middle of the BB but often seen as bottom bracket height above ground. Lower BB's makes for a more stable ride while a higher bottom bracket makes the bike feel quicker and easier to spin.
ST: Seat tube angle Measured as the angle of seat tube compared to axle line. This is normally between 71.5-69 degrees. The steeper the seat tube angle the farther back the bottom bracket will be, creating more room for the rider (while standing), although the seat will be further forward.
What condition?
Start by searching extensively for pre-owned frames on eBay; get to know market price levels and what similar frames cost new. Having made a short list, read through the product descriptions thoroughly to tell whether it meet your needs. Look carefully at the photos. If you are not satisfied then do not hesitate to Ask the Seller to get clarification. You may also want to request further photographs to see details more clearly or from an angle not shown in the listing.
Try to ascertain the reasons for selling. Many cyclists sell because they want to upgrade. Some do so because the frame does not quite fit them. This means that it is possible to get a relatively new frame in a good condition at a competitive price. If you are not clear about the history of the frame, you have a right to ask. Has the bike to which it belonged to been kept indoors or outdoors and what kind of mileage has it done?
When buying via eBay always inspect the frame and fork for any damage. Paint chips and scratches do not necessarily count as damage. A bike will get more of those if it's serving its purpose. Keep an eye out for things like bends and dents. If they aren't too bad, don't worry. If there are any cracks in the metal, look elsewhere for a frame.
How to Buy Used BMX frames on eBay
Now that you've worked out which used BMX frame you want, find them quickly on eBay. While you shop, don't forget Tyres & Wheels, Handlebars & Stems, Headsets , Saddles & Seatposts, Frames and Drive. To start shopping, go to the Sports and Leisure category. Click the Sporting Goods portal and click Cycling.
Categories: The Categories list on the left side of each page will help you narrow down your listings by item type. You'll find links for Bikes, Bike Parts, Clothing, Footwear & Helmets, Cycling Accessories, Trophies and Other Cycling. As you refine your search you'll be able to narrow down your choice by subcategory.
Product Finder: Use the Used Parts Finder to quickly narrow down item listings by type brand, model and condition. (New or used)
Keyword search: Search eBay listing titles for specific words. For example, if you want to find used BMX parts, type the keywords "BMX parts used" (without quotation marks) into the Search box. Click "Search title and description" to expand your results. Visit eBay's Search Tips page for more tips on searching with keywords.
If you can't find exactly what you want, try browsing eBay Stores or tell the eBay Community what you're looking for by creating a post on Want It Now, or save a search on My eBay and eBay will email you when a matching item becomes available.
Buy Used BMX Parts with Confidence
Make sure that you know exactly what you're buying and understand how eBay and PayPal protect you.
Know your item
Read the details in the item listing carefully.
Remember to add delivery costs to your final price. If you're buying a high value item, check that the seller will insure it until it is delivered to you.
If you want more information, click the "Ask seller a question" button on the seller's profile or the "Ask a question" link at the bottom of the item listing page.
Always complete your transaction on eBay (with a bid, Buy it Now or Best Offer) otherwise you will not be covered by eBay Buyer Protection.
Know your seller
Research your seller so that you feel safe and positive about every transaction.
What is the seller's Feedback rating?
How many transactions have they completed?
How many positive responses do they have?
What do buyers say in their Feedback?
Are they positive about the seller?
Most top eBay sellers operate like retail shops and have a returns policy.
Do they offer a money-back guarantee?
What are their terms and conditions?
Buyer protection
In the very unlikely event that you do not receive your item or it is not as described, eBay Buyer Protection your purchase price plus original delivery cost.
Conclusion
The essence of BMX is individual expression. Everyone likes to look different, everyone likes have their bike set up in a different way. Starting with the frame, they can work outwards with skill and judicious choice of parts to create a bike that suits their style, be it racing, freestyle, jumping - or just going their own way. If they bargain as cleverly as they choose, then the BMX of their dreams can cost less than they might ever have imagined.