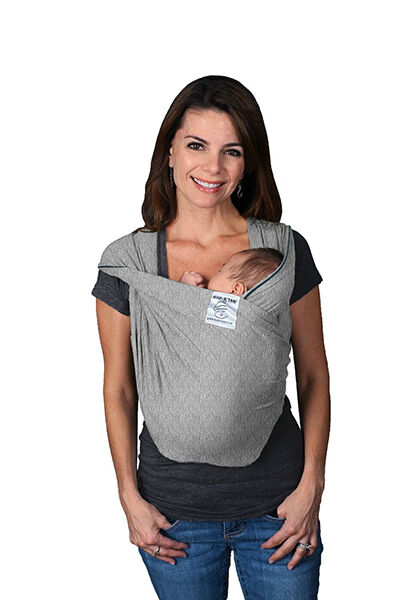 Baby slings are one of the most convenient accessories new parents can own. These helpful devices provide infants and toddlers with a safe way to be held while allowing parents to keep one or both hands free when running errands, going for walks, or even doing tasks around the home. Given the fact that many slings are gently used for a brief time during the first year or two of a child's life, many quality used baby slings are available for purchase.
Before shopping for a used baby sling, it can be helpful for consumers to understand the different types of slings that are available in the marketplace, as well as their features and various advantages and disadvantages. Consumers may also like to know some useful tips to keep in mind when buying a used sling, and they can benefit from learning about the possible places to find used items, such as resale shops or online retailers like eBay.
Types of Baby Slings
There are several types of baby slings available for purchase, each of which offers its own unique characteristics, advantages, and disadvantages. Knowing more about these sling types can help consumers make a satisfying purchase.
Ring Slings
Ring slings consist of a large, wide section of material that wraps diagonally around the adult's torso and loops through metal rings that are worn at one shoulder. These rings provides an easy way for a wearer to adjust the size and length of the part of the sling in which the baby rests. The rings also allow the material to double back and create a secure lock on the fabric that helps ensure that a baby does not slip out of a sling.
The Advantages of a Ring Sling
Ring slings are well-liked for their adjustable structure. They can be tightened and loosened quickly via the rings, and users can also wear them in a variety of ways to carry a child over the chest or on the hip, as needed. Ring slings also easily accommodate children of various sizes and ages, even children over the ages of two or three. A ring sling can also be easily removed if a child falls asleep and a parent wishes to lay the child down in a bed or a crib.
The Disadvantages of a Ring Sling
One of the disadvantages of a ring sling is that it has a limited size range in terms of the wearer. For example, a very petite mother would need a small ring sling to avoid excess material that might overwhelm her or drag. If she had a large husband, on the other hand, he may not be able to use the same sling, as the material might not reach sufficiently around his torso.
A second disadvantage of the ring sling is the weight it places on the shoulder. While a ring sling worn correctly can balance weight bearing to both the shoulder and the pelvis, it nonetheless puts a strain on the one shoulder. If worn incorrectly, the rings might dig into the shoulder, as well.
Wrap Slings
A wrap sling is a single piece of soft, stretchy material that wraps around the torso and must be tied off securely to keep a baby in place. This gives an infant a very comforting and close way to sit in a sling. A wrap sling can be worn in a variety of ways and can support infants and toddlers alike.
The Advantages of a Wrap Sling
A wrap sling is a very good choice for people with back problems, as it can distribute weight evenly across both shoulders. It also holds the child close against the torso so that the weight of the child is directed down through the hips and legs instead of pulling the wearer forward or to one side. A wrap sling has a wide variety of wrap styles that allow an adult to carry a child at the front, on the hip, or even on the back.
The Disadvantages of a Wrap Sling
Wrap slings can feel constrictive to those who do not like to have anything wrapped tightly around them. There is also a significant learning curve when it comes to learning the wrap techniques for some users. If a wrap is not used correctly, it can loosen, and this can give a child a less-than-secure place to rest.
Pouch Slings
Pouch slings are pieces of material that have been sewn together at the ends to create one loop of fabric. This loop is slipped over one shoulder, and the fabric is then folded over on itself to form a pouch for a child or infant. Pouch slings do not typically come with adjustable settings, although some may have a series of snaps that allow a wearer to lengthen or shorten the loop.
Double Pouch Slings
Double pouch slings are a variation of the classic pouch but with a dual shoulder design. A double pouch sling can be a good choice for a consumer who has shoulder and neck pain, although it can put more strain on the lower back. Double pouch slings also give larger children more support.
The Advantages of Pouch Slings
Pouch slings are very easy to use and require little instruction. All a wearer has to do is slip the pouch over the shoulder with the folded pouch facing forward for a small infant or to the back for a larger child. Pouch slings are also quite comfortable and do not have any straps, clips, or rings that might pinch the wearer.
The Disadvantages of Pouch Slings
Since many pouch slings do not have adjustable lengths, they can be difficult for all the different adults in a family to use. With smaller infants, it can be hard to position the child with the right head and neck support since the wearer cannot tighten the section of the pouch near the shoulder as on a ring sling.
Buying Tips When Shopping for Used Baby Slings
When shopping for used baby slings, there are a few tips consumers should keep in mind to facilitate the process. Following these tips can help shoppers find a safe, quality sling for a child.
Find an Instruction Manual
Many baby slings come with an initial set of instructions and illustrations that show the user how to safely set up and wear the sling. It is very important that the owner of a baby sling understands how to wear a sling securely. If a set of instructions is not available with a sling, consumers may be able to find adequate instructions and illustrations online. Before confirming a purchase, a consumer should confirm that one of these options is available.
Choose Non-Toxic Materials and Dyes
The safest and best slings for babies are those that are manufactured with non-toxic materials and dyes. Look for slings that use natural materials and dyes in order to protect a child from exposure to any unnecessary toxins.
Confirm the Size of Fixed-Length Slings
When purchasing a fixed-length sling, consumers should be careful to confirm the size of the sling before completing a purchase. Slings may be listed as small, medium, or large, or they may be associated with clothing sizes.
Confirm the Weight Limit of a Sling
Consumers should also take a moment to confirm the weight limit of a sling. Weight limits are defined by sling manufacturers to ensure that a sling adequately supports a child and does not cause injury to the adult carrying the child.
Confirm the Condition of the Sling
When shopping online or via long-distance communication, individuals in the market for a sling should also be sure to confirm the condition of the sling. This can be accomplished easily through photos of an item. Shoppers should look for signs of wear in the fabric, as this could cause a sling to not work properly or not support a child adequately. Signs of any damage to fasteners or rings should also be on a consumer's watch list.
Shopping for Used Baby Slings
Certain brick and mortar resale outlets may have a selection of used baby slings, but their inventory constantly changes based on the types of used items that people bring to them for resale. Finding a used baby sling in the preferred style at one of these outlets could be challenging. The same is also true for other used sources, such as garage sales. The online marketplace is much more likely to offer an array of used baby slings, and sites like eBay even offer powerful search features to help buyers easily find exactly what they want.
Buying a Used Baby Sling on eBay
To find and purchase a used baby sling on eBay, you can utilise the search interface that is provided on any page on the site. Simply enter a keyword term that describes the type of sling you are looking for and include the word 'used'. Try using descriptors with regards to size, colour, or other features that may be important to you, as well. You can also look at the entire catalogue of baby sling options by using a general search term such as ' baby sling '.
Getting to Know the Sellers on eBay
When shopping for a used item on eBay, it can be helpful if you make the effort to get to know the potential seller. Click on the seller's name from the item's listing page and look through the feedback that other customers have submitted. This can help you determine whether a seller is likely to provide you with the type of customer service you deserve and the quality of sling you have in mind.
Conclusion
Buying a baby sling for a child from the used marketplace can be a cost-effective and environmentally responsible way to purchase one of these essential items. Baby slings are often left in very good condition after only being used for a few months. Buying one of these used slings gives new parents a great option for carrying a baby wherever they go at a great price. By learning about the latest sling styles, as well as their features and advantages, parents can prepare themselves for finding a quality sling in the used marketplace.
While some brick and mortar resale vendors may have some used slings for sale, the online marketplace, which includes diverse retailers like eBay, offers consumers a wider range of options. Whichever buying approach consumers decide to use, they can start their search prepared to make a responsible purchasing decision with the right information. In no time at all, they can find the best type of sling for themselves and their babies.