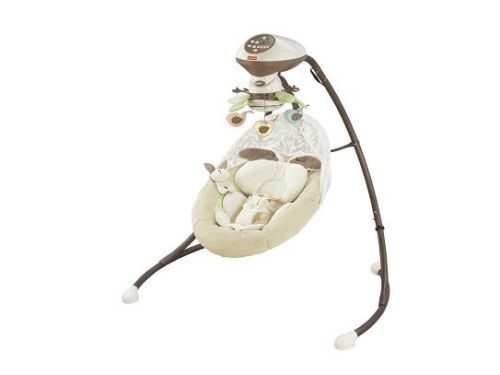 Expectant parents usually operate on shoestring budgets.Baby clothes,, prams, and toys can put a huge dent in a couple's monthly budget, not to mention the long-term savings for university. One of the more affordable baby products may also be the most useful for parents. Baby swings can occupy even the most distracted babies, sometimes for hours on end. This allows parents to enjoy some down time and ease the stress of taking care of small infants. While most baby swings are affordable, parents should never capitulate to the temptation to cut cost corners on baby swing safety features, as safety is the paramount issue for parents to consider.
The fact remains that shrewd shopping parents can find high-quality baby swings at shops that cater to newborns and young infants. Baby shops often run quarterly sales of the products returned during the three previous months. Even better, parents can find sturdy, entertaining baby swings online at eBay. First, parents should receive an overview of baby swings, and then learn about the benefits of owning a baby swing, the three principal types of baby swings, and the most important baby swing features, especially the features that ensure baby safety.
Used Baby Swing Overview
Manufacturers construct baby swings to mimic the steady rocking motion of the womb. The key to used baby swings is to ensure that they have maintained the same rhythmic motion as when they were new. Since the intent of utilising a baby swing is to assuage the angst of newborns, most baby swings have their greatest influence during the first few months of an infant's life. This means that once parents have stopped growing their families, they no longer have use for baby swings and most parents either donate the swings to charity or put them up for sale online. Another factor that shortens the life of a baby swing is the weight limit recommended by manufacturers. Most manufacturers recommend the weight limit for baby swings should be around 10 kg. While baby swings provide harried parents with some quiet time, the swings are not a substitute for human contact.
Benefits of a Used Baby Swing
Most parents purchase baby swings because they provide benefits for them. With a calm, sometimes sleeping baby in a baby swing, parents can complete household chores, catch up on emails, or simply take some time to rest on their favourite sofa.. While a calm baby allows parents to catch up on things, there are other, more important, benefits that play a factor in buying a used baby swing.
Value
Because baby swings only function properly for babies who weigh up to 10 kg, parents can find near mint condition baby swings at used baby swing prices. Parents may buy a baby swing from a couple who only conceived one child, and that child quickly outgrew the baby swing. Why pay new baby swing prices when nearly new baby swings sell for much less?
Soothes Baby and Parents
Many used baby swings possess the capability to work in multiple environments, including the parents' bedroom. The soothing back and forth motion calms most babies and lulls them into sleep. Parents who purchase safety straps can benefit from some shut eye, while their babies sleep away the afternoon in their baby swings.
Stimulation
Many manufacturers include mentally-stimulating objects, such as lights, music, and toys, with the baby swings they produce. The purpose of these objects is to develop the fledgling neurotransmitters inside of a baby's brain. While whirling toys and captivating light flashes may entertain a baby's brain, the real benefit derives from brain stimulation.
Types of Baby Swings
Baby swing manufacturers share many of the same techniques during the construction process. In fact, baby swing similarities include the metals used to construct the frame and how the cradle moves. The three primary types of baby swings differ on where each one is optimally used and whether the swings possess portability.
Full Size
Full-size baby swings are meant to rock back and forth inside of a home, preferably in an open area within the parents' bedroom. This type of baby swing has the longest product life, since it can safely hold babies that weigh as much as 15 kg. Full-size baby swings typically offer more features, such as multiple swing speeds and five-point safety harnesses.
Portable
Manufacturers construct portable baby swings to move easily between rooms and from the house to the car. This type of baby swing is perfect for parents who frequently visit relatives or take weekend excursions. Portable baby swings tend to be lighter and smaller than other types of baby swings, thus making them easier to transport.
Hybrid
Hybrids perform dual roles in soothing babies. First, the hybrid can work as a bouncer seat that provides the same movement effect as a baby swing. Parents can convert hybrids into swings that can contain up to six motion speeds. Hybrids are recommended for newborns and lighter-than-average babies.
What to Look for in a Used Baby Swing
Shopping for a used baby swing requires parents to devise a criteria list, and then rank the criteria in terms of importance. Any feature that augments a baby's safety should receive eminent consideration. Therefore, the following list of features begin with safety considerations and as the list progresses, move onto other feature attributes, such as style and functionality.
Frame
When consumers "kick the tyres&", they are analysing the condition of an automobile. Parents must take the same "kick the tyres" approach for assessing the stability of a baby swing frame. Look for strong posts constructed with high-tensile metal that are wide enough to prevent the swing from leaning in one direction. Stronger babies can tip over baby swings if the frames are not properly constructed.
Five-Point Harness
Most baby swings are heavily regulated by the British government, especially when it comes to mandating that baby swings include fixed restraint systems. The five-point harness, which places restraint straps over a baby's shoulders, does the best job of preventing babies from squirming out of the swing seats. Most hybrid and portable baby swings do not include a five-point harness. The best that parents can expect is a three harness variation that does not protect the baby as well as the five-point harness.
Easy Access
Manufacturers typically design portable and full-size baby swings without the top crossbar, which gives parent easier access to babies that may be under duress. Some babies have been able to remove the top cross bar and create multiple unhealthy scenarios. The lack of a top crossbar also improves portability.
Seat Cover
Babies not only want bells and rattles to distract them, they also want a baby swing that provides supreme comfort. Search for a baby swing that has machine washable plush padding on the swing seat to comfort and support a baby. However, there should be a balance between super firm and ultra-plush seat covers. Overly soft baby swing seat covers become suffocation hazards.
Cradle Motion
Look for a baby swing the moves from side to side, as well as from front to back. Some models possess multiple rocking movements that parents set on a timer. The potential for suffocation caused by side-to-side movements has virtually been eliminated by baby swing manufacturers. Since babies are susceptible to motion sickness, make sure to buy a baby swing that does not abruptly move between multiple points.
Varied Speeds
Some manufacturers offer battery-operated and plug in baby swings that can move at eight different speeds. However, most parents only need four different swing speeds at most. The goal is to relax a baby, and faster speeds can annoy, rather than soothe, babies. Four-speed baby swings cost less than eight-speed baby swings in general.
Entertainment
Baby swing toy trays allow babies to play with soft toys.. Baby swings that present multiple visual and sound effects can extend the amount of time that babies remain calm. Remember that if the manufacturer does not include a preferred form of entertainment with a baby swing, parents can easily find what they want on eBay.
Buying a Used Baby Swing on eBay
Parents should consider buying their baby swings on eBay, where convenience combines with high-quality products to produce a pleasurable shopping experience. You should list and rank your baby swing buying criteria before going onto eBay to find the right seller. With your criteria list in hand, input the important keywords into eBay's powerful search engine. If the type of seller matters to you, then type a baby swing brand name, such as " Fisher Price baby swing " or " Graco baby swings " into the search engine.
Once you find a seller who meets your baby swing buying criteria, contact the seller to see if he or she runs an eBay Store where you can buy a baby swing directly. eBay sellers often bundle products to enhance value in a sale. You may be able to purchase a baby swing that also includes some baby toys. Look for eBay's Top-Rated Sellers when reviewing baby swing sellers. Top-rated sellers have established strong records for selling superior products and offering quick delivery times. eBay places ribbon icons by top-rated seller product photographs to alert buyers.
Conclusion
The million dollar question for parents is how they plan to keep their babies occupied. Bored babies quickly become agitated babies, which leads to increased parental stress. An increasing number of parents have found that one of the best ways to soothe a baby is to gently rock the baby back and forth in a baby swing. Parents can opt for full-size, portable, or hybrid swings, although full-size baby swings provide the most safety features. Whatever type of baby swing parents buy, they should remember that baby swings have short lifespans, since they are not constructed to hold babies that weigh more than 15 kg.
Research has demonstrated that baby swings provide the level of mental stimulation that helps babies grow essential neurotransmitters. Parents can find used baby swings that have barely been used at discounted prices. They garner value because either another set of parents purchased the wrong type of baby swing, or their baby quickly outgrew the swing. Before they dive into the used baby swing market, parents should list and rank the baby swing criteria that are important to them. Safety features, such as a sturdy frame and a secure five-point harness, should be placed above other criteria.