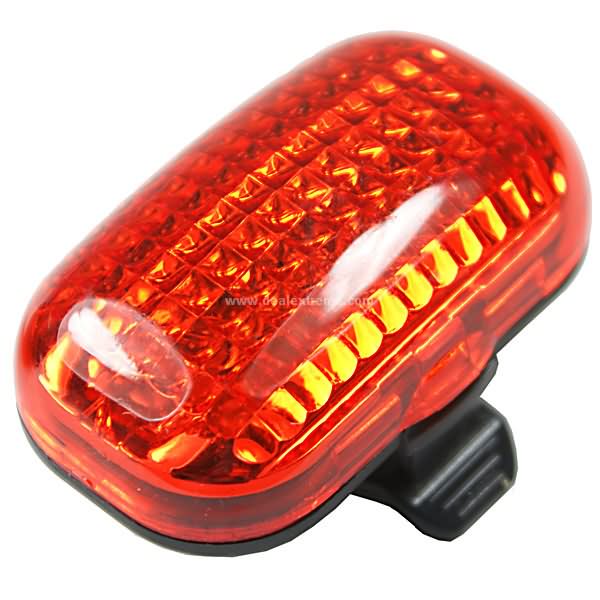 A bike light is designed to keep the rider safe when riding in dim light and at night whether riding on the road or off-road. For safety and ease of riding, a rider should have a front mounted white light as well as a rear mounted red light. The type of suitable light depends on a buyer's riding style, personal preferences, and the budget. Because good quality bike lights can be expensive to buy, many consumers choose to purchase a used bike light.
Used bike lights can be purchased from some specialty bike stores and online. eBay offers a wide selection of used bike lights to suit any rider's needs. Buyers can quickly search through the listings to find just the right used bike light at a competitive price. To make an informed purchase decision, buyers may like to have some background knowledge on the different types of lights available, what type of bulb would best suit their needs, and what to consider when buying a used bike light.
Why Buy a Used Bike Light?
Bike lights range significantly in price and quality. The quality of bike light one requires depends on how often they plan to use their bike at night, in what type of weather conditions they plan on riding in, and where they plan to ride their bike. A good quality bike light should be waterproof, hardy, and have a long enough battery life to last the required distance. A bike light with solid construction, sturdy waterproof seals, and durability to cope with on-road and off-road terrain can cost a lot of money. Therefore, buyers on a budget can choose to buy a used bike light. This allows them to get the quality they require at a price they can afford.
Different Types of Used Bike Lights
Before buying a used bike light, it pays to understand what types of lights are available. The four main types of bike lights available are front mounted lights, rear mounted lights, wheel lights, and head mounted lights.
Front Bike Lights
In order to see where one is going at night, and to be seen clearly by others on the road, a front mounted used bike light is required. Front bike lights are mounted onto the centre of the handlebars and are white. A front bike light is designed to illuminate the rider's path and also allow oncoming traffic to clearly see the rider. It may emit a steady light or a flashing light.
Rear Bike Lights
Rear mounted bike lights emit a red bulb. As with front lights, they may give off a steady light or an intermittent flash. A used rear bike light is often mounted below the rider's seat or slightly off centre. In order for traffic behind the rider to see him or her clearly, a rear bike light is ideal.
Wheel Bike Lights
Wheel bike lights are attached to the spokes or rim of the tyres. These lights are an ideal safety measure as they allow other road users to see the bike and rider clearly from the side. Wheel bike lights illuminate the wheels so they can be seen from a long distance away, perfect for night riding, even in foggy or wet conditions.
Headlights
Some riders like to have a light mounted to their helmet. Where a front mounted light tends to give off a wide beam of light, a helmet mounted light is often a good idea as it offers a narrower beam of light. The light also then lights whatever direction the rider chooses to look in. Whether for off-road riding or street riding, a helmet mounted bike light is a great safety option.
Choosing a Used Bike Light Bulb Type
Used bike lights come in a range of bulb options. Some options are more popular than others, and they range in the type of light they emit and their effectiveness.
LED Bike Bulbs
For many cycling enthusiasts, LED bike lights are a popular choice. LED bulb lights are relatively inexpensive, they tend to be small and lightweight, they have a long battery life, they are durable and hardy, and they do not heat up like other bulbs do. Choosing a used LED bike light means one can buy a top quality light for a reasonable price. LED lights are available in low and high powered versions.
Halogen Bike Bulbs
Halogen bike lights, commonly used for off-road riding as they provide a very good beam of light, are more designed for seeing ahead than being seen. The benefit of halogen bike lights is that they are durable and inexpensive. The disadvantage is that they do not have a long battery life. For this reason, LED lights have increased in popularity for off-road riding over the halogen bulb type.
HID Bike Bulbs
High Intensity Discharge, or HID, lights provide a very bright light. Because of the brightness that HID bike lights give off, they are expensive to buy and use a lot of power. HID bulbs also take time to warm up and reach their maximum luminosity. HID bike lights are popular for those who ride off-road because the beam offers is both extensive in height as it is in width, giving good visibility. Because this type of bike light is expensive, many riders prefer to buy a used HID light.
Filament Bike Bulbs
Filament bulb bike lights are the least common type used today. Although they give a wide beam of light, filament bulbs are less durable, less reliable, and have a shorter battery life than other types of bulbs.
What to Consider When Buying a Used Bike Light
When buying a used bike light, there are a few things to consider when making an informed buying decision. It pays to consider how the bike light is to be used, how often it is to be used, and in what riding and weather conditions it is to be used.
Using the Bike Light
How a rider plans to use his or her bike light may influence what type of bulb would be best suitable. A short trip down the street to the shops requires a different sort of light than heading off-road through the forest at night. Riding under street lights requires a rider to be seen more importantly than to see. A rider heading out under the dark of night with no street lighting requires a light that illuminates the way clearly and safely.
How Often
The used bike light needs to be able to last the riding distance. If the battery gives out halfway along the journey, this can cause concerning safety issues. If a rider has a one hour night ride ahead, then be sure to choose a light that offers sufficient battery life. Those who want their light to last a long distance may consider a dynamo bike light system. These require no battery and run on a current that is generated from the turning wheels.
Conditions
If a buyer plans to use his or her bike all year round in any weather conditions, a durable and waterproof bike light is recommended. The quality of seals, the durability of construction, the sturdiness of attachment and overall efficiency of the light should be carefully considered. Because top quality bike lights can be expensive to buy, choosing to purchase a used bike light from top quality brands, such as Cateye, Niterider, or Lupine, can ensure one gets the quality he or she requires at a realistic price.
How to Buy a Used Bike Light on eBay
To find a suitable used bike light for sale on eBay, you can simply type "used bike light" into the search bar. This brings up a long list of used items giving you an overview of what is available. Many buyers prefer to filter the search results further. To do this, you can type a more specific phrase into the search bar, or you can use the search category options available. These categories include filtering the search by light mount, light type, price, or brand.
If you are looking to use eBay anytime anywhere, then you can download the eBay Mobile application. For iPhone, iPad, Android, Blackberry, and Windows Phone users, eBay Mobile enables you to keep updated on your buying activity from your mobile device. Downloading the application is quick, simple, and free. Once downloaded onto your mobile device, you can receive alerts and messages, and check on various items, and even pay for an item from your Smartphone or tablet.
Conclusion
Buying a used bike light over a new light enables one to purchase a top quality, durable bike light that meets their needs without having to pay a costly amount. Bike lights differ in their type and style. The rider heading out for the occasional short ride along the street at night requires a different type of light than the mountain biking enthusiast who heads off-road for lengthy night rides.
In order to stay safe on a bike, a front and rear light is required. Riders may also choose to use wheel lights to make themselves more visible from a side angle. Used bike lights come with a choice of bulbs, including LED bulbs, halogen bulbs, HID bulbs, and filament bulbs. A consumer's budget and style of riding should determine what type of bulb light to purchase.
eBay offers consumers many benefits to buying a bike light online. They can easily search specifically for used bike lights and take advantage of eBay's secure payment methods, reputable sellers, and various delivery options.