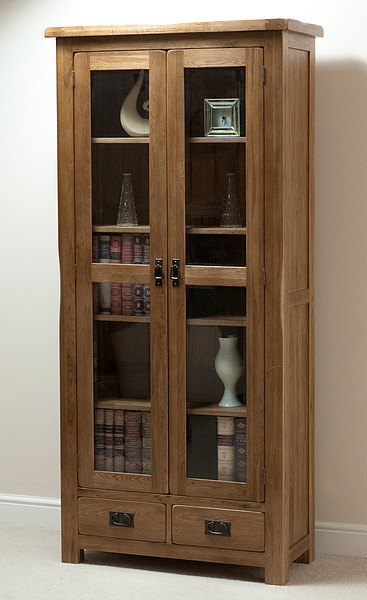 Online retail has changed the way that many shoppers choose to purchase their goods. Ordering items over the Internet is the ideal method for buying many larger and difficult-to-transport products. Receiving a delivery at home can save customers a substantial amount of both time and money. This is never more true than when shopping for home furnishings. When a customer uses a single retail website, they can browse a huge range of unique products with just the click of a button. The variety of items available is larger than in any department store, and large, bulky purchases can be delivered directly to the home. This following guide has been written to advise both a new customer, and an experienced web-shopper, on the best methods to carry out more accurate searches, whilst at the same time offering tips on ways to select the most appropriate used cabinet for the home.
Choosing Used Cabinets Online
Customers must consider a number of key points when searching for a used cabinet on the internet. Remember that, as an online shopper, it is never possible to see any item first-hand, as is when purchasing in a store. This makes it incredibly important that all requirements and measurements are noted accurately, before even beginning to search. Ensure that sufficient space is being allocated for the cabinet, and that any doors will have room to open fully. A used cabinet is, first and foremost, a functional item. It is installed in the home to carry out a specific task, whether that is to store kitchenware, or toiletries, or to display ornaments. At the same time, any item of furniture is chosen at least partly for its aesthetic appeal, that is: how it looks. This means that every purchase will be a natural compromise between appearance and functionality. The table below will offer some guidance to customers on how to initially approach the task of shopping for a used cabinet for the home.
| | |
| --- | --- |
| Material: | The appearance of any cabinet will be determined primarily by the material used to construct it. Every material, from woods to plastics, will have its own unique characteristics as well as strengths and limitations. Choosing which material a cabinet is made from may be a matter of personal preference, but for customers unsure of the benefits and drawbacks of certain materials, the following table covers this topic in greater detail. |
| Condition: | Customers should pay careful attention to any advertising for used cabinets. Has the cabinet been used frequently? Has it suffered from general wear and tear? Are there markings, dents, or damaged edges? Door hinges can be susceptible to weakening over time. Some used items will be sold for "spares or repairs", which means that the item does not function in its intended use in its current condition. A customer will be required to repair the item at their own expense before they can install such a cabinet. Although any damage or defects should be listed in the product description, it is up to the customer to contact the seller and request additional information regarding a cabinet's condition, when buying used items. |
| Self-Assembly Furniture: | A special note should be added to cover self-assembly furniture. Customers should bear in mind that most used and pre-owned self-assembly cabinets will have been constructed by their previous owners. Take special consideration of the fact that previous owners may not have taken great care when constructing the item; there may be loose fixings, or uneven edges. At the same time, self-assembled furniture is markedly cheaper. A pre-owned item of self-assembled furniture which has been built to a good standard will offer the customer both the cost benefits of a cheaper item, and the convenience of a product which requires no construction. Sometimes, a seller will offer a self-assembly unit which is still in its original, flat-packed state. A second hand flat-packed kit allows the customer to build the furniture at home, and will likely be even less expensive than a shop-bought kit, allowing for substantial savings. Ensure the kit is not missing any parts and has sustained no damage before completing any purchase. |
The build of any cabinet is one of its defining characteristics. Sometimes, a shopper will have decided in advance to purchase a specific cabinet. For example, a varnished, mahogany cabinet with glass panel doors may be perfect as a display case. However, it would be less appropriate in the kitchen. The following table offers some insight into which material is most suitable to which area of the home.
| Material | Description | Limitations |
| --- | --- | --- |
| Wood | There are many variety of woods, usually chosen for their aesthetic appearance. Pine is a light wood that will fit into a modern home. Darker, heavy woods such as oak and mahogany will add a classic finish to any cabinet. | Even when treated, wood can be damaged fairly easily. Scratches and dents in its surface will be seen very easily. For this reason, wooden cabinets are less well suited to everyday, functional use, such as in a kitchen or bathroom. |
| Metal | Metal cabinets can look sleek and modern. A chrome cabinet will be ideal for a trendy, contemporary home. Metal cabinets are strong and durable, making them ideal for daily use in the home or office. | Metal can produce sharp edges when twisted, dented, or allowed to corrode. When purchasing used metal cabinets, ensure all edges and surfaces have no defects or sharp corners, and that all moving parts such as doors and rollers move efficiently and safely. |
| Fibreboard | Fibreboard is a man-made building product formed from compressed wood chippings and fibre. It is a cheap and durable alternative to other materials, making it ideal for everyday use. Fibreboard is often clad in a thin layer of vinyl. The cladding can be printed or textured to give the appearance of a wood or plastic finish, making fibreboard a versatile option for customers on a tight budget. Fibreboard is often used in kitchen units, where several cabinets are needed, and uniformity of appearance is essential. | Bare fibreboard is unappealing, and exposed edges will chip or "flake" easily. For this reason, fibreboard is usually clad in vinyl. This cladding is less visually appealing than real wood, making fibreboard an unfavourable option for an ornamental cabinet or a display case. |
| Plastic | Plastic is incredibly versatile and easy to work with, meaning that plastic cabinets can be found in any style or shape. Plastic is easy to manufacture, making plastic cabinets a cheaper alternative. It can be coloured, and is lightweight, making it an appealing and safe choice for children's furnishing. | Plastic can easily sustain surface marks and scratches. When purchasing used plastic cabinets, ensure there are no defects or damaging marks. |
Purchasing Used Cabinets Online
An online purchase can be broken down into three parts: searching for an item, paying for an item, and taking delivery of an item.
Finding Used Cabinets on eBay
There are numerous online communities which make shopping for used and pre-owned cabinets a simple process. Finding the right item is a matter of selecting the appropriate search criteria, so that only items which match the needs of the consumer will be returned. When searching, it is better to offer too much information, rather than too little. Technical details including dimensions, material, colour, function (eg display case, bathroom cabinet), and price range will help an online search engine to locate matching items. Used items can be found on any number of trade and retail website. These range from basic bulletin boards which list classified adverts from private sellers, to advanced marketplaces and communities such as eBay. To find used cabinets on eBay, visit the homepage. Then, on the categories panel on the left hand side of the page, select: All Categories; Home & Garden; Furniture & Living; Furniture; and finally Cabinets & Cupboards. It is possible to then select the Used option from the Condition subcategory.
Conclusion
Buying used cabinets online can provide significant time and cost savings. Not only will the customer be paying less for pre-owned goods, but they save travel costs on shopping trips, and may even find they can take delivery of their purchases without having to collect them personally from a warehouse or department store. The efficiency and convenience of buying online is equalled by the security and peace of mind offered by electronic payment services, which ensure every purchase is completed securely, and that the customer is never left out of pocket if they receive defective products. By following the key areas of this guide, even a relatively inexperienced online shopper will be able to decide on the perfect used cabinet, and then find the ideal unit in the right condition on the web.