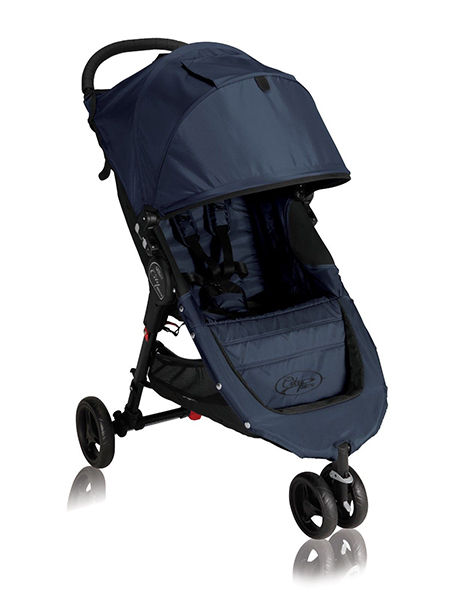 City pushchairs are popular child transportation accessories for people who are on the go. They are designed to safely transport a child who is able to sit in an upright position of their own accord without assistance from additional supports. Because the frame of a child is much smaller than that of an adult, they cannot generally keep up with adults when walking and are often too heavy to tote around for long periods of time, especially in busy areas of a city. This is one of the reasons why a pushchair is an ideal way to manoeuvre a child from one place to another. They can be purchased at retail department stores and on eBay.
There are some things to keep in mind before buying one though. Understanding the intended use and limitations of the city pushchair is important as well as making sure that the pushchair is safe and in good working condition while still finding one that is affordable is possible when these aspects are taken into consideration.
Overview of City Pushchairs
City pushchairs are designed to be smaller and lighter weight than their other pushchair counterparts. The compact design of city pushchairs allows them to be easily folded and taken into small spaces, such as subways and buses. There are several factors that need to be taken into consideration when buying a pushchair, whether it is used or new. It is important to know not only what the height and weight requirements for children are involved but also how to use the city pushchair properly as well as have the ability to inspect and recognise any faulty safety features.
Height and Weight Limitations
There are many different models of used city pushchairs , and the type a parent needs is determined by the height and weight of the child who benefits from it. City pushchairs are designed only for older children and do not have a collapsible bottom for young children, such as infants. Height and weight requirements vary by manufacturer, so it is a good idea to find out what those are from the owner to make sure that they suit the needs of the child.
The height and weight of the child riding in the pushchair is an important factor, especially when buying a double or even a triple city pushchair. A child that is not old enough to sit up should not be transported in one unless adjustments or add-ons that have been safety tested are in place. Children who are too heavy for a particular pushchair could cause the pushchair to become stuck or tilt placing the child at risk of injuring themselves.
Using the City Pushchair Properly
It is essential to make sure when transporting a child in a city pushchair, make sure that the child is securely fastened at all times. This can help make sure that the child is safe when traversing over rough terrain or when the eyes of the person pushing the pushchair are focused elsewhere. A city pushchair is not meant to be used for running, so if the person pushing it is in a hurry, it is best to travel at a brisk walk rather than a running pace to help from jarring the child and possibly causing injuries. It is also never a good idea to hang shopping bags or other items from the handles as this could cause the city pushchair to become unstable and tip over.
Inspecting Safety Features of Used City Pushchairs
All city pushchairs are to comply with the British Standard 7409, which means that they should come equipped with standard features to help keep the child safe while being transported in it. Understanding safety features of city pushchairs is vital to determine if the used pushchair is in prime working condition by knowing what the various features are and making sure that these features are working correctly before you purchase it.
Brakes
The brakes are there to help keep the city pushchair in place while not in motion. Make sure that the brakes of the used city pushchair are in good working condition and that they are able to hold the weight of the passenger with ease without moving. This is especially important when stopping the city pushchair on inclines.
Tyres
Inspect the tyres of a city pushchair before buying it to make sure that there is adequate tread remaining and there are not any worn spots. Tyres should always be properly inflated in order to allow for ease of handling and ensure the brakes work properly. Although pushchair tyres should last for quite a while, do not assume that the person that the pushchair is being purchased from is the original owner. If the tyres appear to be worn, replace the tires before using the pushchair on any outings.
Locking Mechanisms
Locking mechanisms on used city pushchairs are also vitally important. Many standard used city pushchairs come equipped with dual locking mechanisms. One of the mechanisms is meant to keep the pushchair from collapsing and is considered to be the main locking mechanism. It allows the pushchair to collapse completely unless the secondary locking mechanism is also pushed. It is important to make sure that both locks are functioning well and do not stick when attempting to lock or unlock them.
Straps and Harnesses
Straps and harness are other standard safety features found on city pushchairs. These straps and harnesses are designed to make sure that the child stays in a secure upright position while being pushed. Straps are generally designed to fit around the waist of the child and are adjustable. The safety harness goes over the shoulders of the child and between the legs, and it is securely fastened in the middle.
The harness should also be adjustable. Check to make sure that the adjustable features are in good working order and fit the child. It is important to make sure that all straps and harnesses are free from excessive wear and tear so that they can do their job by keeping the child in place. In addition, it is important to inspect the buckles or other fasteners to make sure that they are working properly as well.
Recalls
As with many other consumer products, some types of city pushchairs can be recalled when there is a risk of injury. It is wise to make sure that the history of the pushchair is known before purchasing it to make sure that a recalled product is not being resold to an unsuspecting consumer.
Although the reselling of recalled city pushchairs is not done intentionally, it is always safe to double check before buying one anyway as the current owner may not always be aware of that information themselves. Check with the manufacturer of the used city pushchair to see if there have been any recalls on that particular model. This information should be clearly labelled on the pushchair.
City Pushchair Identification Information
All pushchairs are required to have specific identification markings on them as required by the British Standard 7409. This identification information ensures that the pushchair was designed with certain standard safety features in mind. If the used city pushchair has BS7409: 1996, that means it is designed to conform to those standards.
How to Buy Used City Pushchairs on eBay
Used city pushchairs can be found quite easily by performing a search on the main eBay home page. By typing in relevant keywords in the search query box located at the top of that page, or any subsequent eBay web page, you can gain access to a wide variety of items for sale.
Search queries that are broad yields more results returned to the user than ones that are more specific. If you find that you are not getting as many search results returned to you when performing a query, try adding or removing some keywords or even reversing the order. For example, if you want a twin city pushchair that is used, type " used twin city pushchair " and click on the search button. You may also take advantage of the advanced search options to narrow results that are too numerous as well. You can narrow search results by seller, brand, condition, price, and many other filter options.
Conclusion
Used city pushchairs are a tremendous convenience and are safe if used properly. These lightweight and compact units are extremely portable and have been a blessing for both parent and child alike. Understanding the height and weight requirements that the manufacturer recommends not only makes the job of transportation for the child safer, it also makes it a more carefree adventurer for the person operating it when it is used properly.
Inspecting a used city pushchair is important to make sure that the brakes, locking mechanisms, straps and harnesses, as well as the tyres are all in good working condition. It is also a wise choice to become familiar with the history of the used city pushchair before investing in it and making sure that the item in question has not be a part of any recalls that have not been addressed. When a person takes the time to become familiar with all these aspects of a used city pushchair, it should bring them joy for years to come.